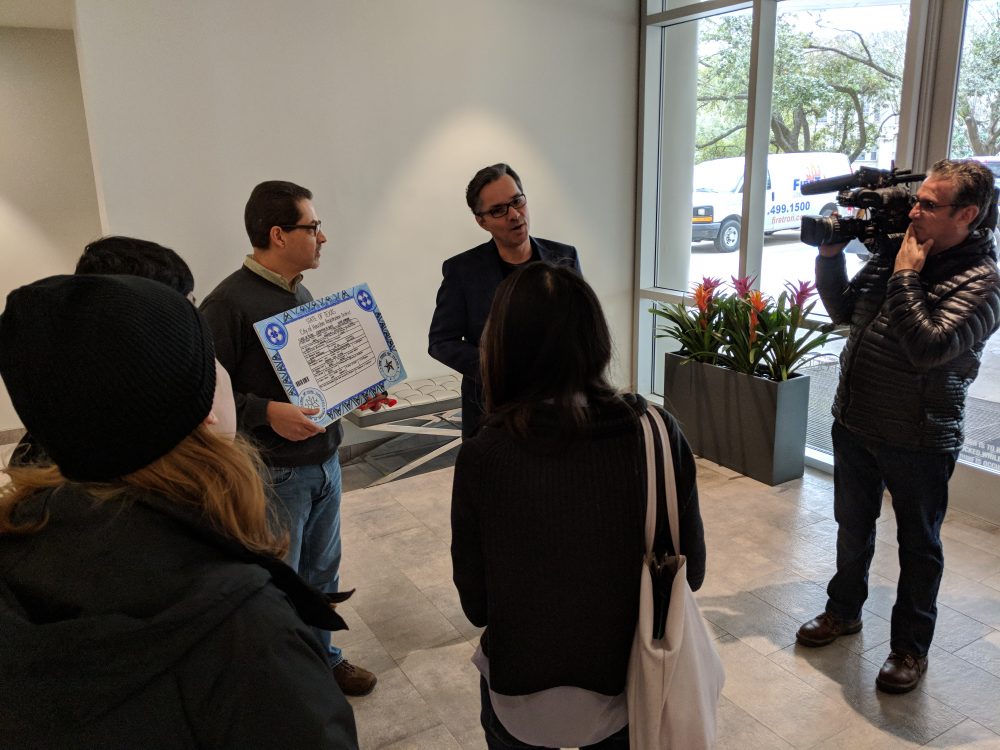 A group of political and pro-immigration reform activists told Friday, February 2, staffers for U.S. Senator John Cornyn they want him to show more leadership regarding a solution to protect from deportation people who benefited from the expiring Deferred Action for Childhood Arrivals program, commonly known as DACA.
The activists represented United We Dream, SEIU Texas, Indivisible Houston, Pantsuit Republic, Mi Familia Vota and RefuseFascism.org
They gathered at the Houston office Cornyn (Republican-Texas) has at 5300 Memorial Drive on Friday morning and some of them talked to Jay Guerrero, who is in charge of the Senator's office for southeast Texas.
Donna Murphey, chair of the group Pantsuit Republic in Texas, said they told Guerrero they expect "more leadership from John Cornyn because everything that we have seen to date has suggested that he's been very public about his support for militarization of the border and he's not been very public about his supposed support for a path to citizenship for dreamers."
Clean DREAM Act
"He really doesn't have to use much political capital," Murphey commented and added what her organization would like to see is Cornyn –who is the GOP Whip in the U.S. Senate— supporting a clean DREAM Act, namely a law that would provide a permanent solution for DACA, which former President Barack Obama established in June of 2012 and that the Trump Administration has decided to rescind, without setting as a condition strengthening immigration enforcement measures.
Jonathan Zapeta, a member of United We Dream, was present during the meeting with Guerrero and noted that he is "not optimistic because the Republicans keep pushing for this militarization."
"As a Whip, it's his job to get, you know, support for bipartisan legislation," added Zapeta.
The political negotiation about the future of DACA recipients is important, among other reasons, because it could become a very relevant factor for Republicans and Democrats to reach an agreement about funding the federal government and, therefore, avoiding a second shutdown, which is something that might happen next Friday, February 9th.
Given that Friday was Cornyn's birthday, the activists gave his staffers a birthday card congratulating him for having been born in the United States and urging him to support a clean DREAM Act.
Also this week, Laura Murillo, president of the Houston Hispanic Chamber of Commerce, urged Cornyn to work more actively towards a solution for the 'dreamers'.
Cornyn's response
Cornyn's office informed Houston Public Media via email that, during an event held Friday in Corpus Christi, he said the 'dreamers' are "(...) a very sympathetic population of young people we'd like to get a permanent solution for, a path forward so they can become productive members of society and they don't have to worry about their future or their family."
Additionally, the Senator noted during a recent media availability held in Austin that he supports "a solution for the DACA young adults."
Cornyn has introduced a bill to protect DACA recipients called the SECURE Act, which includes the bipartisan BRIDGE Act that was co-sponsored by Senator Dick Durbin (Democrat-Illinois), Senator Dianne Feinstein (Democrat-California), and Senator Charles 'Chuck' Schumer (Democrat-New York), among others.
The legislation protects the status of DACA recipients for three years.