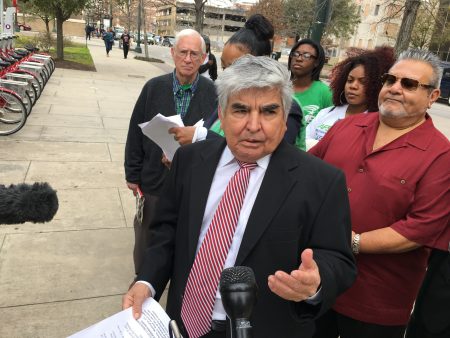 Last June, U.S. District Judge Lee Rosenthal ordered most indigent misdemeanor defendants who are denied personal bonds to be released from jail on unsecured bonds within 24 hours. Harris County has spent more than $5 million appealing a federal lawsuit challenging its bail system. Another bail reform effort is underway in Dallas.
Cynthia Cole with the Greater Houston Coalition for Justice said Sandra Bland didn't have $500 for her bond.
"Should the bail bond system represent individuals who have minimal amount of money, so you stay in and someone who does have money just gets out and walks? We're asking these judges to please re-address the issue," said Cole.
Representative Carol Alvarado of Houston said the issue will be discussed at the state level.
"As we go back to the legislature next session, we will be working to make sure that we can address this civil rights violation affecting minority populations," Alvarado said.
Two sitting judges have opted out of the appeal to Judge Rosenthal's ruling, but 14 others are waiting to hear from the 5th U.S. Circuit Court of Appeals.
Proud 2 have stood w/the Greater Houston Coalition 4 Justice. The time for Bail Bond reform is overdue. I believe we can make a fairer system that's also cost effective. Thx to @RodneyEllis @kimoggforda @AFSCME @TexasCJC for your hard work on this issue. #txlege @texasdemocrats pic.twitter.com/H9DnD1gxAe

— Carol Alvarado (@CarolforTexas) February 1, 2018