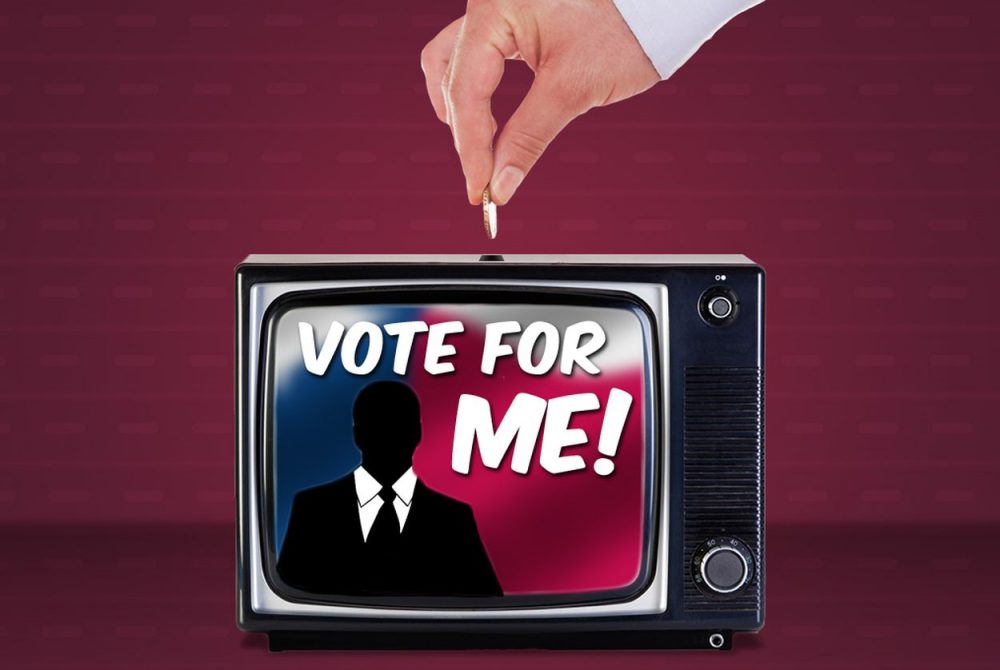 While early voting for the March primaries won't start for nearly a month, a lot of important deadlines in the races have already come and gone.
Last month, candidates running for either a statewide office or a seat in the Texas Legislature faced a deadline to disclose their campaign finances for the last six months of last year. At the federal level, candidates had until Wednesday to report their finances for the fourth quarter of 2017.
All of those reports are accessible to the public — and important to the elections process. Campaign finance reports show how much money is coming into a campaign and how that money is being spent. And the reports show the public who is helping a candidate get elected.
"The sunlight on these contributions helps to combat the threat of corruption," said Jerad Najvar, an attorney at a Houston-based law firm that specializes in campaign finance and constitutional law. "If everybody is going to see where a candidates' money is coming from, it's very hard to hide some kind of corrupt bargain."
But for the uninitiated, the campaign finance rules can confuse more than they clarify. To help, we've compiled an overview of what everyday Texans should know about campaign finance reports.
The reports must be filed regularly — even if it isn't campaign season
In non-election years, state campaign finance reports have to be filed to the Texas Ethics Commission twice a year. During election years, that number increases; candidates have at least four reports due — two semi-annual reports (one in January and one in July) and another two pre-election reports (one 30 days before an election and another eight days before an election).
At the federal level, candidates must file quarterly reports — regardless of whether it's an election year — to the Federal Election Commission. They also have to file reports 12 days before an election and 30 days after an election. In the event of a "sizeable last-minute contribution," some candidates might have to disclose more.
There are fines for missing deadlines, but they can be hard to collect
At the statewide or legislative level, fines for missed reporting deadlines start at $500. That amount can occasionally go up $100 per day to a maximum of $10,000. The Texas Ethics Commission's rules also allow additional fines if a report is more than 30 days late.
But the commission doesn't have much power to collect those fines. The commission's general counsel, Ian Steusloff, previously told The Texas Tribunethat sometimes the commission can't find the delinquent filer or sometimes the candidate simply doesn't have the money to pay. The state attorney general's office is usually responsible for collecting fines after they reach $1,000.
But even involving the attorney general's office doesn't guarantee a fine will be paid. Last February, the state sued Rep. Ron Reynolds, D-Missouri City, for failing to file reports on his personal finances or his contributions and expenditures. Reynolds currently owes the TEC $52,000, according the commission's delinquent filer list.
At the federal level, the Administrative Fine Program assesses civil money penalties for late and non-filed reports.
Few contribution limits in Texas, strict ones for federal races
Candidates are required to report any sizeable contribution if the money was given with the intent to be used in connection with the campaign. This can include both monetary or in-kind contributions.
"If somebody owns a restaurant and they let a candidate have an event there without charging them, then that would be a contribution," Najvar said.
Contributions to federal candidates are limited to $2,700 per election by the FEC. Meanwhile, Texas doesn't have contribution limits for most offices, according to the TEC.
Personal spending made by an individual or a PAC that's not coordinated with a candidate is not considered a contribution. For instance, if an individual wants to spend $100,000 on billboards for a candidate he or she supports — and that person never coordinates that expenditure with the campaign — then it's not considered a campaign contribution at the state or federal level.
"Coordination means we don't talk and we don't synchronize our schedules or our strategy," said Victoria Farrar-Myers, a senior fellow with Southern Methodist University's Tower Center for Political Studies. "As long as you're not coordinated ... and you're independently spending that money, you can spend unlimited sums."
Najvar added, however, that the individual or PAC that spends the money is still required to report those expenditures with either the state or FEC if it's above a certain threshold.
Keep an eye on loans and cash on hand
Politicos often like to track how much money a candidate has raised during a reporting period to get a sense of the excitement and interest the candidate has generated. But a more accurate reflection of a candidate's resources can be found from the cash on hand number.
That amount shows how much is in the candidate's accounts ready to be spent. It includes contributions received that reporting cycle, but also money raised earlier that went unspent. The number can also include money from loans, which candidates often give themselves — or borrow from a bank — to start up their campaigns.
Candidates who donate to their own campaigns record it as such for "loan liability," Farrar-Myers said, so that they have the option of paying themselves back from whatever campaign funds are left.
"For example, if I'm running for office and start-up my campaign, I might loan myself $25,000," Farrar-Myers said. "That has to be recorded as a loan so at a future point in time when I raise enough money, I can only pay myself back."