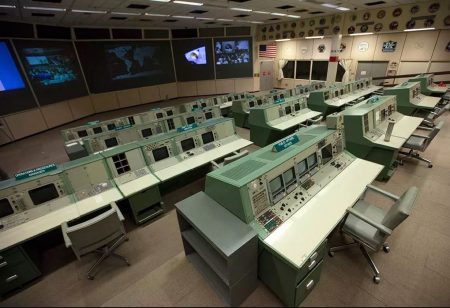 About $4 million towards restoration has already been raised by the nonprofit Space Center Houston and the city of Webster. William Harris is CEO of Space Center Houston.
"So we're actually going to be restoring the whole room back to the Apollo era. And so that requires refurbishing all of the consoles. And you have to remember this is 1960s technology that we're talking about, so we don't use tubes, and it's hard to receive those components."
Flight control consoles are being restored in Kansas. They're focusing on the most essential rooms during the July 1969 moon mission — Mission Control, the summary display projection room, the simulation control room and the recovery operations room. The visitors viewing area is also being restored.
"The fabric on the chairs is the original fabric from the 1960s. We've made the decision to remove it, shampoo it and re-install it on the chairs, so when visitors take the behind-the-scenes tram tour you're gonna be sitting on the actual fabric of the chairs from the Apollo era!"
The Space Center's website has information on helping achieve their $5 million restoration goal.