The folks behind the proposed Texas bullet train, which aims to shuttle travelers 200 miles per hour between Dallas and Houston in 90 minutes, have released unofficial designs of the North Texas station.
Texas Central Partners, the private company developing the project, says it plans to build the Dallas terminal on a largely vacant 60-acre plot south of the Kay Bailey Hutchinson Convention Center. The site's in the Cedars neighborhood, near the Interstate 30 and Interstate 35 interchange. The Federal Railroad Administration identified the location as the preferred spot in its draft environmental statement released in December.
On Monday, the company released maps and conceptual (and not yet final) renderings showing a multi-level station between South Riverfront Boulevard and Austin Street. See the designs in the gallery at the top of this page.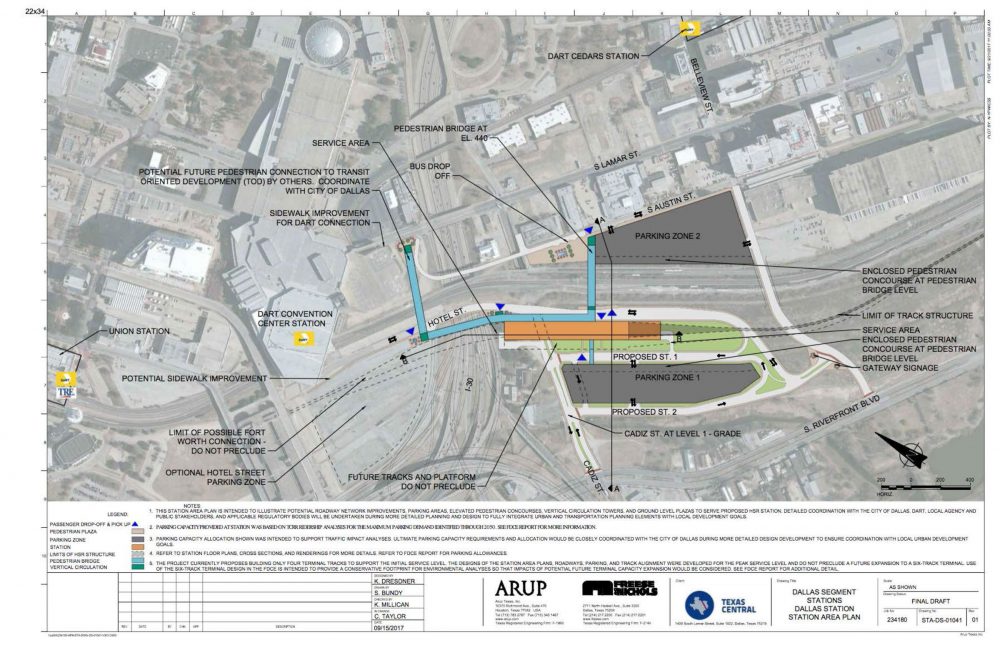 "This station will be a magnet for economic activity in an area ripe for development. And it will connect seamlessly with local roads and public transit," said Texas Central CEO Carlos Aguilar in a statement.
Aguilar also says the bullet train is a draw for Amazon's new headquarters. Dallas is one of 20 finalists for the Seattle-based tech company's second home. A boost in public transport could help Dallas' chances, as KERA reported after Amazon announced its search.
Texas Central says the train system is expected to generate $36 billion to the economy over the next 25 years, create more than 10,000 jobs per year during construction and more than 1,000 permanent positions when it's completed.
However, the project has its critics. Last month, the Federal Railroad Administration narrowed the potential paths for the train down to one likely route. Rural Texans in between the state's two largest urban areas had been waiting to see if the train would possibly cut through their property — a point of contention in the process.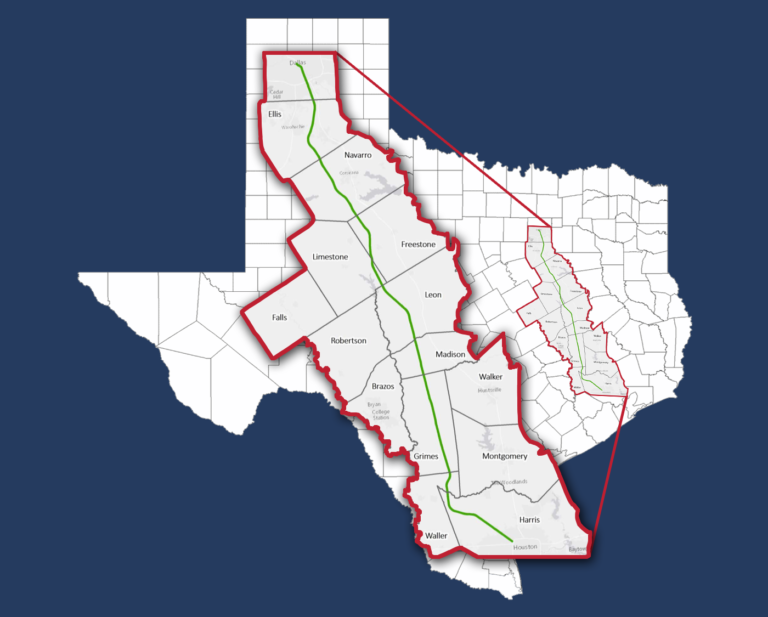 Texas Central plans to finance the project, which is expected to cost more than $12 billion, with private investments and possibly federal loans, according to the Texas Tribune. The developer will have to purchase thousands of properties across the state to pull off the project.
Texas Central is holding a series of meetings in the counties along the route. The North Texas-based meetings are Monday and Tuesday night of this week. Harris County's meeting will be at the address below:
Monday, February 5, 2018, 6:00 p.m. to 10:00 p.m.


Woodard Elementary School, 17501 Cypress North Houston Rd, Cypress, TX 77433
You can review the draft environmental statement that details impacts of the project and submit comments online to the Federal Railroad Administration. The 60-day public comment period ends Feb. 20.