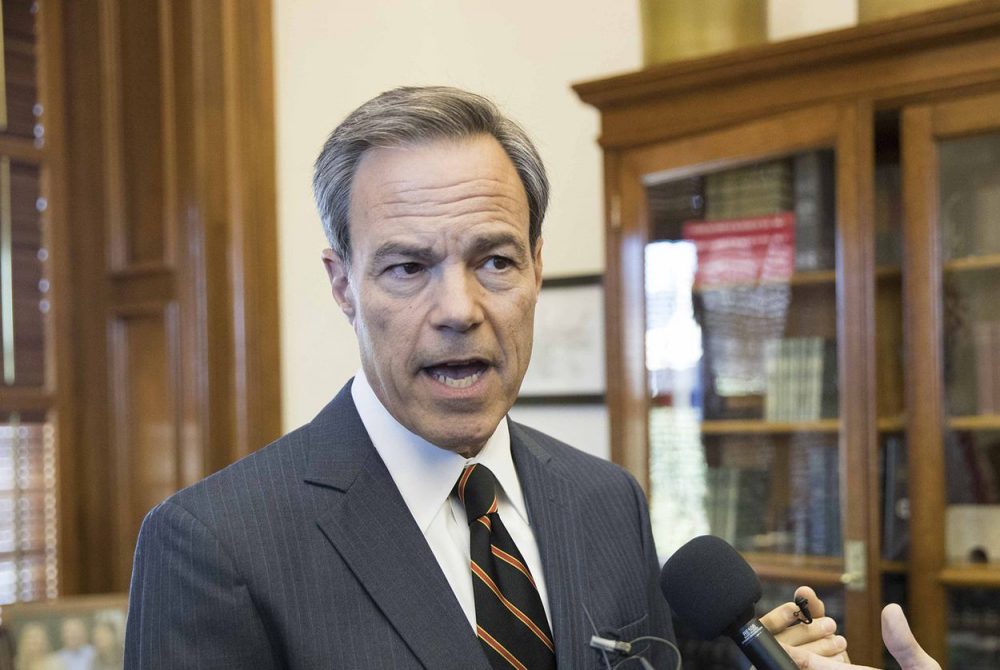 The State Republican Executive Committee voted to censure Texas House Speaker Joe Straus, R-San Antonio, on Saturday, dinging the outgoing state leader for standing in the way of the party leadership group's priorities.
The vote was 44-19, with Texas GOP Chairman James Dickey and vice chair Amy Clark helping put it over the top. Two-thirds support was required from the 64-member committee, which includes the party leaders plus two members from each of the 31 state Senate districts.
The censure resolution, brought by the Bexar County GOP in Straus' hometown of San Antonio, stems at least in part from the special session of the Texas Legislature last year. Half of Republican Gov. Greg Abbott's 20-item agenda got jammed in the House — including a proposal to regulate which bathrooms transgender Texans can use. Straus had made clear that he opposed what became known as the "bathroom bill," arguing it would hurt the state's economy.
His role in blocking that bill was the most recent addition to a long list of grievances that many in the conservative wing of the Texas GOP have compiled against Straus, who is generally considered a more moderate Republican. As he announced his decision to support the censure effort Saturday, Dickey said it was important for the party to unite and move on from its frustrations with Straus, who announced in October that he will not seek re-election after five terms as speaker.
"We must win in 2018," Dickey said. "We've got to put this thing behind us."
After the censure vote Saturday, a Straus spokesman said the speaker "expected these antics from some people when he opposed their bathroom bill and helped prevent the harm it would have brought our state."
"He is proud to have represented the views of mainstream Texas Republicans, who have voiced overwhelming support for the speaker's principled leadership on many issues," the spokesman, Jason Embry, said in a statement "Speaker Straus will continue working to support traditional Republican principles and re-elect Republicans who put their constituents first."
Among those who opposed the censure vote was Michael McCloskey, a committee member from Cedar Park.
"I always thought our party was the one of dignity and class and to so disrespectfully kick someone of that prominence on his way out was disgraceful," McCloskey wrote in an email after the vote. "The Republican Party of Texas has changed into something most mainstream Republicans would not recognize."