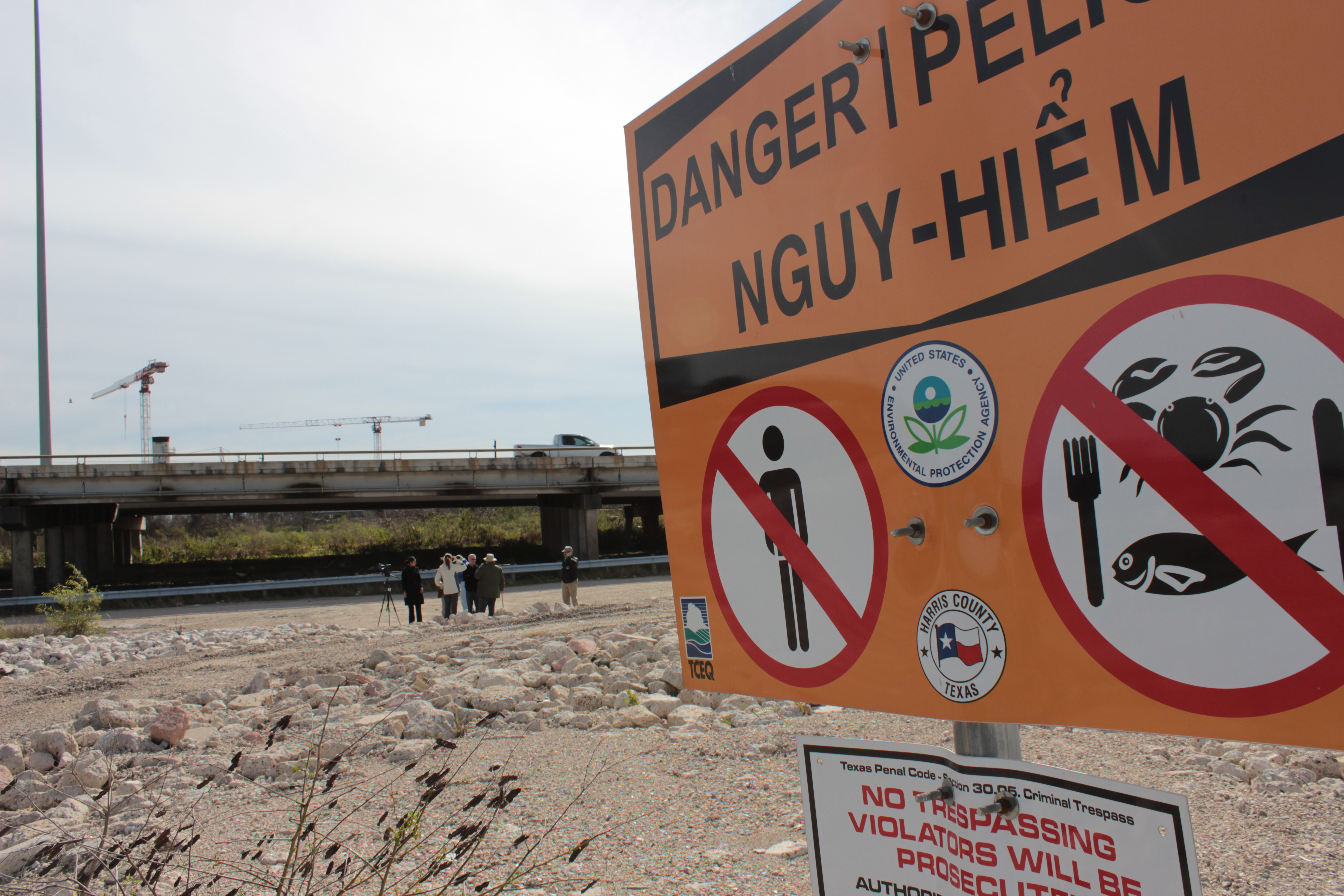 A few months ago, the Environmental Protection Agency finalized a plan to clean up a contaminated Houston-area Superfund site.
The companies footing the $115 million bill have opposed the plan, and it's now come to light that one of them also quietly helped local citizen groups organize against it. The details of that relationship are still murky.
In the 1960's, the earlier iterations of two companies dumped toxic paper mill waste along the San Jacinto River, near the East Freeway. The EPA has ordered the companies to remove thousands of pounds of cancer-causing dioxins from the site, but the companies have argued that's too dangerous.
One of them, McGinnes Industrial Maintenance Corporation, now a Waste Management subsidiary, has said it is "deeply concerned" that removing the toxins could lead to a spill.
That fear was expressed at a public meeting two years ago, though many there, like Jessica Woods, said the waste had to go.
"As a resident, as a business owner, as a parent, as a community leader, I also personally support the full removal of this," Woods said.
As that debate rolled on, a couple local groups backed the companies' idea to contain the waste where it is.
Suspicions swirled that the companies were somehow involved with these groups, but in court documents in 2016, McGinnes said it had "no relationship" to one of the groups – San Jacinto Citizens Against Pollution.
A court document that recently came to light shows that was wrong.
McGinnes, by its own admission, did in fact have a relationship with the group and with another who wants to keep the waste where it is, the Galveston Maritime Business Association. J.T. Edwards leads the association.
"They was helping us out with social media. Facebook, Twitter, that type of engagement," Edwards said. "We had a donor, who we were led to believe was donating out of the goodness of his own heart, who was very excited about our stance regarding the waste pits."
McGinnes declined to answer questions. In a statement, the company said its lawyers only recently learned that McGinnes had hired a public relations firm for "advice and community outreach efforts" related to the cleanup.
Lawyer Rock Owens leads environmental cases for Harris County. The county sued the waste pit companies in the past, and Owens said there was always suspicion that these local groups had help.
"The amount of money that's required to maintain the websites that they have, to do the kind of canvassing that they've been doing, appears to have been directed by PR firms," he said.
"I've never come across real people who actually believe it's a good idea to leave the waste sitting in the San Jacinto River," said Jackie Young, a local activist who has advocated for removing the waste for years.
She painted this revelation as proof that the groups supporting the companies are not what they seem.
"Efforts like these opposition groups could have drowned out the voices of local community members, and that is problematic," she said.
Edwards, with the maritime association, said in response that his group has "genuine concerns" about how removing the waste could threaten downriver communities if there was a spill.
"I find it insulting, I find it disrespectful, I find it selfish to insinuate that something shady was going on," he said, adding that he would welcome further support from the company.
"We would love to get funding from Waste Management," he said. "We would love it! Because we're a small guy, we need bigger boulders to, you know, take on Goliath."
There's nothing to suggest McGinnes did anything illegal by helping these groups, and the effort failed. The EPA's plan is moving forward.
Still, Edwards feels like his side can influence how the cleanup is carried out. He said he's hoping to grab the agency's ear when it comes to Galveston for a public meeting on the plan Tuesday night, something his group has pushed for.