Two Texas lawyers filed a pioneering civil lawsuit in Houston this week related to human trafficking and sexual exploitation. It targets a multitude of companies and businesses as defendants, several of them with highly recognizable names.
Annie McAdams and David Harris filed the lawsuit on behalf of a 19 year-old woman who remains anonymous at Judge Brent Gamble's 270th Civil Court in Harris County on Tuesday.
Harris noted that the lawsuit is the first of its kind because it is based on Chapter 98 of the Texas Civil Practice and Remedies Code, which establishes that a company can be held civilly liable for human trafficking if it benefits from it intentionally or knowingly.
"We haven't seen any other civil lawsuits of this magnitude brought under Chapter 98," Harris underlined during an interview with Houston Public Media.
McAdams and Harris explained they met the plaintiff, who is referred to as "Jane Doe # 1" in the lawsuit, when they were working on a project about human trafficking.
According to the lawyers, the plaintiff was born and raised in Houston and the lawsuit contends that around early 2014, right before her 16th birthday, she "was sexually exploited through the use of www.backpage.com."
Online facilitator
Backpage.com –which is one of the defendants— served as a facilitator between the people who forced the plaintiff to engage in prostitution and her clients, the lawsuit contends.
One section of the lawsuit asserts that "(…) many men used www.backpage.com to gain access to Jane Doe #1 and sexually exploit her."
The lawsuit also says Backpage.com is the leading online marketplace for human trafficking and the sexual exploitation of minors and commercial sex.
Backpage.com did not respond to a request for comment from Houston Public Media.
As for the other defendants, there are more than 20, including well-known names in the hospitality industry such as Hyatt Hotels Corporation, along with Palace Inn and Love's Travel Stops and Country Stores.
The lawsuit contends the plaintiff, while being a minor, was repeatedly exploited at truck stops, motels and hotels located in the greater Houston area from 2014 to 2015.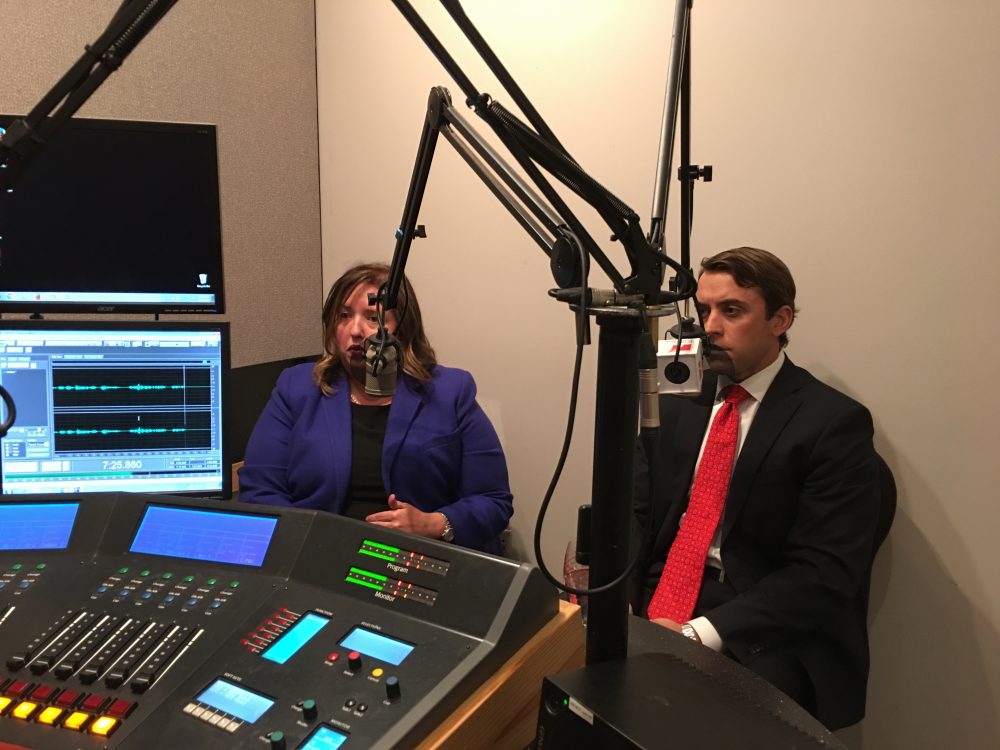 The lawsuit also says there was a "constant flow of male customers" at the rooms where the plaintiff was staying and, yet, the establishments "refused to take any steps to alert the authorities, properly intervene in the situation, or take reasonable security steps to improve awareness of sex trafficking and/or prevent the sexual exploitation of minors at their properties."
The lawsuit adds that failure to act on the part of the motels and hotels listed as defendants led to Jane Doe # 1's continued exploitation while the establishments "turned a blind eye to the plague of human trafficking and the sexual exploitation of minors at their locations."
Moreover, that turning a blind eye was done, according to the lawsuit, with the goal of maximizing profits by "not refusing room rentals in order to fill vacant rooms, even if those rentals were to minors who were being exploited by human traffickers, including Jane Doe #1."
As for the truck stops that are listed as defendants, the lawsuit makes similar arguments as to those made against the hotels and motels and adds that they "knowingly benefit from human trafficking and the sexual exploitation of minors by allowing human trafficking and the sexual exploitation of minors to occur on their premise in order to secure the loyalty of truck stop customers who routinely seek to pay for sex."
Hyatt Hotels Corporation said in an email sent to Houston Public Media that they don't comment on pending litigation, while Love's Travel Stops and Country Stores also communicated via email saying the company takes "these matters seriously" and is "looking into it."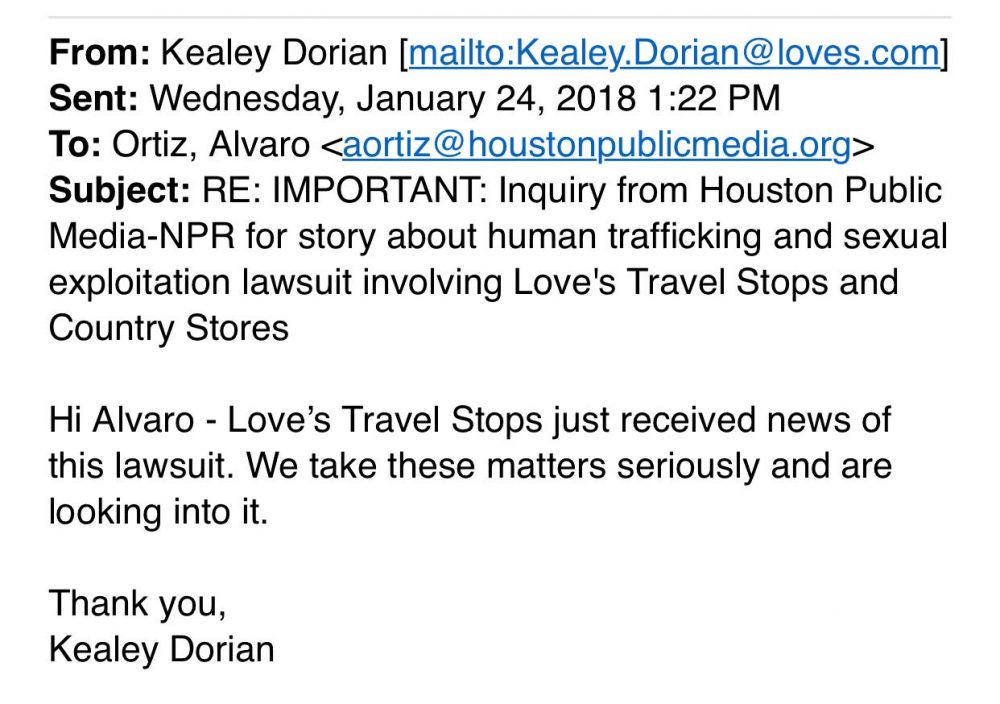 McAdams detailed that the plaintiff is currently involved in "active recovery" but was a minor when the events mentioned in the lawsuit happened. Harris noted that they are in contact with other victims.
"We have a lot of other girls who've come forward that have expressed similar stories, horrific stories," asserted the attorney.
See a copy of the lawsuit below: