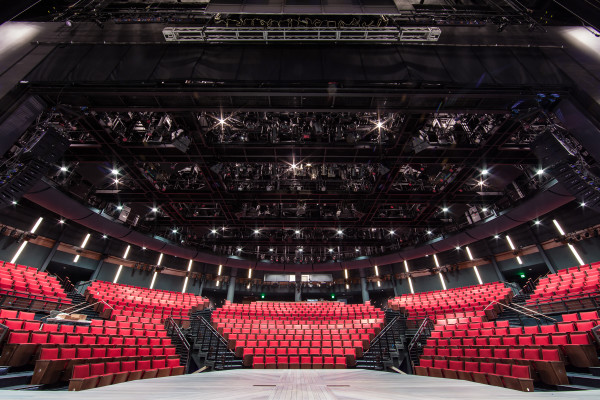 Media outlets are reporting the Alley Theatre has removed director Gordon Edelstein, after allegations of sexual misconduct surfaced in a New York Times report, on Monday.
In the Times article, female employees came forward with allegations of unwanted sexual contact, during Edelstein's time as artistic director at the Long Wharf Theatre, in Connecticut.
Here is an excerpt, from The New York Times report:
Ms. Rubinstein is one of four women who spoke on the record, describing unwanted sexual contact by Mr. Edelstein since his arrival in 2002 at Long Wharf, a respected nonprofit theater in New Haven that has had several productions mounted on Broadway. Six other former employees, women and men, described frequent sexually explicit remarks in the workplace by Mr. Edelstein, a prominent figure in American theater circles.
In an e-mailed statement from the Board, Alley said:
"A year ago, Gordon Edelstein had been hired to direct the upcoming Alley play, Satchmo at the Waldorf. Yesterday (Monday) when the Alley Theatre was made aware of sexual harassment allegations against him, he was replaced as Director."
The Alley Theatre has confirmed to News 88.7 the show's playwright (and drama critic for the Wall Street Journal) Terry Teachout will be the show's director.
In an online statement, Teachout said:
"Needless to say, this is not my first time directing Satchmo, which I staged for Palm Beach Dramaworks in 2016. I didn't expect to be doing it again so soon, though, or at such short notice (rehearsals begin on Tuesday). Nor will I pretend that this is a happy occasion, for me or any of us. It is anything but that. Nevertheless, I'm glad to be returning to the rehearsal room, and thrilled to be teaming up once more with my old colleagues."
MORE: How The Local Arts Community Deals With Sexual Misconduct Allegations
Prior to to director swap, Teachout published an op-ed about the sweeping "#MeToo" movement, titled, "The Predatory Genius: What do we do when great artists are also moral monsters?" Here is an excerpt of that op-ed, originally published on January 17th:
One thing should already be surpassingly clear: Long before the scandals of 2017, the history of art had already taught us that there is no relationship between artistic and personal greatness. Indeed, it is tempting to suggest that the desire to make great art may actually increase the likelihood that an artist will behave monstrously in his private life. The iron determination of the serious artist very often warps his personal character. Yet we persist in regarding such artists as heroic and finding reasons to justify their self-centered behavior.
Surely it is time to put aside such foolishness. To make excuses for the damage that charismatic geniuses do to innocent people is to run the risk of committing the sin of idolatry, a sin all too characteristic of an age in which art has for many people replaced religion as the wellspring of life's meaning.
And what of the art that results from their behavior? Is it thereby tainted? While I have no trouble understanding why others might feel that way, I do not share their view. Surely Keats was right to say that a thing of beauty is a joy forever. But so, too, was Shakespeare right to say that the evil that men do lives after them. It must never be forgotten—even when it issues in beauty.
Alley's website also now reflects the director change for Satchmo.
According to a follow up report from The New York Times, the Long Wharf Theatre has also now removed Edelstein from his position as artistic director.