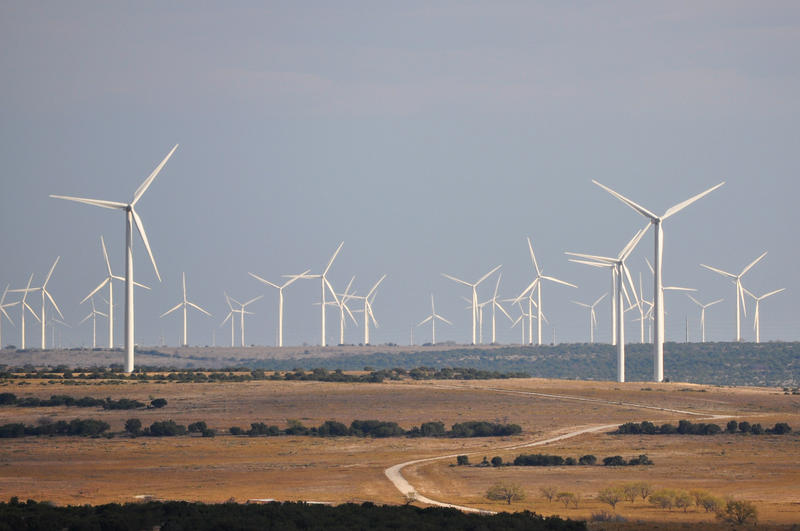 A lot of what you read in the news boils down to numbers. What's the unemployment rate? How's the stock market? What's the price of a gallon of gas? When those numbers are wrong, the whole story can be wrong. That's exactly what appears to be happening with some important numbers from the Energy Information Administration.
The EIA is a federal agency that releases statistics about energy. It has a pretty solid reputation: KUT uses the agency's numbers in its reporting; business people consider it when making investments; and academics like Dan Cohan use the EIA in research.
"They're really the trusted go-to source for all things energy," says Cohan, a professor of civil and environmental engineering at Rice University.
But, he says, the EIA has always had a blind spot: It "continually underestimated the growth in wind and solar by just huge margins."
So, when the agency released its most recent International Energy Outlook, Cohan decided to look closer. What he found were numbers that seemed wildly inaccurate.
For example, the amount of solar power the EIA said Brazil will install over the next six years has already been installed. Another country already has more solar projects planned this year than the EIA projected it would have by 2050.
"I just thought – how can they possibly miss 32 years' worth of growth in solar that could be disproven by a Google search?" he said.
A lot of people had the same question after he wrote up his findings in The Hill. But before we get to "how," let's talk about why this matters.
There are environmental implications. If renewables are growing faster than expected globally, that could affect things like air pollution levels and even climate change.
There is also an economic consequence. As the U.S. exports more fossil fuels, a skewed understanding of the growth of renewable energy could lead U.S. business to make bad decisions.
"Are we going to be building more pipelines, more mines, more export terminals than we really need if wind and solar start outcompeting natural gas and coal?" Cohan asks.
How did the agency get it so wrong?
"In the past, our modeling and analysis has been kind of limited," said Chris Namovicz, an analyst with the EIA.
He said it used to be that most wind and solar projects were built to meet national targets for renewable power. Historically those targets were often not met, so the model the EIA uses assumes wind and solar growth will be slower than many countries say it is.
"That [forecasting model] sort of developed at a time when most renewables growth was essentially policy-driven," he said.
But now that renewables are becoming competitive with other energy sources – that is, they make economic sense – wind and solar are growing faster than planned. So, the skepticism built into the EIA forecasting is now working against it.
Namovicz said the EIA is working on a way to better forecast that growth, but the improved forecasts won't be ready until 2019.