The Federal Emergency Management Agency is changing its policy to allow religious non-profit institutions to apply for disaster relief funds. The change follows a brief legal battle with three south Texas churches. Hi-Way Tabernacle in Cleveland, Harvest Family Church in Spring, and Rockport First Assembly of God had filed suit claiming religious discrimination.
Becket, a non-profit, public interest legal and educational institution filed on behalf of the churches arguing that houses of worship should be allowed to have equal access to FEMA aid.
"FEMA needed a nudge from our lawsuit to follow the Constitution. It appears to say that FEMA will follow Trinity Lutheran, which is a move in the right direction," says Becket attorney Diana Verm.
In the case Trinity Lutheran Church of Columbia, Inc. v. Comer, the U.S. Supreme Court ruled last June that a Missouri program that denied a grant to a religious school for playground resurfacing, while providing funds to similar non-religious groups, violated the First Amendment.
Jamie Aycock, a partner with Kirkland & Ellis, LLP filed an Amicus brief on behalf of the Jews for Religious Liberty and The Congregation Torah Vachesed, in support of the suit against FEMA.
"We're happy that FEMA has revised its policy to eliminate explicit discrimination against religious groups," Aycock says. " We are hopeful now that the policy will be implemented in an evenhanded way that treats religious and non-religious groups on equal footing. We also hope this paves the way for much needed help for Houston's Jewish community that was particularly hard hit by hurricane Harvey."
While the government agency has issued a statement announcing the change, a new Policy Guide has yet to be released. "At this point it looks to us that the policy has been revised to eliminate any explicit discrimination against religious groups, but what still remains to be seen is how that's actually put into practice," says Aycock.
In the week following Hurricane Harvey President trump tweeted his support for churches. "Churches in Texas should be entitled to reimbursement from FEMA relief funds for helping victims of hurricane Harvey (just like others)," the President tweeted.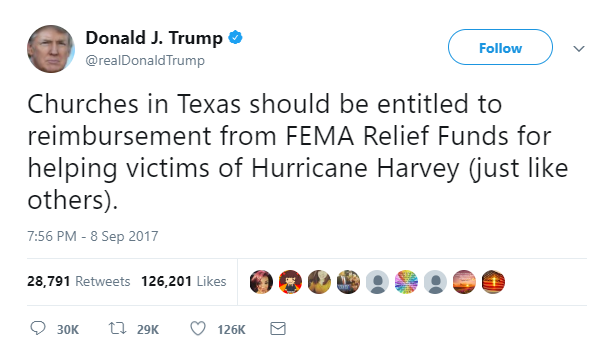 Reverend Dave Welch is the president of the U.S. Pastor Council. He appreciates Trump's support. "Clearly we do believe that the policy was unconstitutional and discriminatory, and we believe that previous statements by the President would support any administration to make that policy change without resorting to litigation. But, at the end of the day we're very glad that they took the step to make the change, and churches who have that need because of damaged facilities can have access [to funds] if they so choose, that will help them get back on track," says Welch.
Of the 146 parishes in the Archdiocese of Galveston-Houston, more than 80 were damaged by Harvey, four of the parish locations were considered "catastrophic damages." Through a statement Cardinal DiNardo says, "The parishioners have been battered, but they are not broken. Their faith is strong and they look forward to rebuilding and returning to their parish homes."