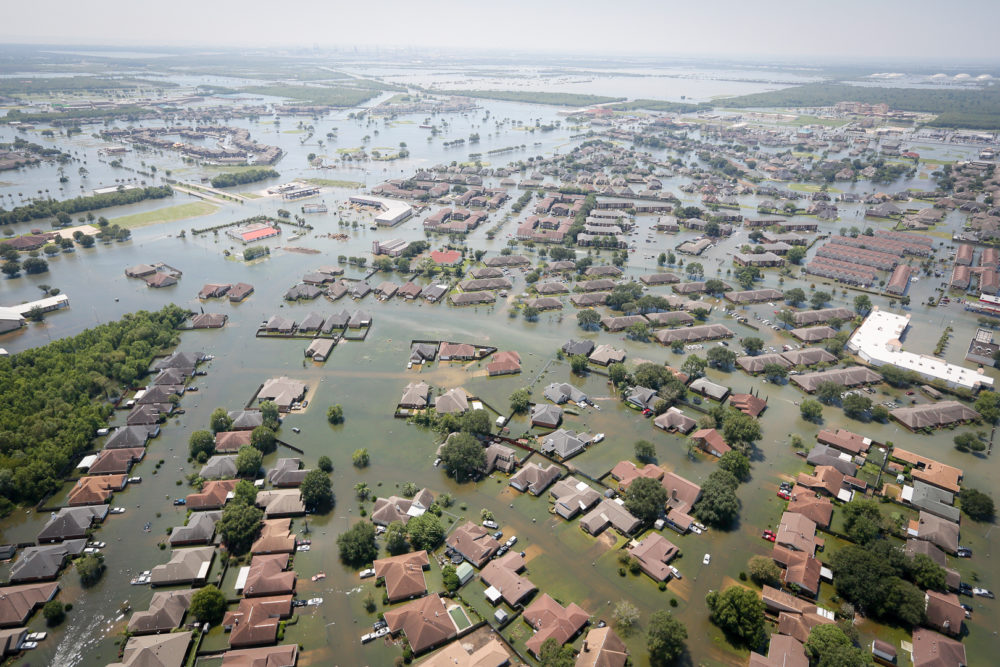 On Monday, House Republicans unveiled an $81 billion disaster aid bill for areas hit by Hurricanes Harvey, Irma, and Maria, as well as the California wildfires. The bill (HR 4667) comes after Texas and Florida lawmakers protested that President Trump's request, for just over half that amount, fell far short of what was needed. The question is, will the larger amount be enough?
We recently spoke with Mayor Sylvester Turner, in collaboration with NPR, regarding recovery efforts in Houston after Harvey. Turner was not pleased either with the speed or the scale of federal help.
"Up to this point, only $5 billion have been sent to the state of Texas," said Mayor Turner. "Those dollars will go from D.C. to the state of Texas and then make their way here locally, and those dollars probably won't arrive here until sometime in March [or] April. That's a long time for people who are suffering right now."
Turner said that, if Houston's lucky, it will get a little more than half of that $5 billion, from HUD, for housing assistance. "There were 310,000 units that were inundated with water, when you include single-family housing as well as multifamily apartment units."
All of that HUD money is for disaster relief. None of it is for prevention. "It's only funding for failure, because we know that there will be another storm coming in ′18, ′19, ′20," said Turner.
Which is what makes the new aid package significant. It includes more than $10 billion for the Army Corps of Engineers for flood infrastructure. Neil Malhotra is the Edith M. Cornell Professor of Political Economy at Stanford University's Graduate School of Business. Malhotra co-authored a study of the politics of disaster aid after Hurricane Katrina.
"We found that $1 in prevention spending is equivalent to $15 in relief spending," said Malhotra. "So that's pretty close to Benjamin Franklin's own adage, 'An ounce of prevention is worth a pound of cure.'" Put it another way: Spending $10 billion in flood mitigation projects now saves taxpayers from having to spend $150 billion to aid victims of potential future disasters.
Jeff Nielsen is executive vice president of the Houston Contractors Association. His members would be responsible for building the big projects now on the table, such as the construction of a third reservoir to complement the Addicks and Barker Reservoirs. "Which I think, personally, I think really needs to be done," said Nielsen, "considering they've had three floods out there in the last two years."
Nielsen ticked off a list of other flood engineering projects for which the new aid package could be used, including strengthening the Addicks and Barker Reservoirs and widening the bayous.
Then there's the biggest ticket item. "You know, after Hurricane Ike, you had the discussion of a surge protection system along the Gulf Coast," said Nielsen. "That's now back into play. They call it the coastal spine."
Which brings us back to the original question: Will the new disaster aid package be enough? Governor Greg Abbott has requested $61 billion in federal disaster funds for Texas. He estimates the coastal spine, or "Ike Dike," alone would cost $12 billion to build. The infrastructure funds in the latest bill would have to be shared with Florida, Puerto Rico and the U.S. Virgin Islands.
"The only thing we're asking is that people treat us just like they treated the states of Louisiana, New York, and New Jersey," said Mayor Turner. "When the federal government provided funding, they didn't just provide enough money to put them back in place prior to Hurricane Katrina or [Superstorm] Sandy. They gave them dollars to engage in mitigation strategies to make them stronger and more resilient after the storm."
This is the third disaster aid bill Congress has taken up since Harvey. For Turner, it's critical that this bill include all the funds needed to complete such infrastructure. Because it's unclear when, or whether, there will be another.