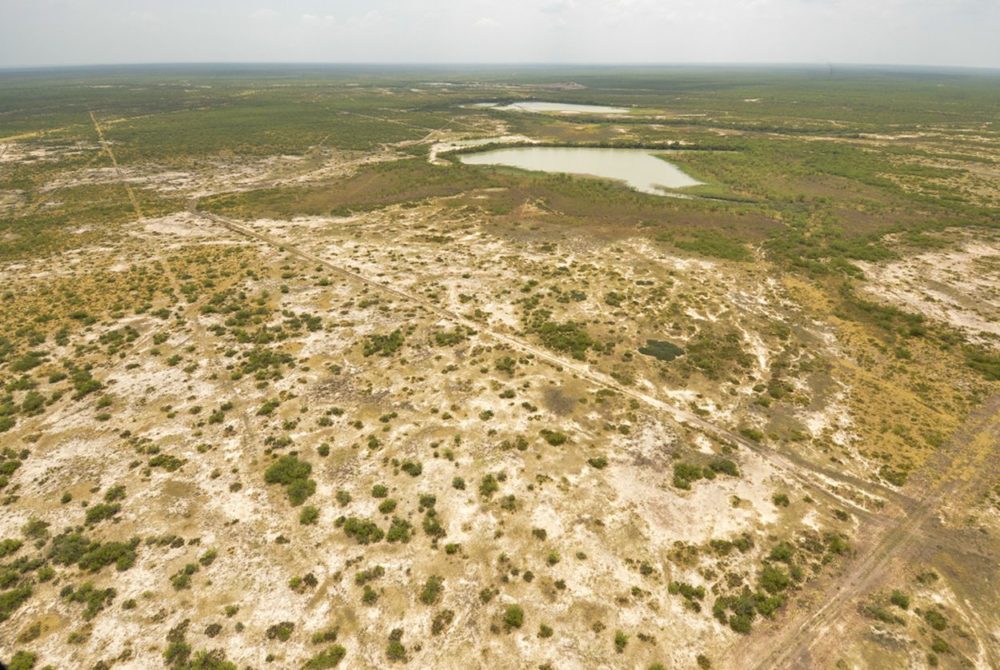 Nearly four months ago, Hurricane Harvey's rainfall inundated ultra-polluted Superfund sites in and around Houston, triggering the leak of hazardous waste.
Now, 300 miles south near Laredo, a company's efforts to develop a landfill in close proximity to a 100-year floodplain is drawing fresh concerns in light of the environmental problems that emerged in Harvey's wake.
"The proposed landfill is, as far as I can tell, right in the middle of a floodplain and a creek that is an immediate tributary of the Rio Grande," said George Altgelt, a Laredo city councilman. "From a practical standpoint, who builds a dump in the middle of a creek? When did that become a good idea?"
The company behind the landfill — Rancho Viejo Waste Management, whose manager is Carlos "C.Y." Benavides III — started applying back in 2011 for the local, state and federal approvals needed to operate a waste site, or develop in a floodplain.
The developer had originally sought to use 660 acres of a 950-acre site for waste disposal — a swath of which lies in a 100-year floodplain. Those areas are mapped by the Federal Emergency Management Agency to show places that will likely go underwater in the event of a 100-year flood.
But the frequency of those flood events, which in theory have a 1 percent chance of occurring in a given year, has increased since those federal designations were originally made, said Jim Blackburn, co-director of the Severe Storm Prediction, Education and Evacuation from Disasters Center at Rice University. "Every standard we have out there relative to flooding is obsolete or potentially obsolete in the Houston area," he said. "I suspect the same is true throughout Texas."
Though fears that the proposed landfill could be flooded during a storm have crescendoed after Harvey, the facility is no stranger to protest.
Last year, a charge of environmental racism was levied against the site because if built, it would be in the backyard of a poor, Hispanic-majority community.
Squabbling between family members, including one who has rights to an adjacent property and another who is married to a county commissioner, have spilled into public view. The company has been sued over the property rights dispute and has sued a local floodplain administrator after she blocked the landfill's development due to flooding concerns. (That suit was later dropped.)
According to submitted documents, the landfill will take Class 1 industrial waste — toxic but non-hazardous materials including coal ash from power plants, and industrial sludge. These materials can "pose a substantial danger to human health or the environment" if not properly managed, according to a 2017 TCEQ report, and eighteen of 195 active landfills in the state accept them.
Residents have taken issue with the type of waste that would be disposed of at the landfill, the fact it could be imported from other parts of the state and Mexico and the risk that these materials could contaminate nearby waterways or flood. And, in November, state Sen. Judith Zaffirini, D-Laredo, sent a letter to TCEQ's executive director, Richard Hyde, expressing her "grave concerns" about the proposed landfill and describing it as "inexplicable that the TCEQ would permit a toxic waste landfill in a floodplain."
The regulatory process
Andrea Morrow, the TCEQ's media relations manager, said the agency does not keep a list of landfills located in or near floodplains. But she said that waste facilities in one "must prepare an engineering analysis and design of structures, such as dikes and levees, that remove the site from the 100-year floodplain," and have those plans approved by FEMA and the local floodplain administration office. Proof that all that work has been done must be provided to the TCEQ.
The developer behind the Laredo landfill asserts that it has taken these steps, describing in recent documents sent to the TCEQ how parts of the site will be removed from the floodplain using dikes, drainage channels and detention ponds. The company also said it would reduce the portion of the site used for waste disposal to 72 acres, none of which are in the floodplain. The 950-acre permit boundary was not changed.
Those measures haven't placated the landfill's staunchest detractors like Arturo Benavides, a cousin of Carlos Benavides, who said some of the flood diversion structures encroach on neighboring land that he owns. He said the dams could divert stormwater from the landfill and send it surging instead onto properties nearby.
Marisa Perales, a lawyer representing a group of residents called the Stop Pescadito Industrial Landfill League, said her clients are also suspicious that "the permit boundary has not been reduced" alongside the acreage for waste disposal. "That suggests that they're thinking that as long as they get their foot in the door and get a permit for this small site then they'll come back later and try to expand it," she said.
Carlos Benavides said it's easy to "never get your hands dirty and throw rocks" and that people "want to go about [their] day and not think about" trash.
The "truth is that somebody has to think about where that trash is going to go. In our community, that happens to be me." He previously told the Tribune the claims of racism are unfounded since he is also Hispanic and that Arturo Benavides and others who oppose the site are "jealous cousins."
The proposed landfill's website says it "will be a state-of-the-art facility that has the potential to serve as a national model for waste management" and "will adhere to strict regulations and oversight to protect your health and safety." It says the site's soil has low permeability and lists several "environmental safeguards," including systems to monitor and protect groundwater from contamination. "We are double, triple-checking everything," Carlos Benavides said.
As of December, the company has received a go-ahead from FEMA and has documents pending with the TCEQ. Carlos Benavides said the company will keep trying to get a permit from Webb County, after the county's floodplain administrator denied their most recent application in May.
Scrutiny from the Legislature
Hyde, TCEQ's executive director, told Zaffirini in a response to her letter that the company would need an additional approval if it sought to expand the waste disposal portion of its facility. He said it's common for municipal solid waste landfills, like the one proposed outside Laredo, to have a permit boundary much larger than what's used for waste disposal.
Hyde listed as examples a 732-acre facility in Travis County, and a 1,345-acre site in Fort Bend, both of which accept Type 1 waste and have waste disposal areas of 259 acres and 746 acres, respectively.
"These examples hardly are comparable to the proposed [Rancho Viejo Waste Management] landfill whose permitted boundary would be a whopping 13.2 times larger than the waste disposal area," Zaffirini told the Tribune. She is vice chair of the Senate's Natural Resources and Economic Development committee, which has been charged with studying waste disposal issues before the Legislature reconvenes in 2019.
Given "the recent, repeated and severe flooding incidents the state has experienced," Zaffirini, told the Tribune, the Legislature "should re-examine all regulations governing the permitting of landfills in floodplains."