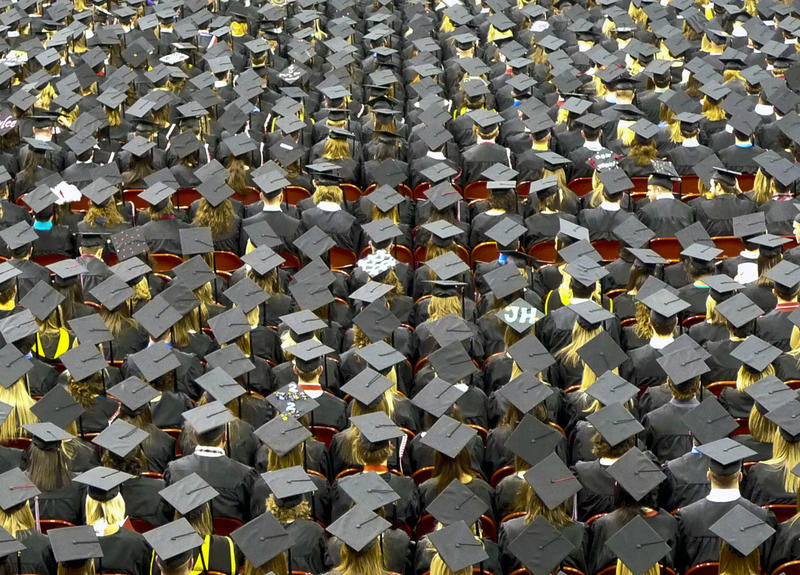 According to a 2017 report from the Texas Education Agency, just 62 percent of Texas charter school students graduated on time in 2016, compared to more than 90 percent of students from traditional school districts.
The discrepancy doesn't show up on campus or district level accountability reports, however, because most charter schools with low graduation rates are rated under alternative standards or have high numbers of students excluded from the graduation count.
But it's a statistic the Intercultural Development Research Association believes Texas should be paying attention to. The San Antonio-based research and advocacy groupreleased a report last week highlighting the difference in graduation rates.
READ | Four-year graduation rate for charter schools versus traditional schools
"A 90 percent versus a 62 percent graduation rate — it's huge. That's incredible because charter schools are seen as these kind of rescue schools," said David Hinojosa, program director for IDRA. "Yet, then when you look at the outcomes for these charter schools and this diversion of resources towards charter schools they're not paying off."
IDRA's calculation includes the graduation rates of all charter schools, including those that have asked the state to be rated under alternative standards. Under Texas law, schools can ask to be measured under alternative standards if most of their students are classified as at risk of dropping out of school. About 22 percent of Texas charter schools are rated under alternative standards.
Hinojosa said looking at the graduation rates of all charter schools "offers a fair comparison" because the statewide percentage of charter school students Texas considers at risk of dropping out is about the same as the rate of at-risk students in traditional school districts: a little more than 50 percent.
READ | 2015 graduation rates separated by types of charter schools
"Often times the narrative is 'well, charter schools are performing worse than traditional public schools but that's because they're educating more students at at-risk circumstances.' And our analysis showed that that wasn't true: that those levels are very close. But when you look at overall outcomes for charter schools, they're graduating far fewer students," Hinojosa said.
Bruce Marchand, director of growth and development with the Texas Charter School Association, disagreed. He thinks a comparison of graduation rates should only include charter schools rated under standard accountability measures.
"Charters serve more of these challenging students," Marchand said. "That's why you can't lump them together.
"I guess we could look at all kids lumped together and kind of draw some conclusions, but again I think the conclusions that are drawn, are not — they don't accurately portray the quality of charter education,."
According to the Texas Education Agency, charter schools rated under normal accountability measures had a graduation rate of about 95 percent in 2015, but charter schools rated under alternative standards had a graduation rate of less than 50 percent.
To Hinojosa, that's unacceptable even if the student attends a charter school specifically for students at risk of dropping out.
"Those students who don't graduate (regardless of their circumstances) don't get a diploma. And if they don't get a diploma, then their life outcomes will likely show depressed wages, depressed tax contributions, increased chance of relying on state and federal services," Hinojosa said.
Texas considers a student at risk of dropping out for a number of reasons, ranging from failing standardized tests to being on parole.