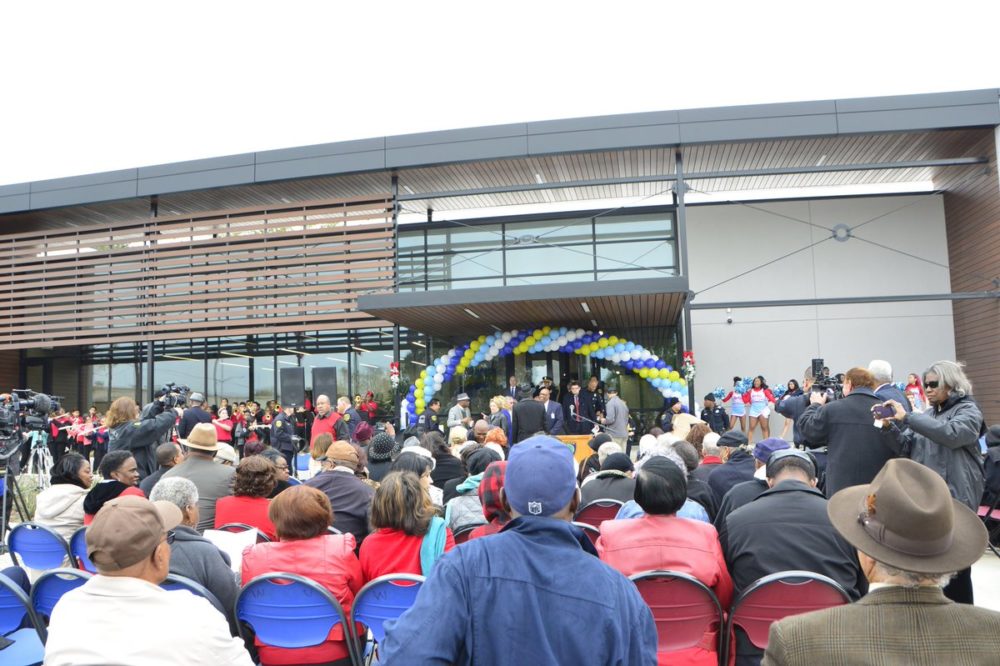 Mayor Sylvester Turner and several members of the City Council hosted Friday a grand opening ceremony for a new Houston Police Department (HPD) station that will cover the southwest section of the city.
The station, which got the green light when Annise Parker was mayor, is located at 13097 Nitida Street and replaces the old southwest HPD station on the 4500 block of Beechnut.
The mayor's office highlighted in a news release that "the growing needs of the community necessitated the move to a larger, updated patrol station."
The new station is in District K, which Larry Green represents in the City Council. Green said during the event that it "will have a positive impact on police response times."
One of the main features of the new facility is a 2,300 square foot community room.
HPD Chief Art Acevedo noted the community room will help his staff "build relationships of trust" with the people who live in southwest Houston.
Ribbon cutting for the new Southwest Patrol Station @SylvesterTurner @ArtAcevedo @TroyFinner @MattSlinkard pic.twitter.com/IEkAliuXhO

— Houston Police (@houstonpolice) December 15, 2017
Our goal to improve public safety is seen here today in this beautiful new state-of-the-art community including a 112 person public community meeting room where civic clubs and community PIPs can meet and address public safety issues in their neighborhoods pic.twitter.com/jIGIYmuryx

— Sylvester Turner (@SylvesterTurner) December 15, 2017
It's a great day! Today we open our brand new @houstonpolice Southwest Division Station!
👮🏿‍♀️👮🏻👮🏻‍♀️👮🏿 🚔🚨 pic.twitter.com/h7kOCL9gZ4

— Sylvester Turner (@SylvesterTurner) December 15, 2017
Mayor @SylvesterTurner at Grand opening of the new @Houstonpolice Southwest HPD substation https://t.co/AcIbZZAtgs

— City of Houston (@HoustonTX) December 15, 2017
Grand opening of SW Substation thank you @houstonpolice @GreenDistrictK @SylvesterTurner @EllenCohen1 pic.twitter.com/GUZRhvJHVH

— City of Houston (@HoustonTX) December 15, 2017
This morning, we are cutting the ribbon on the new @houstonpolice Southwest Division Substation.

I want to thank @GreenDistrictK and all Houstonians who helped make this day a reality. Public safety remains a top priority for us. pic.twitter.com/bMskmVBqrG

— Sylvester Turner (@SylvesterTurner) December 15, 2017