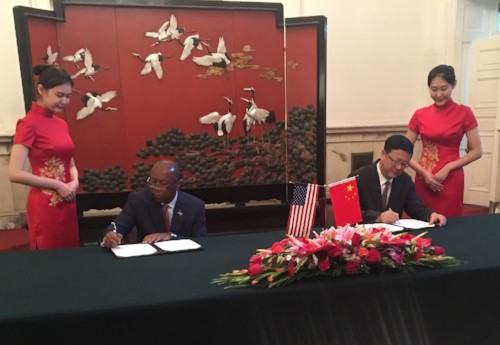 Mayor Sylvester Turner announced Monday the trade delegation he has just led to China has made progress towards increasing cooperation between Houston and the Asian country in sectors such as energy, medicine and banking, among others.
"It's my hope that with the opening (of Chinese trade) to the world, and the openness of Houston, we can build on our relationship," the mayor said during one of the meetings in China, according to a news release from his office.
The delegation returned to Houston this past weekend and the mayor's office noted that Turner and local business leaders that accompanied him on the trip signed several official memoranda of understanding expressing specific plans to widen commerce with China.
Lui Baowue, vice administrator of China's National Energy Administration, told Mayor Turner that his country is looking to Houston-based companies to assist the Chinese to learn to tap its shale oil deposits.
Also regarding the energy realm, the Asian nation could collaborate with some of our companies to develop its liquefied natural gas export industry.
Li Pumin, secretary general of China's Planning and Development Agency, indicated during meetings with the delegation that his country seeks to collaborate with institutions based in the Texas Medical Center to help his government meet the growing health care needs of its 1.3 billion people.
Additionally, Turner met with Bank of China's vice president Yingxin Gao to talk about the possibility of them establishing a banking branch in Houston.