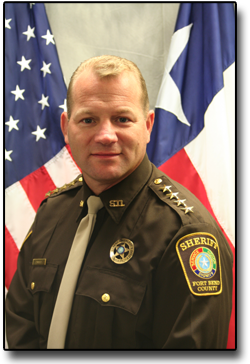 Fort Bend County Sheriff Troy Nehls will not run for Congress in 2018. Nehls had considered challenging incumbent Congressman Pete Olson (TX-22) in the March Republican primary.
Texas county or district officials must resign their current posts in order to run for other offices. Nehls says challenging Olson would mean he'd be unemployed for the next year.
"Not only would it have affected me but my brother – twin brother, Trevor, Constable Nehls – would have then sought the sheriff's office, and then he would have had to resign his position as constable," says the sheriff.
According to records obtained by News 88.7, Nehls was fired by the Richmond (Texas) Police Department for reasons including destruction of evidence. Nehls was also charged with underage drinking and obstructing an officer in 1988. He later applied for a job with the Ford Bend ISD Police Department, signing a form saying he'd never been charged with a crime.
Nehls says none of this played a role in his decision. "All that information came out when I was running for sheriff five years ago," he says. "So, no, that had nothing to do with any of this."
Nehls recently stirred up controversy on social media, regarding a woman who put a profane bumper sticker about President Trump on her truck.
The sheriff's current term ends in 2020. He says he's leaving the door open to a run for higher office then.