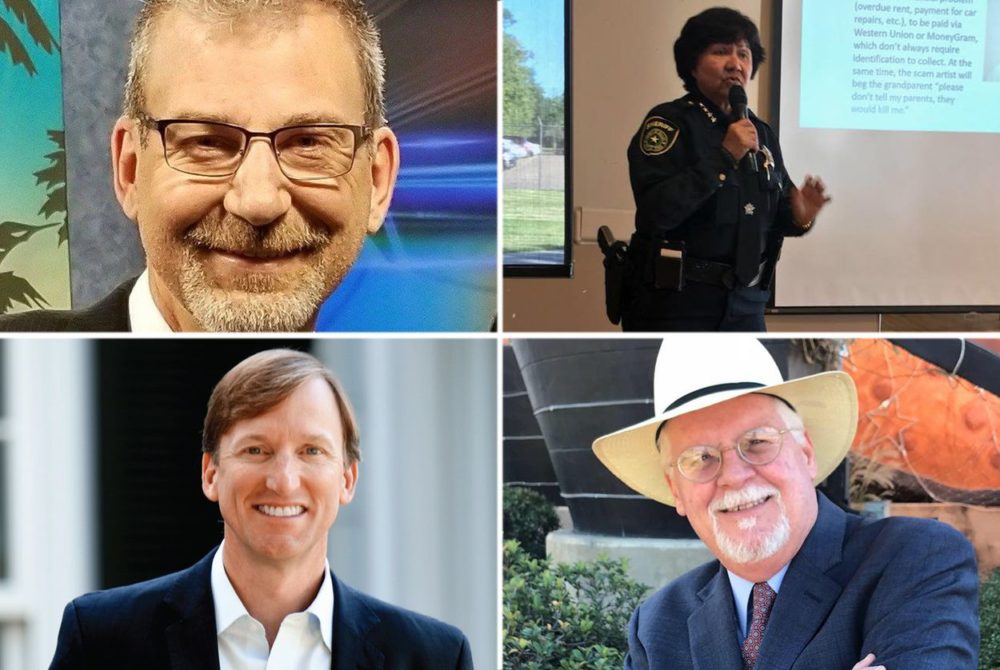 Texas Democrats appear headed toward a less-than-common scenario in their decades-long bid to retake the governor's office: a crowded, potentially competitive primary.
With less than a week left in the filing period, six little-known Democrats have filed to challenge Republican Gov. Greg Abbott next year. On Wednesday morning, Dallas County Sheriff Lupe Valdez announced she was entering the race. Andrew White, the son of late Gov. Mark White, is also expected to make his bid official this week. An eight-way primary could be the party's most crowded nominating contest for governor since at least the 1980s.
While Valdez — the only current elected official among the eight candidates — immediately secures frontrunner status, she faces no guarantee of the kind of cakewalk to her party's nomination that former state Sen. Wendy Davis enjoyed in 2014. White, who is set to announce his campaign Thursday in Houston, has been laying the groundwork for a serious bid, while some of the other contenders have been campaigning for months.
White cuts a markedly different image. A Houston investor who has never been elected to office before, he is presenting himself as a conservative Democrat with business instincts.
As White has explored a run, he has faced questions about his commitment to abortion rights — to the point that Davis took to Facebook in October to warn friends that White is "anti-choice." He admits to having conflicted feelings about the issue, and he has promised to meet with women's health groups to learn more.
"We're a party of a big — a broad — tent, and so there's always been Democrats who have been elected who are pro-life," Hinojosa said in the interview, noting that the decision is ultimately up to the voters. "Obviously in the platform of the Democratic Party, there's a very strong pro-women's health, pro-choice plank on that, but it's not a disqualifier if someone is not, and so, you know, if he wants to run, he's welcome into our party."
To some political observers, a Valdez-White primary, if it becomes truly competitive, could raise questions about Texas Democratic politics that could have implications far beyond the 2018 elections.
"Andrew White is the kind of candidate who represents the Texas Democratic Party of the past, but that's not necessarily bad because the past meant winning," said Brandon Rottinghaus, a political science professor at the University of Houston. "But the future of the Democratic Party is not going in the direction of moderation or Anglo candidates."
Valdez and White would top a field that already includes six candidates: former Balch Springs Mayor Cedric Davis; Houston electronics businessman Joe Mumbach, Dallas investment adviser Adrian Ocegueda, Dallas businessman Jeffrey Payne, former congressional candidate Tom Wakely and Grady Yarbrough, a perennial candidate who unexpectedly won the Democratic nomination for railroad commissioner last year.
Of those six candidates, Payne and Wakely appear to have been running the longest — both since July — and have been the most active on the campaign trail. Payne said he has been to multiple locations spread across 23 counties, with plans to stop in 140 counties before the primary. Wakely said he has traveled to 50 cities and towns — he's on a "La Quinta tour," visiting with Texans over free breakfast at the the hotel chain's locations throughout the state.
In an interview Monday, Payne spoke warmly of the possibility that there would be two gay gubernatorial candidates — himself and Valdez — suggesting it would be a sign of progress for the LGBT community in Texas. But he made clear he sees himself with an advantage at this stage in the race, noting that he is "six months ahead of anyone who's going to suddenly announce."
"I think at this point for anyone to jump in," Wakely said, "it's going to be a pretty hard catch-up for these guys to get out and make trips to all these little small towns and cities and talk to people."
Among candidates like Payne and Wakely, there's not much love for the state party and its apparent efforts to recruit a candidate for governor with a higher profile.
"We know they're looking for a more visible [candidate], but my whole thing has been the visible candidate they've had for 24 years — we're at a quarter of a century now, and we're not picking up any speed with it," Payne said. "In fact, we had our worst loss four years ago, which was unfortunate. Wendy was a good candidate."
Wakely — who unsuccessfully challenged U.S. Rep. Lamar Smith, R-San Antonio, last year — has been outspoken in calling for the party to take more seriously the black vote, which he believes will be key to winning in 2018. He is running as a ticket with Michael Cooper, an African-American candidate for lieutenant governor.