Sixteen Houston police vehicles are on the road with wraps that display the message "Don't text and drive, it's the law."
"Those who are caught texting and driving face a fine of up to $99 for the first offense. And those who have been previously convicted could face a fine of up to $200," said Houston Police Department Assistant Chief Wendy Bainbridge.
Houston Fire Department Chief Samuel Peña said 25 percent of their call volume is for vehicle accidents, and many are young drivers. Texas has a ban on phone use by teen drivers.
"You know, this is the first demographic that's actually learned to text before they learn to drive. So really it's gonna take a lot of education, a lot of awareness, to let them know about the dangers of texting and driving," said Peña.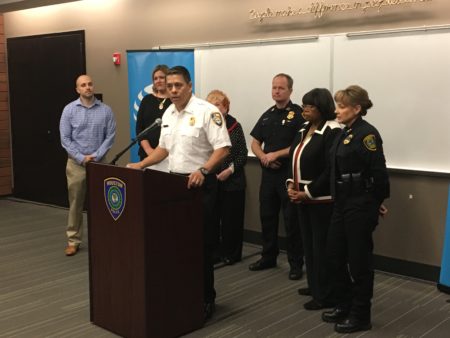 Peña said it seems like driving is the least-performed task in a car now — we are either eating or texting or talking on the phone or doing something other than concentrating on the road.
"No Facebook post or tweet or text or call is so important that it cannot wait until you are, have stopped the vehicle and done so safely," Peña said.
Officers are on the lookout for swerving vehicles with drivers looking down at their phones.
Chief @Baimbridg1Wendy reminds drivers that texting and driving is against the law in Texas; first offense is up to $99 … @ItCanWait #itcanwait @att pic.twitter.com/vkUWsxXIRw

— Houston Police (@houstonpolice) December 5, 2017