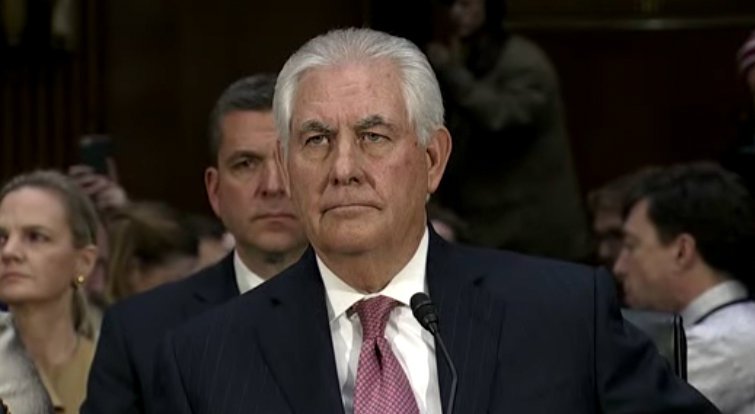 THE LATEST on President Donald Trump's national security team (all times local):
6:58 p.m.
After months of clashes on policy and personality, President Donald Trump is considering ousting Secretary of State Rex Tillerson and replacing him with hard-nosed CIA Director Mike Pompeo following less than a year on the job, senior U.S. officials said Thursday as turmoil within Trump's national security team burst into the open.
The White House plan, which Trump has not yet signed off on, would force a major realignment early in his term, also creating a vacancy atop the CIA that officials said could be filled by Republican Sen. Tom Cotton of Arkansas. The overhaul could produce a significant shift in both the tone and direction of the president's foreign policy, removing it from the understated former oil man whose style has never fit well with Trump's.
It is exceedingly rare for a secretary of state, America's face on the global stage, to be fired or to serve for a year or less. Nor is it common for presidents to have such a significant Cabinet revamp so soon after taking office. Too much churn could fuel the perception of chaos in the Trump White House — perhaps one reason he has yet to pull the trigger.
Tillerson's likely ouster, which was first reported by the New York Times, loomed awkwardly over an Oval Office meeting Thursday between Trump and the visiting Bahraini crown prince. Asked by a reporter whether he wanted Tillerson to stay on the job, Trump was coy, merely pointing out that Tillerson was in fact in the building.
"He's here. Rex is here," the president said.
Timing for any move was uncertain.
Defense Secretary Jim Mattis, Tillerson's closest ally in the administration, simply brushed off the report. "There's nothing to it," he said when asked.
But White House spokeswoman Sarah Huckabee Sanders didn't deny it. She did suggest that no move was imminent, saying the president and Tillerson planned to "work together to close out what we've seen to be an incredible year."
Does the president still have confidence in Tillerson? "When the president loses confidence in someone, they will no longer serve in the capacity that they're in," she said.
Friction between the president and the nation's top diplomat has grown increasingly public through the year.
After a report last month that Tillerson had called the president a "moron," Tillerson was forced to appear before cameras at the State Department to pledge fealty his boss. Soon after, Trump publicly challenged his secretary to an IQ match.
For Tillerson, who left his job as Exxon Mobil's CEO, a premature departure from the Cabinet has seemed increasingly inevitable.
"There's been a Tillerson death watch since the spring," said Derek Chollet, a former State Department, Pentagon and National Security Council official in the Obama administration.
When Tillerson was tapped for the job late last year, many Trump critics expressed quiet relief that he'd picked a sober "adult" who could form a counterweight to the president's brasher, impulsive approach, especially on critical matters of war and peace.
Yet divisions on key foreign policy issues emerged quickly, and Trump has repeatedly undermined Tillerson by voicing positions at odds with those the State Department was pushing.
When Tillerson in June called on Arab nations to ease their blockade on Qatar, Trump emerged in the Rose Garden hours later to lambaste Qatar for funding terrorism. Trump also deemed diplomacy with North Korea a waste of time, when Tillerson was pursuing just that. Tillerson's advice to Trump to stay in the Paris climate deal and certify Iran's compliance with the nuclear deal was similarly overruled.
Pompeo, in contrast, has formed a tight relationship with Trump that's led to a role much broader than many past CIA chiefs. A former businessman and conservative Republican congressman from Kansas, Pompeo is at the White House nearly every day to deliver the daily intelligence briefing, a task often delegated to less senior officials. He sometimes stays longer to accompany Trump to other meetings. He shares the president's hardline stance against Iran.
Cotton, a top contender to take over at CIA, has been one of Trump's staunchest defenders on foreign policy in Congress. Yet moving him would create a Senate vacancy just as Republicans need every vote possible. Under Arkansas law, if Cotton steps down before next July, the state's Republican governor would appoint a replacement who would serve until the November 2018 election. If Cotton stays in the Senate, his current term doesn't end until 2020.
Cotton's office wouldn't comment other than to say: "Senator Cotton's focus is on serving Arkansans in the Senate."
Several administration officials said that Pompeo has said previously he's open to the job.
Tillerson's top priority as secretary has been his sweeping overhaul of the State Department, a "redesign" that has been lambasted by lawmakers from both parties and that the State Department concedes has hurt morale among diplomats. Still, Tillerson aides say he expects to remain in his role to see the overhaul through.
At the White House, meanwhile, frustration with Tillerson has mounted over what officials have described as Tillerson's aloofness and his slowness in filling key roles to carry out the president's agenda.
By September, the White House was telling some people that Tillerson would be replaced and some issues needing sign-off from the secretary of state were being put off until after he was gone, said a senior administration official, who like others wasn't authorized to comment publicly and demanded anonymity.
Tillerson's future came up in the Oval Office earlier this month at a meeting in which White House officials closest to the president agreed the Texan should go — and soon — said one individual who consults regularly with the administration. But Trump never signed off, and officials have struggled to focus his attention on the matter, the individual said.
No matter how long Tillerson is allowed to stay on, his stature and ability to speak on Trump's behalf has been impaired, it is widely agreed.
___
3:40 p.m.
President Donald Trump's press secretary isn't denying reports that he is considering replacing Secretary of State Rex Tillerson. But Sarah Huckabee Sanders noted that Tillerson had met with Trump on Thursday, and she said: "When the president loses confidence in somebody they will no longer serve in their position."
Administration officials say the White House is developing a plan to replace Tillerson with CIA Director Mike Pompeo but the timetable for a change is uncertain.
___
3:35 p.m.
The State Department says White House chief of staff John Kelly is disputing reports of a plan to replace Secretary of State Rex Tillerson.
State Department spokeswoman Heather Nauert says Kelly called Tillerson's chief of staff, Margaret Peterlin, on Thursday to say the "rumors are not true."
Nauert says Tillerson serves at the president's pleasure and remains in his role until told otherwise. She says that Tillerson "brushed this off today" because he's heard such stories before.
Nauert says Tillerson is "going about his business" and will travel to Europe on an official trip starting Monday.
___
12:20 p.m.
The White House says Rex Tillerson continues to lead the State Department.
That's after reports that White House officials are discussing a plan to replace Tillerson with CIA Director Mike Pompeo in what would be a major shake-up of the president's national security team.
White House spokeswoman Sarah Huckabee Sanders says there are "no personnel announcements at this time."
She says Tillerson continues to lead the department, and that the entire Cabinet is focused on completing Trump's first year in office.
Tillerson is the former Exxon Mobil CEO who has had tensions with Trump in several foreign policy areas, as well as overwhelmingly negative publicity over plans to reorganize the State Department.
___
11:23 a.m.
Republican Sen. Tom Cotton's office says he's focused is on serving the people of Arkansas in the Senate. That's after reports that he might be picked to run the CIA in a major shake-up of President Donald Trump's national security team.
White House officials confirm a plan is under discussion to replace Secretary of State Rex Tillerson with CIA chief Mike Pompeo, and Pompeo with Cotton. Cotton is a staunch Trump ally who was first elected to the Senate in 2014.
Cotton's office says in a statement, "Senator Cotton's focus is on serving Arkansans in the Senate."
___
10:56 a.m.
The White House is discussing a plan to replace Secretary of State Rex Tillerson with CIA director Mike Pompeo.
That's according to two administration officials. They were not authorized to publicly discuss internal thinking and spoke on condition of anonymity.
U.S. officials and individuals familiar with White House plans have spoken about the possibility of a broad shakeup in President Donald Trump's national security team. But the timing of such a change is unclear.
Also unclear is whether Pompeo has been approached about the Cabinet reshuffle, but another administration official said he is open to taking the job.
A senior administration official who spoke recently with Tillerson says the former Exxon Mobil CEO felt secure in his position and was focused on his State Department reorganization and other diplomacy matters.
Associated Press writers Zeke Miller, Richard Lardner and Darlene Superville contributed to this report.