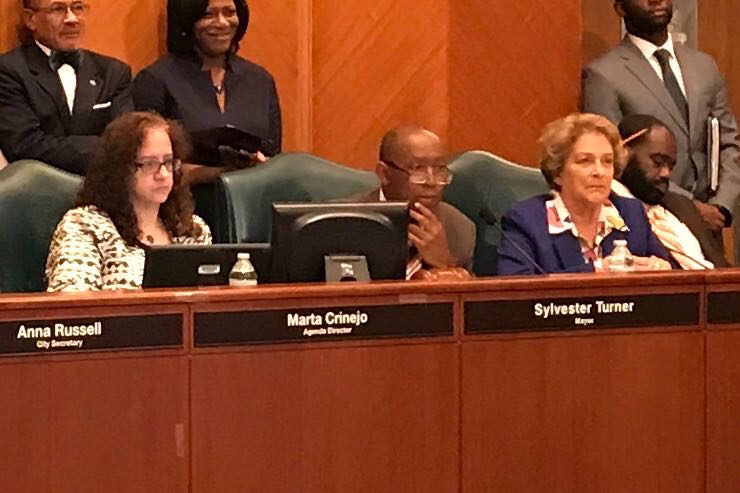 Before the Houston City Council could debate the issues on today's agenda, a 40 minute discussion on Hurricane Harvey relief efforts took place at City Hall.
Mayor Sylvester Turner was quick to point out that the city of Houston doesn't have the money needed to build a third reservoir. Mayor Turner said the cost of a third reservoir is around $500 million.
Turner wants financial assistance from Washington D.C­. but is concerned that Texan's independence and resiliency following ­Hurricane Harvey may portray Texas as not needing federal assistance. He's urging everyone to email and send pictures of the damage Houston is still dealing with to Congressmen, Congresswomen and Senators in the Capitol.
In order to help Houston avoid major flooding the next time it faces significant rainfall, Mayor Turner believes that Texans need the same kind of federal assistance that Louisiana received after Hurricane Katrina, and New York and New Jersey got following Hurricane Sandy.
Council Member Dwight Boykins from District D asked Turner if the city was ready to commit the necessary ten percent of local funds the federal government is requiring before committing the remaining ninety percent for Hurricane Harvey relief efforts and prevention of future flooding.
Turner responded by saying the state has committed the ten percent needed for debris removal. Whether that would be enough to satisfy federal requirements was not completely established.
The Mayor believes he has the support of Harris County Judge Ed Emmett. He adds the money Houston needs is included in Governor Greg Abbott's $61 billion package submitted to the federal government. However, he cautioned that Washington would not commit federal funds until the state taps its rainy day fund.
Dave Martin, Councilman from District D, said the Governor's $61 billion package doesn't include any remediation for Kingwood residents flooded from what he calls human error; water released from Lake Conroe down the San Jacinto River.
What also concerns Martin is that presently Lake Conroe only has 18 inches of water capacity before flooding in Kingwood would happen again. Because the City of Houston controls the water in the San Jacinto River, he said it's imperative that Houston gets representation on the San Jacinto River Authority, which is controlled at the state level.