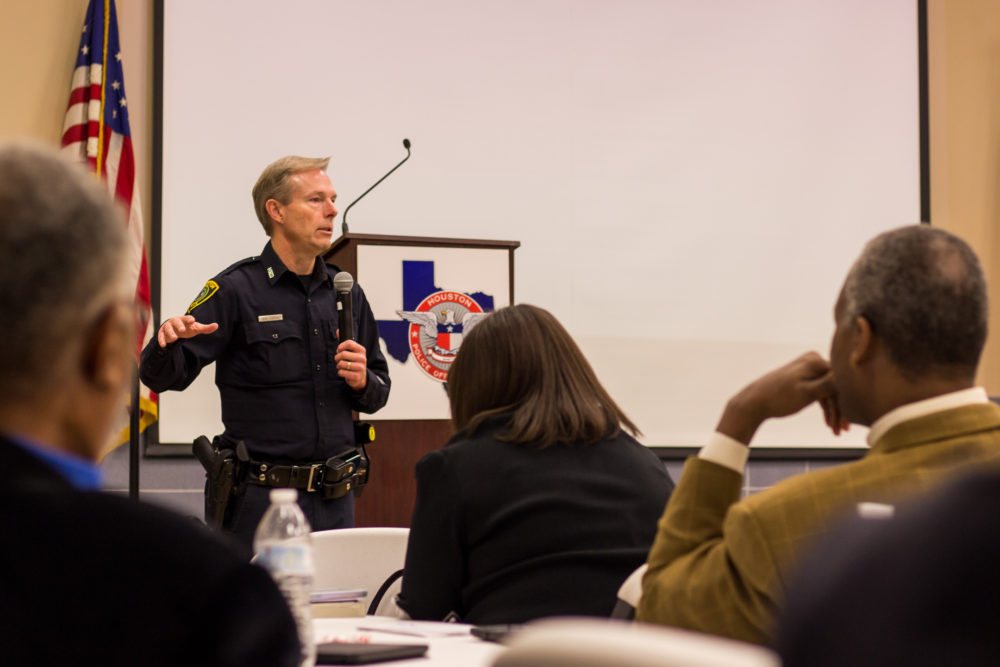 The Houston Police Department is training area religious leaders on how to keep worshipers safe from active shooters.
Last weekend in a Houston church a man allegedly brandished a gun and threatened the congregation just a few weeks after the deadly shooting in Sutherland Springs. With these events in mind, Houston area pastors are turning their attention to security in houses of worship — dozens of them packed in the Houston Police Union Auditorium.
"The reality is that it could happen anywhere," said Barry Curtis, a clergy liaison for the Houston Police Department, "so that's why we're having this kind of conference."
Churches and other religious institutions need to have a plan, Curtis said. Learning from past shootings helps create a more effective plan, he said.
Those plans include having a plainclothes police officer there, or training ushers and greeters to look out for suspicious activity, but not shutting and locking doors to the public.
"I think most churches are still of the mind — we're not going to close our doors," said Dave Welch of the Houston Area Pastor Council. "At the end of the day the church is there to welcome all who come."
Welch says that makes it the church's responsibility to protect its congregation.
MORE: Pastor John McCrutcheon and Harris County Constable Alan Rosen discuss church safety seminars on Houston Matters.