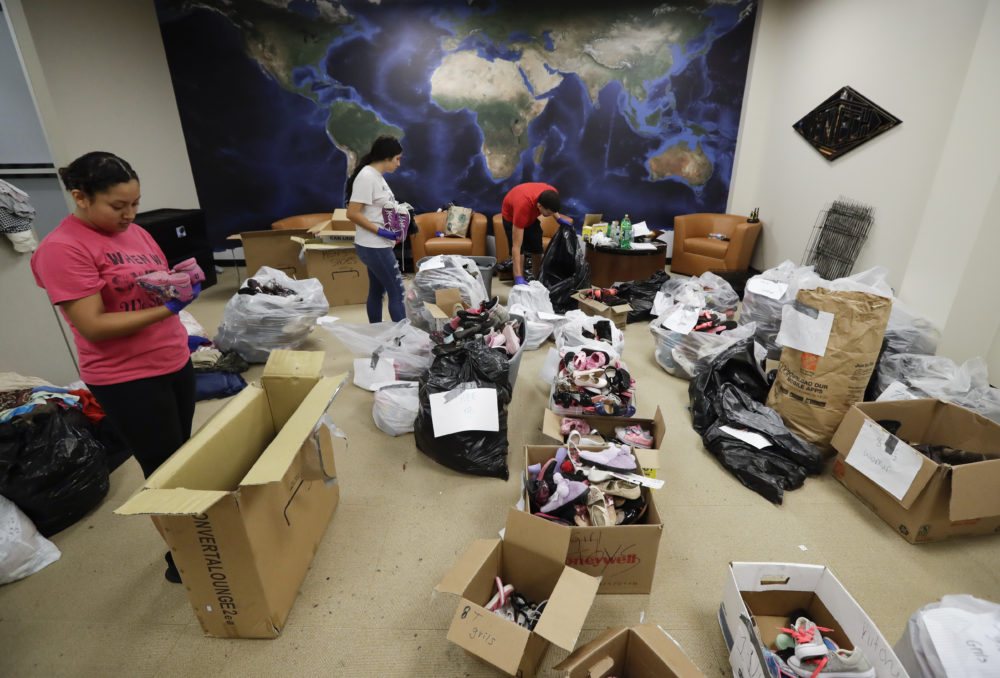 The continent's string of disasters this year has been stunning: five hurricanes, two earthquakes, tens of thousands of acres burned by wildfire…
Around the world and in the U.S., onlookers have felt driven to help – but have also faced a growing conundrum. At the same time that the media was giving unprecedented detail about these catastrophes, it shed new light on the limits of the institutions meant to help. So what's the best way to give if even the Red Cross no longer inspires full confidence?
"More and more, donors are becoming concerned with how their donation is used," said Sara Nason, communications manager at the nonprofit Charity Navigator, which rates charities for transparency, efficiency and effectiveness.
These concerns are valid, added Juliet Sorensen, an associate dean at Northwestern Pritzker School of Law. "In the wake of a natural disaster, corruption and fraud abounds," she said. "In part it's because the emergency atmosphere does not lend itself to quality control or meaningful oversight."
In an international city such as Houston, residents may be especially attuned to institutional failures in global crises. In August and September, for example, when Houston sank under Hurricane Harvey's floodwaters, the American Red Cross leaped into action, setting up shelters and providing meals. Yet shadows have loomed over the nonprofit since its performance in post-earthquake Haiti, where more than a half-billion dollars in donations failed to result in even one rebuilt house in some stricken areas. During Harvey, Houston City Councilman Dave Martin criticized the Red Cross in his hard-hit district, calling it "the most inept, unorganized organization" and begged constituents "not to send them a penny."
In Puerto Rico, Hurricane Maria slammed a bankrupt island where the economy and essential services were already in shambles. Widespread devastation and the U.S. government's lackluster initial response means still more deaths are possible as power outages and a lack of sanitation increases the risks of disease spreading.
Meanwhile, in Mexico, earthquake relief efforts have so far raised around $37 million – only about 3 percent of what Mexico's earthquake victims will need for reconstruction, according to Mexican daily El Economista.
In all three disasters, experts increasingly agree that cash – the one resource most easily pilfered and diverted – is also what's most desperately needed. So how can donors know where to give?
First, nonprofit watchdogs say, don't be afraid to crunch the numbers. Use online tools that show how much a nonprofit spends on overhead and what percentage of the donations it receives goes to relief operations. One way to assess global nonprofit spending choices is Guidestar, which offers information about the mission, reputation, finances, programs and governance, among other things, of IRS-registered nonprofits. Another good source is Charity Navigator, which breaks down a non-profit's financials and assigns a star rating that makes it easy to compare different organizations.
Secondly, consider supporting projects with lower risk. While corruption taints all economic sectors, some are especially vulnerable, notes economist Peter Rodriguez, dean of Rice Business. "Infrastructure projects are especially prone to corruption," he wrote in a recent paper on foreign corruption, "because they involve large investments and complex contracts in which corrupt payments can be easily be disguised."
In Houston and abroad, some donors choose instead to give to trusted individuals. In those cases, advises Charity Navigator, look for groups with deep local ties, do your homework on the targeted charity and consider a long-term view of recovery needs.
J.J. Watt, the locally beloved defensive end for the Houston Texans, raised $37 million dollars for Harvey relief after starting with a humble appeal for $200,000. In Mexico, newly prominent fundraisers include actors Diego Luna and Gael García Bernal, who confronted distrust of government institutions by appealing for relief funds personally, vowing to publish how much they received, how the funds would be used and what the outcomes were of the efforts.
Finally, keep tabs on a charity after donating to it, suggested Charity Navigator's Sara Nason. "A continued conversation is crucial to ensuring that you trust the organization and know where your donation is being used," she said.
In Puerto Rico, local government response is in such disarray that individuals around in the world have mounted their own rescue and relief operations. In Miami and New York, individual activists quickly organized delivery of solar-powered generators for remote or impoverished areas, attracting backing from Tesla Motors CEO Elon Musk.
And in some cases, donors have found a way to cut out institutional middlemen entirely – albeit remotely. In Houston, volunteers with the nonprofit Crowd Source Rescue are organizing Puerto Rico aid and rescue with the Zello app, which turns cell phones into walkie talkies.
Among their successes: opening a 5,000 foot runway to land planes with preciously needed cargo, volunteer Joe Nieto, a software salesman, said. "It's not for the faint-hearted," Nieto said of the reports they hear from the island. "We knew here in Houston that help was coming. Not there. Not even basic infrastructure is fully functional."
---
Gold Standard: A sampling of institutions with high ratings from the watchdogs
United States
Habitat for Humanity: Builds and restores homes for lower-income communities and has a four-star rating, the highest possible, from Charity Navigator. In the wake of Harvey, it has committed to fully rebuilding 176 homes by December 31 in Houston's hardest hit neighborhoods.
Community Foundation Sonoma County: A philanthropic organization supporting nonprofits in Sonoma County since 1983, it has started a Resilience Fund to support reconstruction after the recent wildfires. It has received 92 out of 100 possible points from Charity Navigator.
Mexico
Los Topos: Founded after the 1985 Mexico City earthquake, Los Topos is a volunteer rescue brigade that has assisted in earthquakes from Mexico to Nepal. The unpaid force uses funds to keep volunteers regularly trained and at the ready to assist at the next disaster. Donations can be made through Paypal at donativos@brigada-rescate-topos.org.
Fondo Unido Mexico: Part of the United Way network inside of Mexico, it focuses on rebuilding schools and community centers and training a culture that's prepared to react to emergencies. It not only responds to the most visible natural disasters, but since 2011 has attended to less publicized emergencies caused by tropical storms and earthquakes in less populated regions.
Puerto Rico
Direct Relief: A humanitarian aid organization that gets a perfect, four-star rating from Charity Navigator for accountability and transparency. According to its website, 99.4 percent of its expenses are spent on programs and services. Its efforts in Puerto Rico focus on supporting community health centers and primary care associations.
Unidos Por Puerto Rico: A nonprofit spearheaded by the First Lady of Puerto Rico that grew out of a telethon to raise money for hurricane victims. Its board of directors consists of members from the private sector, representing some of the largest corporations on the island, who are tasked with making sure the funds are directed towards hurricane relief. It has enlisted outside, private auditors such as Deloitte and KPMG to track the funds and provides a breakdown on its website of all the goods it has delivered.
Jasmina Kelemen is a journalist who divides her time between Houston and Caracas, Venezuela. A former editor for Bloomberg News, she has reported from 4 continents and contributes to Houstonia magazine and Rice Business Wisdom.
For more information go to Houston Matters' story on this issue.