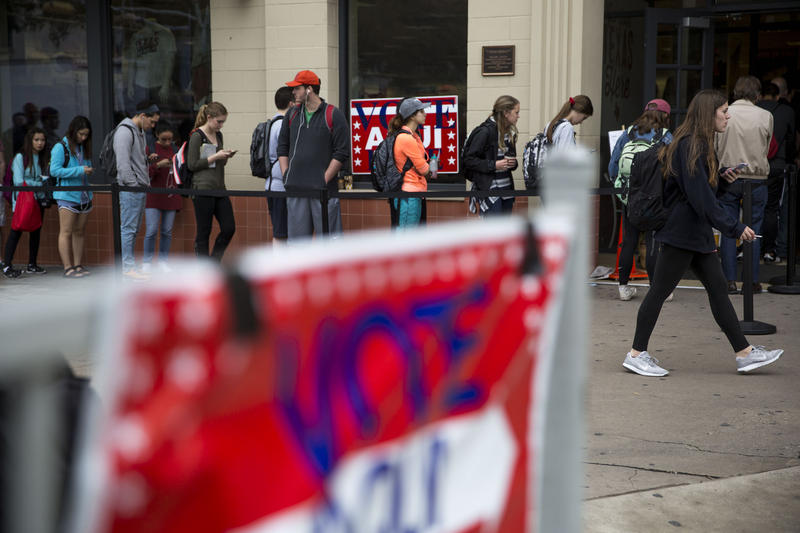 The field for the 2018 party primaries here in Texas is taking shape. The deadline for candidates to file is coming up, and since this month's Democratic victories in other states, political strategists have been trying to decipher what those wins mean for Texas.
It happens every two years. After decades of one-party Republican rule in Texas, the inevitable question is, "Will Democrats do anything?"
So far, the answer has always been no, and, if you're asking about statewide races, Rice University political scientist Mark Jones says the answer is still no.
"The Democrats are having a very difficult time recruiting high quality candidates to compete against Republican incumbents such as Greg Abbott, Dan Patrick and Ken Paxton," Jones said.
But in local races, like state House, the answer may not be so clear-cut.
"Well I think it will depend on what the final filings look like," said Jim Henson, who heads the Texas Politics Project at UT-Austin. "But we know that in some of these districts there are more Democratic candidates than we've seen in the past."
So, there may be more candidates, but does that mean they could have a better shot of winning?
Jones says maybe, because candidates are "coming out of the woodwork" to run in races they think are winnable – and because they're raising money.
But how many winnable seats are there? Jones says not many.
"The reality there is that because of the way that the districts have been drawn, there are a good 80 to 85 Republican-held Texas House seats that simply aren't competitive under any scenario," he said. "Other than the candidate perhaps committing a felony right before the election."
Henson says there is actually one other outside factor that could affect races considered safe for Republicans.
"[T]here is a big wildcard out there, and he's sitting in the White House," Henson said. "And he continues to surprise as the time goes on."
Support for President Donald Trump wasn't great in exit polling in this month's elections in Virginia. And in an administration that seems to lurch from controversy to controversy, we've still got 11 months for the president to color the 2018 mid-term elections.