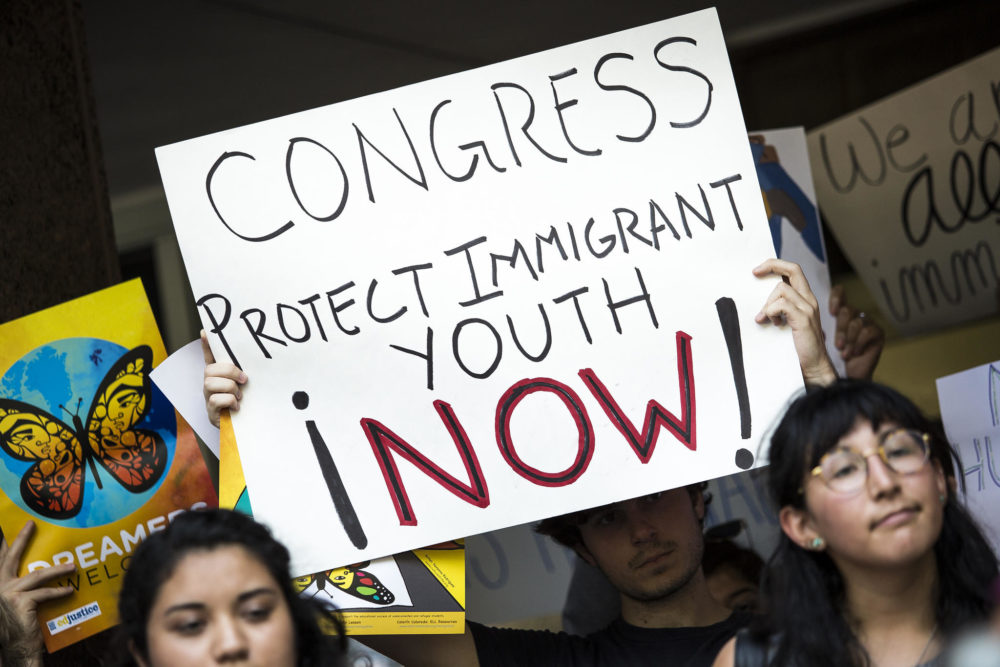 Tuesday brought a rarity in politics: a bipartisan event favoring immigration reform. Two members of Congress — a Democrat and a Republican — spoke out for so-called DREAM legislation at the Dallas Regional Chamber.
The idea behind the legislation is to help young, undocumented immigrants who have work permits under the Deferred Action for Childhood Arrivals, or DACA program, which was established in 2012. President Trump has promised to kill it if Congress doesn't step in with new legislation by March. No legislation means 800,000 immigrants could be deported.
Rep. Joe Barton, R-Ennis, thinks that's wrong. He is the lone Texas Republican backing DREAM legislation, for two reasons.
"They've been educated here; they've grown up here," Barton said. "They are Americans except they're not U.S. citizens because their parents came here without permission when they were minor children. They don't have a home country to go home to because they're already home. It's the right thing to do. It's the fair thing to do."
Business leaders say it makes financial sense, too. Bill Lucia is president and CEO of HMS, a financial company for health care providers.
"Ninety-seven percent are employed, in school or both," said Lucia, whose own family came from Italy. "Five percent started their own businesses, compared to 3 percent for the general public. To lose these hard-working and motivated people would truly be an economic loss."
Lucia also says immigrants have always helped weave a strong social fabric.
"DACA gave me the chance to complete my studies at Yale and to give back to my city," said Juan Cerda. The DACA recipient came to the U.S. from Mexico when he was 7. "When I graduated I returned to Dallas to teach kindergarten and coach girl's soccer. I loved teaching. I loved helping families and bringing people together, and I loved making Dallas a better place."
Rep. Eddie Bernice Johnson, D-Dallas, also attended the regional chamber event. She helped write comprehensive immigration reform legislation that would extend DACA another eight years. Joe Barton's Republican version includes a five-year extension, then offers another five for DACA recipients to earn citizenship.