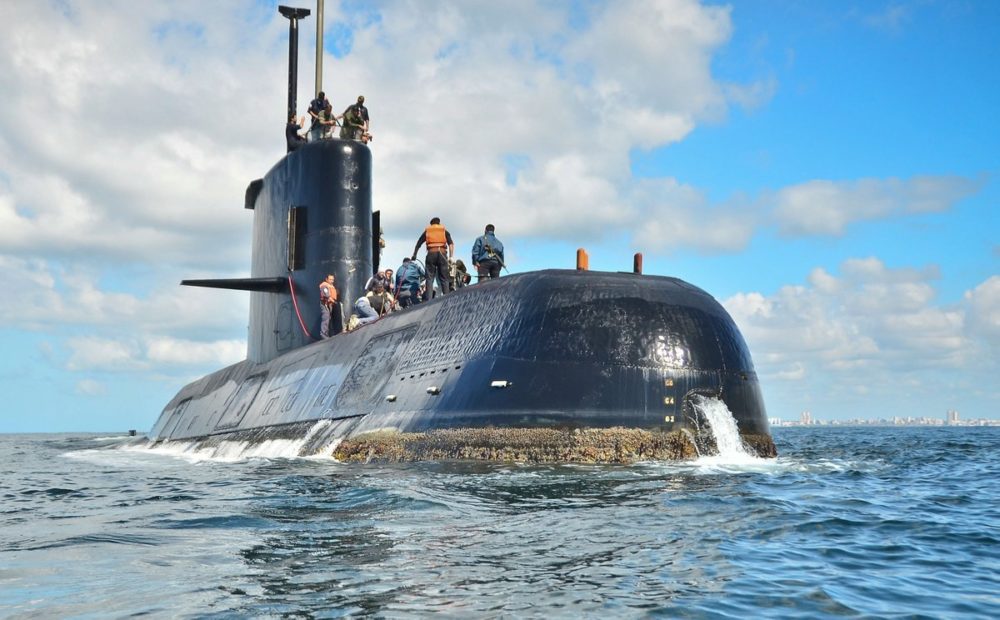 Argentina's navy says it's analyzing a noise that might have come from missing submarine with 44 crew members on board.
Satellite calls that had raised hopes of finding an Argentine submarine that has been lost at sea for five days did not come from the 44 crew members on board, Argentina's navy said Monday, complicating an international rescue effort that has already been hindered by stormy weather.
Authorities last had contact with the ARA San Juan sub on Wednesday as it journeyed from the extreme southern port of Ushuaia to the coastal city of Mar del Plata. Dozens of aircraft and ships, including a British polar exploration vessel, have joined in search efforts that have attracted the world's attention.
Estuve en la base de Mar del Plata para acompañar y ofrecer todo mi apoyo a los familiares de la tripulación del submarino ARA San Juan en estas horas difíciles. Seguimos desplegando todos los recursos nacionales e internacionales disponibles para hallarlos lo antes posible. pic.twitter.com/gYDc1eGV1p

— Mauricio Macri (@mauriciomacri) November 20, 2017
The communication attempts received on Saturday were originally thought to indicate that the crew was trying to re-establish contact, prompting emotional celebrations by family members and officials. But Navy spokesman Enrique Balbi said Monday that officials analyzed the seven low-frequency satellite signals and determined they were not received from the submarine.
The maritime search for the German-built diesel-electric vessel has also been made difficult by stormy seas with waves up to 20 feet (6 meters).
Although the crew has enough food, oxygen and fuel to survive about 90 days on the sea's surface, they only have enough oxygen to last seven days if submerged, Balbi said.
Adm. Gabriel Gonzalez of the Mar del Plata Naval Base said Monday that the submarine reported an electrical problem Wednesday and was returning to the base when it went missing in the South Atlantic.
At the Vatican, Argentine Pope Francis said that he is sending "fervent prayers" for the crew. Relatives of the crew members also took to social media on Monday to ask for support during the search.
"Pray so that my husband, Fernando Santilli can return home," Jesica Gopar said on Twitter. "He's in the San Juan submarine."
The submarine was originally scheduled to arrive Monday to the base in Mar del Plata, about 250 miles (400 kilometers) southeast of Buenos Aires. Argentine President Mauricio Macri met with family members there who anxiously waited for news about their loved ones.
"We can make up a thousand movies with happy and sad endings, but the reality is that the days pass by and not knowing anything, kills you," Carlos Mendoza, the brother of submarine officer Fernando Ariel Mendoza, told The Associated Press.
"Every minute is oxygen that's worth gold."