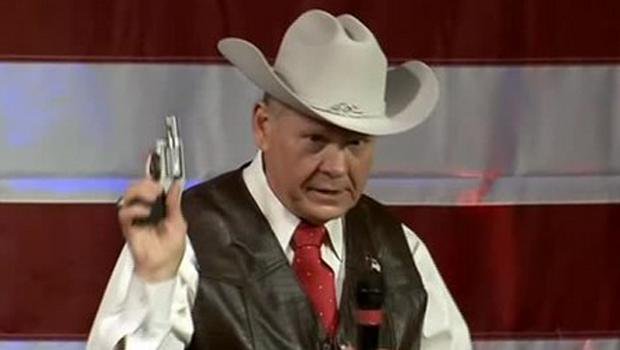 With President Donald Trump standing on the sidelines, Republican Senate candidate Roy Moore and his allies on the ground in Alabama are bracing for an extended conflict — not with Democrats, but with their own party in Washington.
The divide between the state and national GOP reached new depths late Wednesday as more allegations of sexual misconduct surfaced against Moore, an outspoken Christian conservative. Already, the Republican National Committee, the Senate GOP campaign committee and the party's leading voices in Congress have called on the 70-year-old former judge to quit the race.
Ever defiant, Moore offered fighting words in a tweet addressed to the top Senate Republican: "Dear Mitch McConnell, Bring. It. On."
Chris Hansen, executive director of the national GOP's Senate campaign committee, fired back, "'Bring It On' is a movie about cheerleaders."
At least three new allegations of misconduct were reported on Wednesday, including one by Tina Johnson, who told AL.com that Moore groped her during a 1991 meeting in his law office. Two others told The Washington Post they were young women when Moore courted them as a district attorney in his 30s. Three other women told the newspaper last week that they were teens when Moore tried to initiate romantic relationships. One said she was 14 when Moore touched her over her bra and underwear.
"There's a special place in hell for people who prey on children," Ivanka Trump told the AP. "I've yet to see a valid explanation and I have no reason to doubt the victims' accounts."
Her father, however, dodged questions about the turmoil in the Alabama Senate race on Wednesday. President Donald Trump, who withstood allegations of sexual assault weeks before his own election, was uncharacteristically silent when faced with questions about the scandal.
Washington Republicans had looked to Trump as one of the few remaining hopes for pushing a fellow political rebel from the race.
Trump counselor Kellyanne Conway addressed the situation briefly Thursday on "Fox and Friends." "The president will make a statement when he wants to make a statement," she said.
Behind the scenes, aides described Trump as vexed by the Moore issue. Even if he should speak out, he might make an uncomfortable critic: The allegations against the bombastic former judge echo Trump's own political problems when he was accused weeks before the 2016 election of more than a dozen instances of sexual harassment. The Trump aides would not be named discussing the matter because they were not authorized to discuss private conversations.
To a great extent, the anti-establishment forces that propelled Trump to the White House are now strongly behind Moore, and Alabama Republican leaders are reluctant to enrage his loyal conservative supporters.
The Alabama Republican Party is expected to maintain support for their embattled candidate.
The state GOP's 21-member steering committee did not take a final vote after an hours-long meeting to discuss their options on Wednesday, which took place before new allegations of misconduct surfaced, according to three people familiar with the meeting who weren't authorized to speak publicly.
The state GOP has the power to revoke Moore's GOP nomination and ask election officials to ignore ballots cast for him, but that would risk a lawsuit and backlash from Moore supporters. The party has little interest in alienating Moore's followers a year before elections in which the governor's office and entire state Legislature will be in play.
Outside the state party headquarters, Moore's campaign chairman and personal attorney addressed reporters on Wednesday, trying to undercut the story of one of the women who has accused Moore of sexually accosting her when she was in high school.
The attorney, Phillip Jauregui, demanded that Beverly Nelson "release the yearbook" she contends Moore signed. The lawyer questioned whether the signature was Moore's and said it should be submitted for handwriting analysis. Neither the attorney nor the campaign manager addressed the original allegations from his other accusers. They did not take questions.
Gloria Allred, Nelson's attorney, later said her client would allow the yearbook to be examined only if Moore is questioned under oath by a Senate committee.
The unusual news conference suggested that Moore, a judge twice removed from his post as state Supreme Court chief justice, was digging in, leaving his party with two damaging potential election outcomes. His victory would saddle GOP senators with a colleague accused of abusing and harassing teenagers, a troubling liability heading into next year's congressional elections, while a loss to Democrat Doug Jones would slice the already narrow GOP Senate majority to an unwieldy 51-49.
It's too late to remove Moore's name from the ballot, so fielding a Republican write-in at this point would almost certainly hand the election to the Democrats unless he should withdraw and persuade his supporters to vote for that substitute.
According to internal polling conducted by the Senate GOP campaign arm and reviewed by The Associated Press, Moore trails Democrat Jones by 12 points — 39 percent to 51 percent — in the survey conducted on Sunday and Monday. Moore led by 9 points the week before in the National Republican Senatorial Committee's internal numbers.
National GOP leaders were openly discussing a write-in candidate, although they had not yet agreed on who it should be. Senate Majority Leader Mitch McConnell has encouraged Attorney General Jeff Sessions to step up. But Sessions, whose former Senate seat is at stake, has indicated he has no interest in that.
Alabama Sen. Richard Shelby said that he'll write in another name on Election Day and Sessions would be an "ideal candidate." But he also said "I don't see any movement" toward an effective effort with the election less than a month away.
____
Miller reported from Washington. AP reporters Kimberly Chandler in Montgomery, Alabama, Jay Reeves in Birmingham, Alabama and Alan Fram, Catherine Lucey, Andrew Taylor and Matthew Daly in Washington contributed to this report.