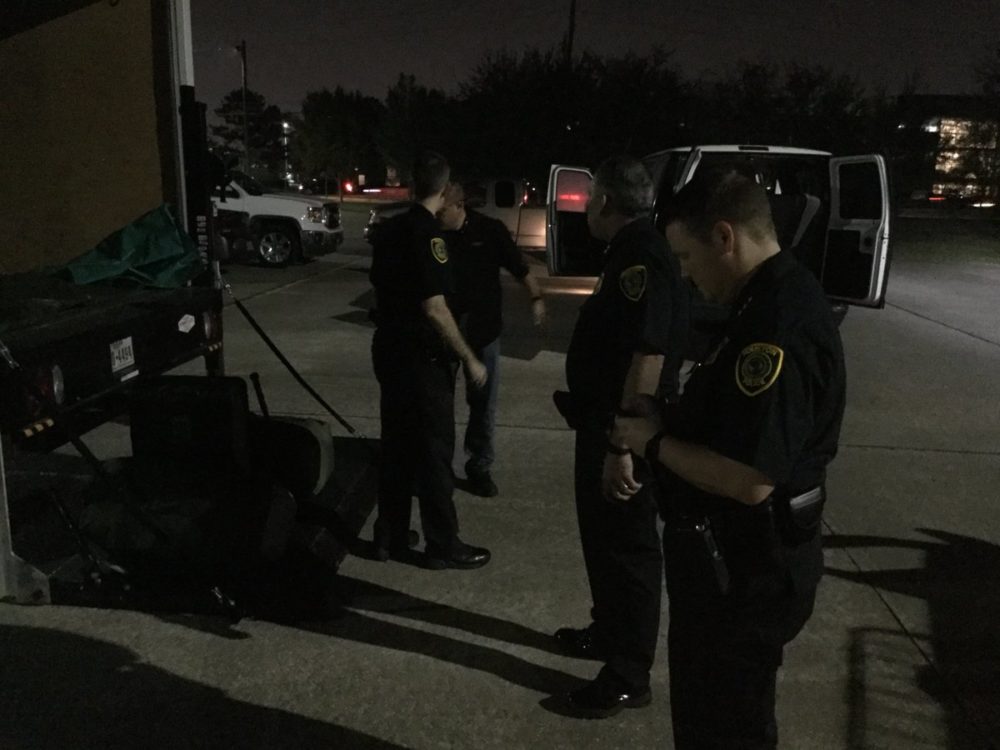 The authors of a report on the use of body cameras that includes research about the Houston Police Department's guidelines are asking that all police departments in the United States implement a policy that would make officers to file initial versions of their police reports based on their recollection and not on the recorded footage.
The Leadership Conference on Civil and Human Rights and the group Upturn, which focuses on social justice issues and the impact of new technologies, released the report Tuesday.
The authors researched the body camera policies used by 75 police departments nationwide. The document specifically analyzed information on six police departments located in Texas: Austin, Arlington, Dallas, Fort Worth, Houston and San Antonio.
Out of the eight criteria the report used to evaluate the departments' body camera guidelines, the Houston Police Department (HPD) and the San Antonio Police Department proved to be at the top in Texas, with a satisfactory grade in three criteria; The police departments of Arlington, Austin and Dallas are second with a satisfactory grade in two categories, and the Fort Worth Police Department only obtained a satisfactory grade in one category.
Specifically, HPD obtained a satisfactory grade regarding how it limits officers' discretion on when to record interactions with the public and how it addresses personal privacy concerns, as well as in regards to the way the department makes its policy publicly and readily available.
However, HPD received an unsatisfactory grade related to the other five criteria researched in the report, which have to do with limiting retention of footage; protecting footage against tampering and misuse; making footage available to individuals filing complaints; limiting biometric searching of footage; and prohibiting that officers view footage before they file a report or as they file it.
Currently, HPD's guidelines indicate that officers have the option of reviewing footage before completing an incident report, while they have to review the recorded video prior to providing testimony at hearings, trials or depositions.
Additionally, HPD officers are allowed to review the footage before completing reports related to what the department calls "response to resistance" situations.
Also, in the case of internal investigations, HPD officers are allowed to review footage recorded by their camera before providing a statement.
Harlan Yu, executive director of Upturn, told Houston Public Media his group is advocating for "clear reporting," which means "officers need to first write an initial police report that documents, independent of the body worn camera footage, what they saw and what they did and, as soon as that initial report is filed, officers should be allowed to watch the footage and then, if needed, to file a supplemental report that reconciles and provides explanatory context for what's seen on the footage."
Yu added that Upturn is advocating for a "clear reporting" national guideline because, among other reasons, it is very unlikely that an investigator would show an eyewitness the body camera footage "before asking the witness what he or she saw," and, therefore, he thinks the same rationale should be applied to police officers.
Yu also explained that body cameras don't capture "the entire story."
Additionally, the report's section on recommendations states that "the independent evidentiary value of officer reports" must be preserved because "footage of an event presents a partial—and sometimes misleading—perspective of how events unfolded."
On her part, Sakira Cook, a senior counsel for the Leadership Conference on Civil and Human Rights, noted that if officers view footage before filing a report they have an opportunity to conform the report to what the footage shows, instead of what they remember.
HPD didn't return a request for comment for this story.