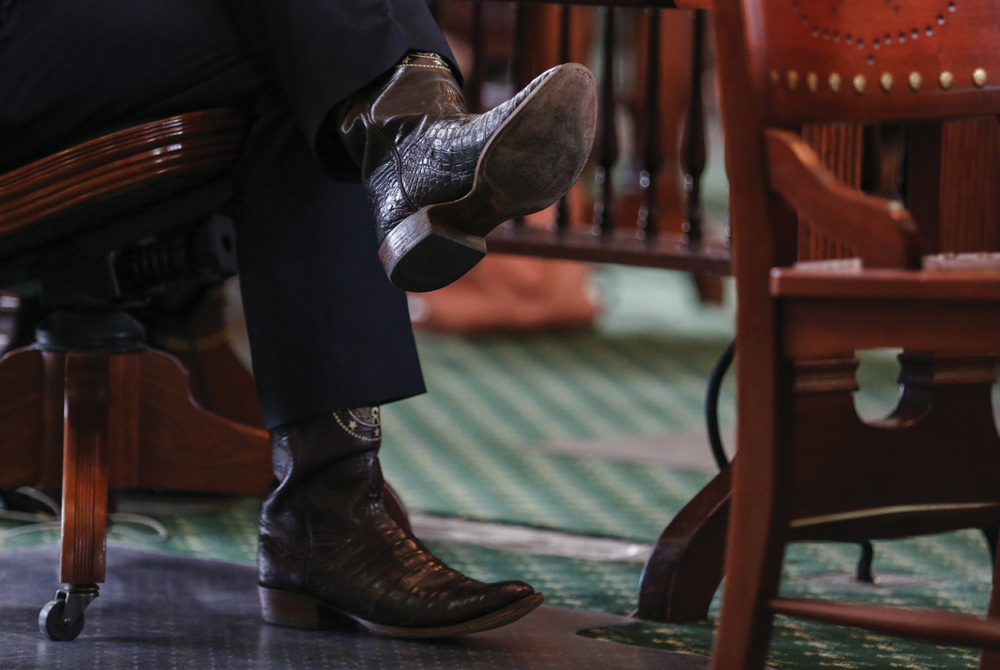 Disgust overwhelmed her when she felt his tongue on her hand.
A capitol staffer, she had been at a large party celebrating the end of a legislative session a few years ago and was on her way out when a male lawmaker she had never spoken to reached for her.
"You can't leave yet," the staffer remembers the lawmaker telling her as he held her hand tightly. She thought he was going to bring her hand to his mouth and kiss it. Instead, he licked it and refused to let go.
"It was in a crowded place," said the staffer, who no longer works at the Capitol and spoke to The Texas Tribune on the condition of anonymity for fear it would affect her current job. "Maybe it was so subtle that no one else saw anything [but] the audacity of someone to do that and think it's OK — it just boggled my mind."
As sexual misconduct accusations pile up against men in power across the country, interviews with more than two dozen current and former lawmakers and legislative aides indicate sexual harassment not only is pervasive at the Texas Capitol but also regularly goes unchecked. Most of those interviewed described how men at the Capitol — some of them lawmakers — engaged in a wide range of harassment, including degrading comments and gestures, groping and unwanted sexual advances.
Yet not a single formal complaint of sexual harassment has been filed in either the House or Senate since 2011, according to a review of public records and interviews with officials responsible for fielding complaints. Even though sexual harassment policies have been in place for two decades, few employees interviewed by the Tribune even knew they could file a formal complaint.
The policies themselves are outdated — both reference a state agency that no longer exists — and rely on Capitol officials with little incentive or authority to enforce them, particularly in cases of harassment by lawmakers.
"Well, you know we can't fire them. The people get to fire them," said Patsy Spaw, of elected officials. As the secretary of the senate, Spaw's duties include resolving complaints in the chamber.
"There's nothing to talk about"
Many of those interviewed spoke of a Capitol culture that offers little support for victims and expressed fears that speaking out would lead to retaliation or career sabotage. Instead, women who work in the Legislature said they try to protect one another by quietly exchanging stories. They pass along the names of men to stay away from and the hallways in the Capitol to avoid.
"You either created a distance or didn't place yourself in situations where you had to interact with them," said a former staffer who dealt with unwelcome advances from a lawmaker on the Senate floor and at an end-of-session party.
Another former staffer described the Capitol as a place where sexual harassment is "as common as a hello," where powerful men can prey on employees with impunity. She recounted greeting several guests at a lobbyist's party who were sitting at a table. Among them was a lawmaker, who in a "split second" shot his hand up her skirt.
The staffer said she pushed his hand away and quickly left the event in distress. She remembers being thankful for wearing the "right underwear," noting that otherwise he could have penetrated her.
Feeling powerless, she said she didn't disclose the incident to anyone. "To be able to have success in this world, you've got to keep quiet," she said.
In accounts published last week in the Daily Beast, other women, including journalists, reported their own experiences being sexually assaulted by Texas lawmakers.
The House and Senate have had a sexual harassment policies since 1995. Both generally state that sexual harassment will not be tolerated and lay out basic procedures for reporting any misconduct.
The House policy directs employees to make complaints to the chair of the House Administration Committee — an influential position set by the House Speaker and currently held by Republican state Rep. Charlie Geren — or to the manager of the House payroll and personnel department. Over in the Senate, complaints would be reported to Spaw, the Senate Human Resources office or supervisors in individual offices.
But those officials have little to no authority over lawmakers who are ultimately elected by voters back home. In the Senate, a legislator could be reprimanded privately or publicly if they were found to have sexually harassed someone, Spaw said. In the House, the state Constitution gives lawmakers "the power to punish a member for disorderly conduct and, in extreme cases, to expel a member," Jon Schnautz, the chamber's ethics adviser, said in a statement.
Several former staffers said they would not have reported their experiences with sexual harassment to House Administration because they had no confidence that the member-led committee would be objective.
"I probably would never even have felt like that was an outlet that I could trust, but I didn't even know that was a process that existed," said Genevieve Cato, a former House employee who has spoken publicly about harassment at the Capitol.
Another staffer said she didn't feel Geren's committee was a "safe place to report that."
Geren, a Fort Worth Republican who's served in the House for almost two decades, refused to answer questions from the Tribune about how his committee would handle a sexual harassment complaint because, he said, the committee had not received any.
"There's nothing to talk about because we don't have any," Geren said. "I don't deal in ifs. When there's one I'll handle it. And that's it."
Asked if the policy needed revision, Geren said he would not further discuss the issue. "I don't have any more comments about it," he said.
For her part, Spaw said any complaints filed in the Senate would be taken "really seriously," though she said a resolution would also depend on the Senate Administration Committee and Lt. Gov. Dan Patrick to take action.
"Each situation would be individual," she said. "But it is a conundrum … I'm thankful I've not had to deal with it."
Labor and sexual discrimination law experts say the chambers' policies offer few assurances that complaints will meet adequate resolutions.
Having lawmakers in charge of investigations is "absolutely problematic," said Elizabeth Boyce, an attorney for the Texas Association Against Sexual Assault. Without an independent and impartial entity to investigate any claims of sexual harassment, Boyce said, it's too easy for personal judgments to come into play.
"I don't think that [an investigation] can be fairly done by someone that they're likely friends [with] or working together in other capacities," she said. "There's a conflict of interest there that I think would impede any impartial investigation."
Legal experts also raised concerns that the House policy says victims may first confront harassers to tell them to stop the behavior.
"This is treating a sexual harassment complaint different than any other kind of complaint," Boyce said. "If there was an employee stealing from the company, for instance, you wouldn't expect the person who caught them … to tell the person to stop before they make the complaint."
The Senate's policy doesn't explicitly suggest victims should confront their harassers, but staffers have been instructed to do so. During a 2016 in-person training seminar on sexual harassment in the Senate, a trainer laid out "strategies for confronting sexual harassment on the job" that included instructions to "clearly let the harasser know you don't welcome any advances," according to a video recording of the training a reporter viewed on the Senate's internal employee system.
It's not unusual for policies to ask employees who encounter sexual harassment to address offenders about their behavior before reporting it, said Audrey Mross, a Dallas-based employment attorney. But it is crucial those policies emphasize this is only applicable in cases of mild behaviors and only if they are comfortable having those conversations, she said.
"This needs to be in big capital letters," Mross said.
A power imbalance
The task of reporting workplace sexual harassment at the Capitol is further complicated by concerns that speaking out could damage relationships essential to the legislative process.
"The sexual harassment at the Capitol is not just, 'Hey, you're cute' — it's about power. And some of the people in power are bullies," said a former female chief of staff.
Early in her tenure in the state Senate, Wendy Davis remembers having a conversation at a political event with an older man who happened to be a recently elected, first-term House member. Unaware she was a fellow lawmaker, he reached forward, as though to pat her arm, and instead reached between her arm and breast and cupped her breast.
"It wasn't an accidental brushing," the former state senator said. "It was a purposeful touching of my breast."
Davis told her colleagues in the House about the incident and "as a consequence of that, he had a challenge getting anything passed," she said.
Finally, he apologized. But Davis, the Fort Worth Democrat who unsuccessfully ran for governor in 2014 after serving in the state senate for six years, acknowledged that her position gave her a form of recourse not available to other women working in the Capitol.
"This is the problem for young women who are working in settings of power differentials," she said. "They don't have the power to create the same consequences. And in places like that, we have to be sensitive to creating an avenue for consequences that will not penalize the young women who stepped forward."
Another female staffer said she questioned what good making a complaint would do after she was harassed by a state senator. After cornering her at a political reception and saying they should "get together," she said the senator tracked down her cell phone number and called her the next morning.
She wasn't aware of a formal complaint process, but she decided against even telling her boss, a House lawmaker, because she worried about the effect it could have on the bills they were working on when they went through the Senate.
The staffer was further resolved not to speak out by how the people who witnessed the incident responded. Some seemed so accustomed to the lawmaker's treatment of women, they simply thought "it was funny."
"I just shook it off," she said. "I still have to work with all of these people. For my own sanity, I'm going to pretend like it never happened."
But even when their bosses are supportive, staffers may balk at filing a formal complaint.
State Rep. Donna Howard, an Austin Democrat in the House since 2006, recounted an instance when a Capitol staffer told her about a state senator who had made "humping motions" toward her while they were alone in an elevator. Howard said the staffer did not want to be named in an official complaint, so she reported the behavior herself to Geren and House Speaker Joe Straus' office in case there were any future issues with the senator.
"I said 'I would like to be able to report this' — she didn't want to," Howard said. "Part of the problem with reporting is that women don't want to come forward because they often become embroiled in things that make them look like they've done something wrong when they haven't."
Howard, who said she looked up the House's sexual harassment policy after a Tribune reporter asked about it, called it "totally insufficient."
"There's just nothing here," she said. "It's disturbing to learn more about it myself."
Hoping to facilitate the reporting process for her staff, state Sen. Sylvia Garciasaid she created an additional sexual harassment policy specifically for her Senate office that instructs staffers to go directly to the chief of staff or Garcia if they've been subjected to harassment.
The Houston Democrat said she would have been "shocked" to learn there was even a single formal complaint of sexual harassment in the Senate, noting the culture around the Capitol is far from supportive of staffers who may fear retribution or being ostracized if they report such behavior.
After speaking with the Tribune, Garcia said she was considering legislation to form an independent entity to oversee complaints in both chambers. She also pointed to a recently passed measure in the U.S. Senate, requiring mandatory sexual harassment training for all senators and their staff, as a possible model.
But even with those possible solutions in mind, Garcia acknowledged it is more difficult to confront sexual harassment at the Capitol — where lawmakers who may be harassing staff have all of the power — than the average workplace.
"The whole officialdom is a totally different animal," Garcia said. "We're not employees. We're elected. A lot of the rules don't apply to us."