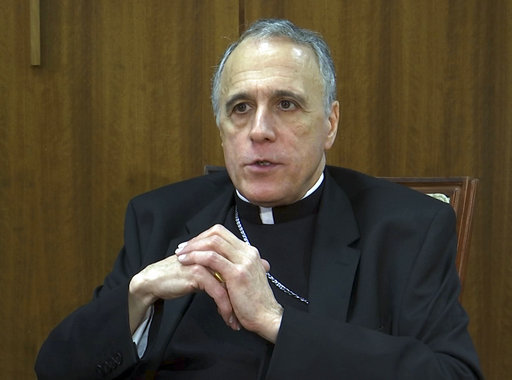 The president of the U.S. Conference of Catholic Bishops decried what he said were "the forces of division" in the country, as he called Monday for immigration policies that keep families together and a "humane" approach to policing the border.
Cardinal Daniel DiNardo of Galveston-Houston, Texas, affirmed the government's authority to protect national security. But he said recent policies and attitudes have often been rooted in anxiety about people who "look, talk and even think differently." That fear is present both within and outside the church, he said.
"The forces of division prey on our fear of the unfamiliar, the different. But fear is not of God," said DiNardo, in an address to the bishops' fall meeting in Baltimore. "They tempt us to see a threat in the stranger."
DiNardo never mentioned President Donald Trump by name, focusing instead on government policy. DiNardo said the country had a "moral responsibility" to protect the border "in a humane way." He said a "pro-life immigration policy is one that does not tear families apart." And he expressed support for young immigrants known by their advocates as Dreamers. For "those who have only known the United States as their home, we make Pope Francis' words our own: keep on dreaming," DiNardo said.
Trump has said an aggressive deportation policy and restrictions on refugee entry to the U.S. are critical for national security. His administration has decided to phase out temporary deportation protections enacted under former President Barack Obama for a number of those young people brought to the country illegally as children, giving Congress until March to come up with a new policy. The Deferred Action for Childhood Arrivals program has protected about 800,000 people who were brought to the U.S. illegally as children or came with families that overstayed visas.
The 68-million-member U.S. Catholic church, the country's largest denomination by far, runs a nationwide network of support programs for refugees and immigrants. Immigrants comprise a large share of church members, including a growing presence of Latinos, both newcomers and U.S.-born parishioners. Pope Francis has made aid for immigrants and refugees a priority of his pontificate.
DiNardo linked the church's advocacy for immigrants with the Roman Catholic teaching against abortion, saying respect for others begins in the womb. He also called for stronger religious liberty protections for health care workers and others who oppose abortion.
The bishops' meeting began Sunday night with an opening Mass presided over by Cardinal Pietro Parolin, the Vatican secretary of state, to commemorate the 100th anniversary of their conference. In his sermon, Parolin encouraged bishops to continue bringing the church's voice to "social issues and political debates."
"The urgent need to welcome and integrate new waves of immigrants continues unabated," Parolin said. "At the same time, the Catholic community is called, under your guidance, to work for an ever more just and inclusive society by dispelling the shadows of polarization, divisiveness and societal breakdown by the pure light of the Gospel."