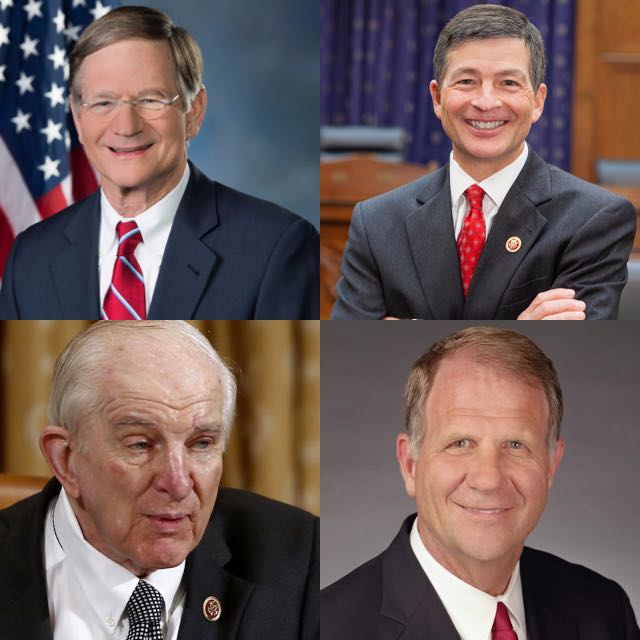 Four veteran Texas Republicans are quitting Congress, meaning the country's largest red state will be trading House seniority for newcomers who could prove even more conservative and willing to buck their party's leadership on Capitol Hill.
Sam Johnson, an 87-year-old Vietnam veteran and member of the powerful House Ways and Means Committee, announced in January he was retiring next year. Now, fellow Texans Jeb Hensarling, 60, who chairs the influential House Financial Services Committee; Lamar Smith, 69, who heads the House Science, Space and Technology Committee; and long-serving 69-year-old Ted Poe all aren't seeking re-election.
The four hail from solidly GOP districts, so the party's 25-11 state congressional delegation advantage won't change without an upset. None was thought to be facing serious challengers in the state's March Republican primaries. Nor were their exits speeded by major policy or ideology clashes with the Trump administration — unlike some other members bowing out of Congress.
They could be replaced, though, by current and former Republicans from the Texas Legislature. In recent years state lawmakers have approved abortion restrictions tough enough to be largely struck down by the U.S. Supreme Court, America's strictest voter ID law and a "sanctuary cities" ban that calls for jailing sheriffs who don't enforce federal immigration policy. They also nearly passed a "bathroom bill" targeting transgender people, despite a similar measure sparking political upheaval in North Carolina.
Moderate Republican Texas House Republican Speaker Joe Straus himself also isn't seeking re-election, which means the Legislature may move farther to the right in a way mirroring the congressional delegation's coming shift.
"The candidates likely to run and to win in this political environment are likely to be very conservative, to be more interested in fighting for specific policy items than looking to get seniority and go with the majority of the party or with the speaker," said Brendan Steinhauser, a former national conservative grass-roots organizer who later ran U.S. Senate Majority Whip John Cornyn's 2014 re-election campaign. "It will absolutely become a race to the right."
Both Hensarling and Smith were being term-limited out of their chairmanships but were well positioned to continue exerting veteran House influence had they stayed. Johnson's and Poe's long congressional tenure would have been an advantage. The Republicans favored to replace them won't have the same clout, but that could free them up to embrace coalitions like the House Freedom Caucus — hardline conservatives who have bucked the GOP majority on some issues.
"You bet we're going to see some conservatives up here," said Rep. Randy Weber, a former member of the Texas House who was elected to Congress in 2012 and is a Freedom Caucus member.
Weber said he was able to bring many of the same priorities from Austin to Washington.
"I'm very frank with the (Republican) leadership," he said. "I say, 'Look, I do want to be a team player. But, on the other hand, sometimes if there's a fumble and your team picks up the ball and runs the wrong direction you need to tackle your own team."
Johnson has represented the Dallas suburb of Plano in Congress since 1991. Set to succeed him is Van Taylor, a 45-year-old marine and Iraq War veteran who served in the Texas House before joining the state Senate in 2015. He's allied with Lt. Gov. Dan Patrick, a fiery former conservative radio host, "bathroom bill" champion and immigration hardliner who was Donald Trump's presidential campaign's Texas chairman.
Hensarling is an eight-term House veteran who battled attempts to more strictly regulate Wall Street and was close to House Speaker Paul Ryan. A contender for his East Texas seat is 41-year-old ex-state Rep. Ken Sheets, a former Marine who was elected with tea party-backing in 2010 but began inching away from hardline conservatism until he was ousted by a Democratic challenger last year.
Another possibility is former U.S. Rep. Allen West, who moved from Florida to Texas after leaving Congress and once called for then-President Barack Obama's impeachment. West has no Texas Legislature experience but remains a conservative darling.
Smith was first elected to Congress in 1986 and has urged Americans to get the "unvarnished truth" directly from Trump rather than the "liberal media." He's a climate change skeptic who has said that much of the science around it "appears to be based more on exaggerations." Poe has represented Humble, outside Houston, since 2005, quit the Freedom Caucus in March.
Everyone who might seek the Republican nomination for both seats isn't yet clear, but contenders to replace Smith include state Rep. Jason Isaac, who won his seat amid 2010's tea party wave and has supported scrapping daylight saving time in Texas.
Johnson's, Hensarling's and Poe's districts are more conservative — and thus likely less competitive — than Smith's, which includes north San Antonio and parts of Austin and Texas' Hill Country. Democrats running there include Joseph Kopser, an Army and Iraq War veteran and Harvard graduate who evoked Trump's former chief White House strategist, saying he expects the race's Republican nominee to embrace "the Steve Bannon wing of politics."
"With Lamar Smith out of the way, I think the options on the other side are going to go even harder to the extreme," Kopser said.