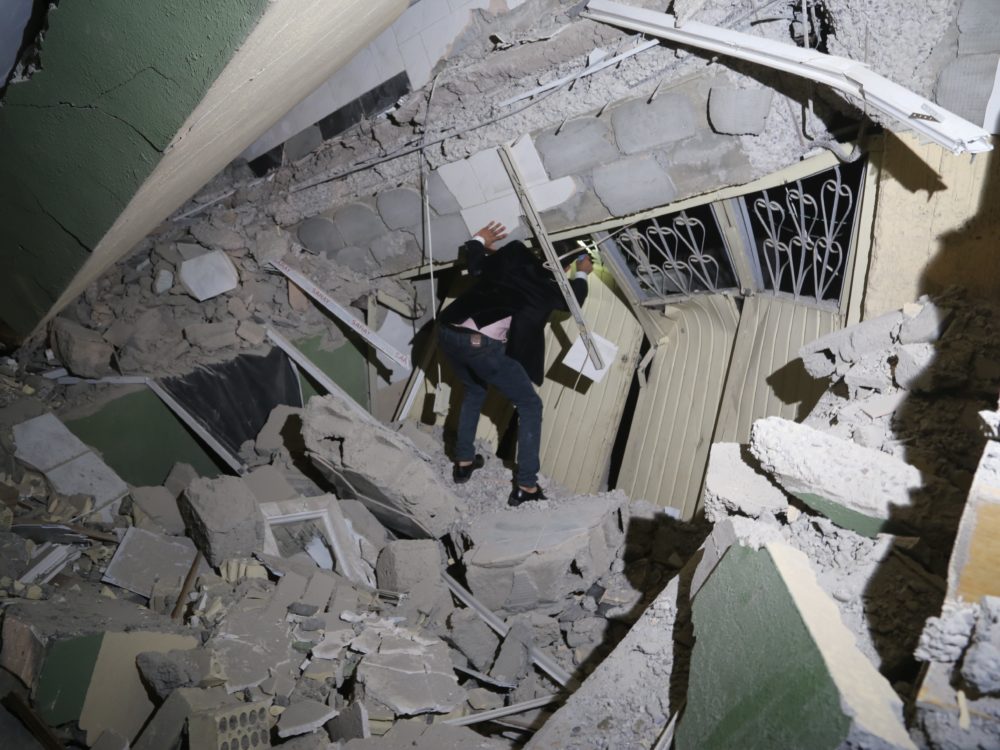 THE LATEST on an earthquake along the Iran-Iraq border:
10:45 p.m.
Iran's semi-official Tasnim news agency is reporting that 445 people were killed and 7,370 injured in the Sunday earthquake along the Iran-Iraq border.
Official reports had put death toll at 407. There was elaboration on the discrepancy in Tasnim's report, though double-counting is common in the aftermath of such emergency situations in Iran.
More than half of the casualties are from Kurdish-majority town of Sarpol-e Zahab in Kermansh province. The only hospital in the town was heavily damaged and the army set field hospitals.
The magnitude 7.3 quake was centered 19 miles (31 kilometers) outside the eastern Iraqi city of Halabja, according to the most recent measurements from the U.S. Geological Survey.
Iran's government declared Tuesday as a national mourning day.
___
An Iranian disaster management official says Iran's death toll from a powerful earthquake along the Iran-Iraq border has risen to 407.
Behnam Saeedi, a spokesman for the country's crisis management headquarters, was quoted by the semi-official Fars and Tasnim news agencies on Monday. Saeedi says the number of injured in the 7.3 magnitude quake is now 6,700.
The quake was felt as far west as the Mediterranean coast. Iran's western Kermanshah province, sitting in the Zagros Mountains that divide Iran and Iraq, was the hardest hit.
___
Pope Francis is offering prayers for the dead in Iran and Iraq following the powerful earthquake, and is urging strength to rescue crews trying to find survivors.
Francis sent two messages of condolences Monday via the Vatican's secretary of state.
The notes said Francis was deeply saddened to learn of the disaster and offered his solidarity to those who had lost loved ones.
"Upon the injured and the emergency and civil authorities engaged in rescue and recovery efforts, His Holiness invokes the divine blessings of consolation and strength," he added.
More than 350 people in both countries were killed in Sunday's 7.3-magnitude temblor.
___
A magnitude 7.3 earthquake that struck northern Iraq and parts of Iran has killed at least 349 people in both countries and injured more than 6,000, according to officials. It is the strongest quake to hit the region in years.
Most of the reports of dead and injured came from Iran, with the official IRNA news agency saying 341 people are dead and 5,953 others are hurt. The Kurdistan region Ministry of Health says eight people were killed in Iraq — seven in Kurdistan and an eighth in Diyala province. The health ministry said 535 had been injured.
Video shows the moment strong #earthquake hit parts of #Iran and #Iraq pic.twitter.com/FnLLT20dnj

— Press TV (@PressTV) November 12, 2017
The Iranian province of Kermanshah is the hardest-hit, with Reuters quoting state media as saying there are more than 140 victims in a single town there — Sarpol-e Zahab, located about 10 miles from the Iraq border. The main hospital in the town was also reported to have been heavily damaged.
"I tried to get back to pick some stuff but it totally collapsed in the second wave," Reza Mohammadi, 51, of Sarpol-e-Zahab, was quoted by The Associated Press as saying. He said he rushed out after the initial quake.
The quake hit around 9:48 p.m. local time Sunday; for hours, rescue and relief efforts were complicated by darkness in the mountainous region. Electrical and water services were also severed in areas near the epicenter.
Latest on Iraq-Iran border #earthquake
– at least 129 killed
– power cuts, traffic damage reported
– tremors felt in Turkey and Israel pic.twitter.com/EPfNDEXyOl

— CGTN (@CGTNOfficial) November 13, 2017
Iran's seismological center says it has recorded about 118 aftershocks. IRNA says, "the fear of aftershocks kept thousands of people on the streets and in the parks in cold weather."
The head of Iran's Red Crescent said more than 70,000 people were in need of emergency shelter, according to Reuters.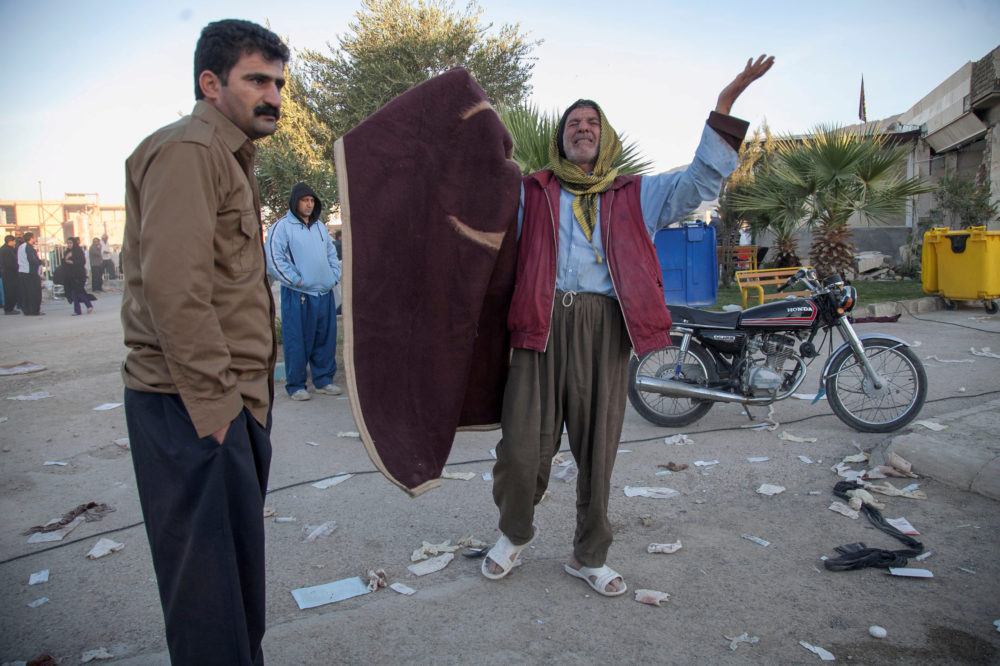 The AP quoting Iran's state-run IRNA news agency, said rescue work was continuing overnight and would intensify come daybreak. AP quoted the semi-official ILNA news agency as saying at least 14 provinces in Iran had been affected by the earthquake.
Social media from Iran showed signs of damage — broken glass and collapsed structures.
NPR's Jane Arraf, reporting from the northern Iraqi city of Erbil, says that dozens of people have been admitted for treatment at the hospital in that city. "Buildings were shaking here. A lot of people rushed out of their houses into the street."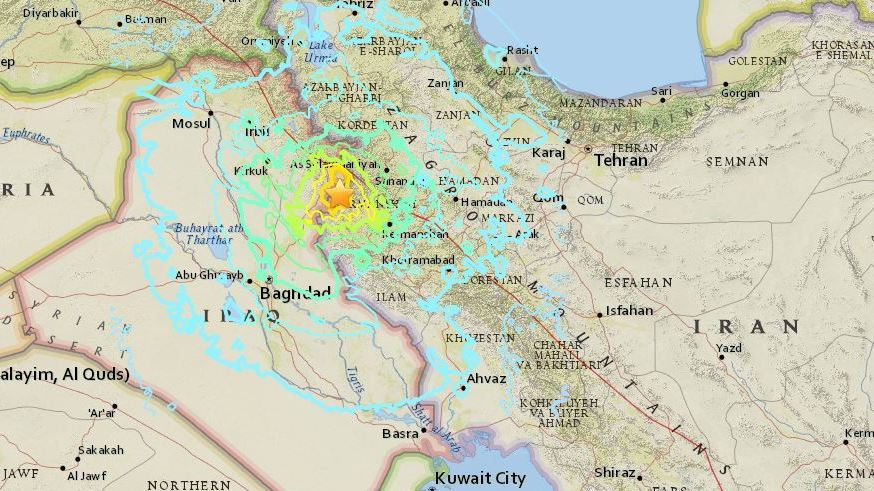 She says that engineers were checking for damage to the Darbandikhan dam and have informed people living near the river to leave. Officials at the larger Mosul dam said there were no immediate signs of damage.
The U.S. Geological Survey said the epicenter of the quake was located about 150 miles northeast of Baghdad and 450 miles west of Tehran. Tremors could be felt in both capitals, reports said.
"While commonly plotted as points on maps, earthquakes of this size are more appropriately described as slip over a larger fault area," the U.S. agency says.
An oblique-thrust-faulting event like the one that struck Sunday is "typically about 65×25 km (length x width)," the U.S.G.S. says. That area is roughly equal to 40 by 15 miles.
Copyright 2017 NPR. To see more, visit
http://www.npr.org/
.