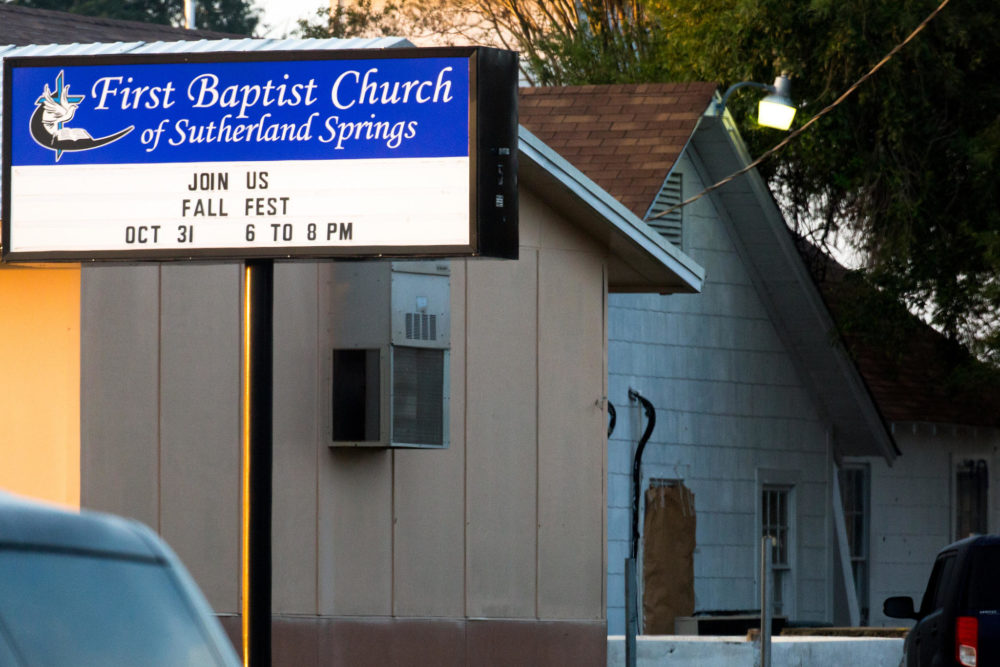 After a tragedy, people often want to find a way to help. And after Sunday's church shooting in Sutherland Springs, people across the country have been taking action to show their support. But experts say it's critical to make sure donations go to the people who need them.
Sandy Ward lost her daughter-in-law and two granddaughtersin the shooting. Her 5-year-old grandson was shot multiple times and remains in the hospital in critical condition. She said the community support has amazed her. Funeral costs are being covered, and pastors are volunteering their time and their churches for funeral services, she said.
"We have people here that are donating flowers for the caskets – you know, those big sprays. We have one gentleman who is custom making coffins for people," Ward said. "Everybody's just helping so much…they're bring food to the hospital and dropping it off. We can't even thank them because they drop it off and leave."
Ward knows people outside the area want to help, too, by sending money to support survivors and families of the victims. But she worries they might get taken advantage of.
Ward is particularly bothered by campaigns on the crowd-funding platform GoFundMe that were purportedly set up to help her grandson. There could be some confusion here: They could be from extended family members trying to help out, which is common. But Ward said none of those accounts were set up at the request of the immediate family in Sutherland Springs, so she doesn't want people to use them to donate.
"We don't have any accounts on GoFundMe, and I've seen at least three of them [in the family's name]," Ward said.
Consumer risk, responsibility
Miguel Segura, the San Antonio Regional Director for the Better Business Bureau, said charity scams always pop up after big natural disasters or high-profile shootings like Sutherland Springs and Las Vegas. The organization tracks fraudulent charities.
"It's really tough to verify that the person that you are contributing to a GoFundMe or a crowdfunding source is the actual person," Segura said. "It's very easy for a scammer to go on and screenshot pictures here and there for Facebook or just do a simple image search."
Segura said crowdfunding sites like GoFundMe have gotten better about making sure the people launching campaigns are who they say they are, and ensuring the money goes where it's supposed to.
GoFundMe wouldn't do an interview, but said in an email it holds onto the funds until the beneficiary is verified. The company said that people should report suspicious campaigns to trigger an internal investigation.
When it comes to donating, the Segura said donors should be skeptical, do their research and ask lots of questions, whether they give on crowdfunding platforms or to traditional charities.
"It falls on the consumer to go into that website to find out what procedures are in place, to find out what happens if it is a scam: Will I get my money back? What am I being charged here? Are there any particular fees incorporated into this?" Segura said.
He suggested contacting the campaign organizers on crowdfunding sites, or calling local law enforcement or city officials to ask if there's a recognized community organization that would best put donations to use. Also, charities can be vetted through third-party organizations like GuideStar or the BBB's Wise Giving Alliance.
And, Segura said, there's no need to rush. Whether it's a natural disaster or a mass shooting, survivors will need help for quite a while. So it's worth taking the time to make sure that donation is actually going to the people who need it.
For those who want to support those affected by the shooting in Sutherland Springs off-line, a donation fund to support victims of the shooting has been set up at Wells Fargo, and will be administered by First Baptist Church. Donations can be made at any branch of the bank. Authorities also suggest making a blood donation through the Red Cross.