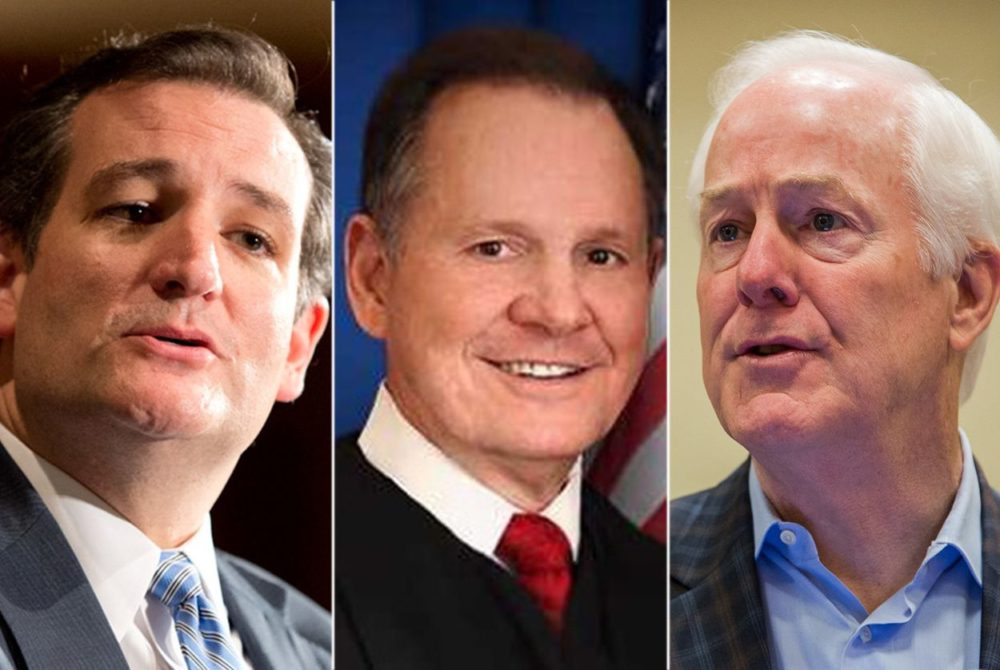 Texas' two U.S. senators found themselves under intense pressure Thursday after explosive allegations surfaced that a candidate both men have endorsed pursued underage teenage girls decades ago.
The Washington Post is reporting that Roy Moore, the Alabama Republican nominee in an upcoming Senate special election to succeed U.S. Attorney General Jeff Sessions, tried to become romantically involved with four girls between the ages of 14 and 18 while he was in his 30s.
U.S. Sens. John Cornyn and Ted Cruz have both endorsed Moore in his bid.
Less than an hour after the story broke, senators were called to their chamber for a routine vote and were met with a crush of reporters.
Cornyn, the second-ranking GOP senator, called the allegations "deeply disturbing and troubling."
"I think it's up to the governor and the folks in Alabama to make that decision as far as what the next step is," he said.
Cruz declined to answer questions as he passed reporters.
A cascade of other GOP senators — including Senate Majority Leader Mitch McConnell — told reporters that if the allegations are true, Moore must drop out of the race.
Cornyn then returned to reporters.
"Obviously, it's very troubling, but I think people are trying to sort it out and figure out what the appropriate response is, including Sen. [Luther] Strange," he said, referring to the temporarily-appointed senator whom Moore defeated in the GOP primary.
"If it is true… I don't think this candidacy is sustainable, but we believe in a presumption of innocence until proven guilty, and so I think it's important for the facts to come out."
Cruz is in a particularly complicated political position. Prior to the Washington Post report, Brietbart News had its own pre-emptive story that was highly defensive of Moore. Former White House adviser Steve Bannon runs the website. He recently threatened to challenge every GOP senator in their primaries with the exception of Cruz.