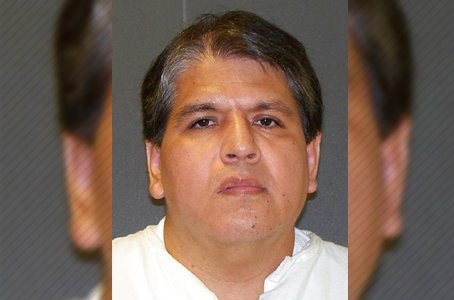 A Mexican citizen on death row in Texas was executed Wednesday night for the slaying of his 16-year-old cousin who was abducted from her family's apartment and fatally beaten.
Ruben Ramirez Cardenas, 47, was given a lethal injection after several federal court appeals failed to halt his punishment for the February 1997 killing of Mayra Laguna.
Asked by the warden to make a final statement, he replied, "No, sir."
As the lethal dose of pentobarbital began, he took a couple of breaths and then began snoring. After less than a minute, all movement stopped.
Twenty-one minutes later, at 10:26 p.m. CST, he was pronounced dead, making him the seventh convicted killer put to death this year in Texas, which carries out capital punishment more than any other state.
In a handwritten statement released afterward, Cardenas thanked his family, attorneys and the Mexican consulate for their help.
"Now! I will not and cannot apologize for someone elses crime, but, I will be Back for Justice," he wrote. "You can count on that!"
His punishment was delayed for about four hours as last-ditch appeals for the former security guard focused primarily on efforts to have trial evidence undergo new DNA testing. In a filing to the U.S. Supreme Court hours before his execution, lawyers argued Texas was violating Cardenas' due process rights and a state statute that covers forensic testing. They asked the justices to halt the execution for a court review.
They also asked the justices for more time to appeal a lower court's rejection of a federal civil rights lawsuit in which they claimed his due process and civil rights were being violated because Texas officials wouldn't release evidence so it can undergo new DNA testing. Attorneys for the state said the lawsuit was improper and that state courts already refused the DNA request because Cardenas could not show that more advanced tests would exonerate him. DNA results in evidence at Cardenas' trial were not false, state attorneys said.
The high court, without comment, rejected both appeals.
Earlier this week, the Texas Court of Criminal Appeals, the state's highest criminal court, rejected a similar appeal seeking DNA tests. Cardenas' attorneys argued the new testing would be better than the now-obsolete testing that left "persistent doubts about his guilt and the integrity of his conviction."
Laguna was snatched from a bedroom she shared with a younger sister at her family's public housing apartment in McAllen in South Texas. In a confession to police, Cardenas said he and a friend drove around with the high school student in his mother's car. He said he had sex with the teen and then punched her as she fought him after he unbound her arms to let her go.
"I didn't plan on doing this, but I was high on cocaine," he told authorities.
He said after he hit the teen in the neck, she began coughing up blood and having difficulty breathing. After trying unsuccessfully to revive her, he said he tied her up "and rolled her down a canal bank."
Her body was found in a canal near a lake in the Rio Grande Valley in far South Texas.
Laguna's sister, Roxana Jones, said she had waited 21 years for justice to be served.
"Words can't begin describe the relief it feels to know that there is true peace after so much pain and sorrow," she said in a statement released by prison officials. "Mayra can be remembered as loving, caring, funny and dimples when she smiled. She will continue to watch over family and friends."
Cardenas' attorney, Maurie Levin, contended eyewitness testimony against Cardenas was shaky, that little physical evidence tied him to the killing and that his confession was obtained after 22 hours of isolation and intense police questioning.
She also said that authorities acted improperly when not telling the Mexican-born Cardenas that he could get legal help from the Mexican consulate.
Being born in Mexico, which does not have capital punishment, made Cardenas eligible for legal help from the Mexican consulate when he was arrested, according to provisions of the Vienna Convention of Consular Relations, which is a 1963 international agreement. The courts have allowed executions to move forward in several previous Texas death row cases in which the agreement was said to have been violated.
"For the Mexican government, capital punishment constitutes one of the most essential violations of human rights," Jacob Prado Gonzalez, the Mexican government's general director for consular protection, said.
Cardenas grew up in the Texas Rio Grande Valley.
The friend who was with Cardenas during the abduction, Jose Antonio Lopez Castillo, now 45, was convicted of aggravated kidnapping and is serving a 25-year prison term.