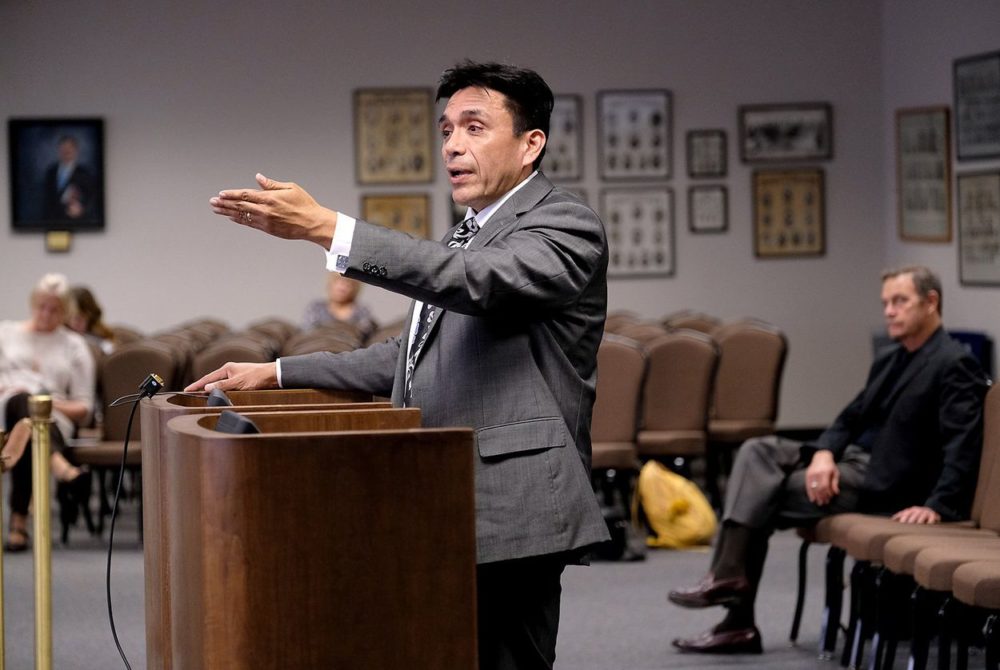 For the second time in the last year, the State Board of Education rejected a proposed Mexican-American studies textbook, leaving teachers without any state-approved materials for teaching the course.
The board voted nearly unanimously Wednesday to reject author Tony Diaz's textbook "The Mexican-American Studies Toolkit," a year after rejecting a different book that Mexican-American studies experts called racist. Though most did not vote for the book, Democrats on the board argued the process was not fair to Diaz, saying he was given a short period of time and little guidance to create a high-quality book.
Just one member voted for Diaz's book. The board also voted 7-5 Wednesday to give preliminary approval to a Jewish Holocaust memoir, currently the only state-approved ethnic studies book in Texas. Final votes on both books will take place Friday.
An official state review panel found a long list of errors in Diaz's original draft, including that it did not allow for critical thinking or cultivate social studies skills. "The book requires substantial revisions in terms of its structure, pedagogical components, lack of citations, interdisciplinary and social studies content, and multiple perspectives. The panel has collectively come to the conclusion to not recommend the adoption of The Mexican American Studies Toolkit as it stands," the panel wrote.
Diaz said he later made the necessary changes to the book, by adding more than 100 pages of essays by Mexican-American studies experts. But board members did not feel comfortable with the additional material, and many did not think Diaz had made enough changes to the book.
"They moved the goal posts again," Diaz said after the vote Wednesday. "We played by all the rules. We met them all. We exceeded them all.
A bipartisan group of members informally agreed they would be in favor of approving specific standards for a Mexican-American studies elective course in the future, likely modeled on an innovative class Houston ISD already offers. The earliest the board could approve standards for a new course would be for fall 2020.
"I don't think any of us are against having a good Mexican-American studies textbook," Barbara Cargill, R-Conroe, said Wednesday. "My concern was the uncorrected errors" in Diaz's book.
In 2014, the board did not think that was a good idea, rejecting a proposal for an official Mexican-American studies elective course.
Democrats argued that the board had not given Diaz enough time to work on a thorough book. When the other book was rejected in November, the board issued a second call for ethnic studies book proposals — giving publishers less than a year, instead of a usual two years, for submissions. Publishers also were required to align their books to a set of broad standards for a general social studies elective, giving them little guidance.
Ruben Cortez Jr., D-Brownsville, was the only member to vote for Diaz's book. He said Diaz showed enough evidence that experts who sat on the official state review panel later informally endorsed the corrections to the book.
"We didn't give them enough time, we didn't have guidance in the form of [curriculum standards] and now we have review experts who are concerned," said board member Marisa Perez Diaz, D-Converse. She did not vote for the book.
Texas Freedom Network, a left-leaning board watchdog, released a statement chastising the board for rejecting a call for an official ethnic studies course in 2014, and thus refusing to approve specific curriculum standards that would allow publishers to create good textbooks.
"Now the board is rejecting the only textbook that a publisher was able to rush to completion in time," said Dan Quinn, a spokesperson for the group. "The continued failure to provide school districts with the resources they need for creating good, effective courses in Mexican American studies is a problem of the board's own creation."