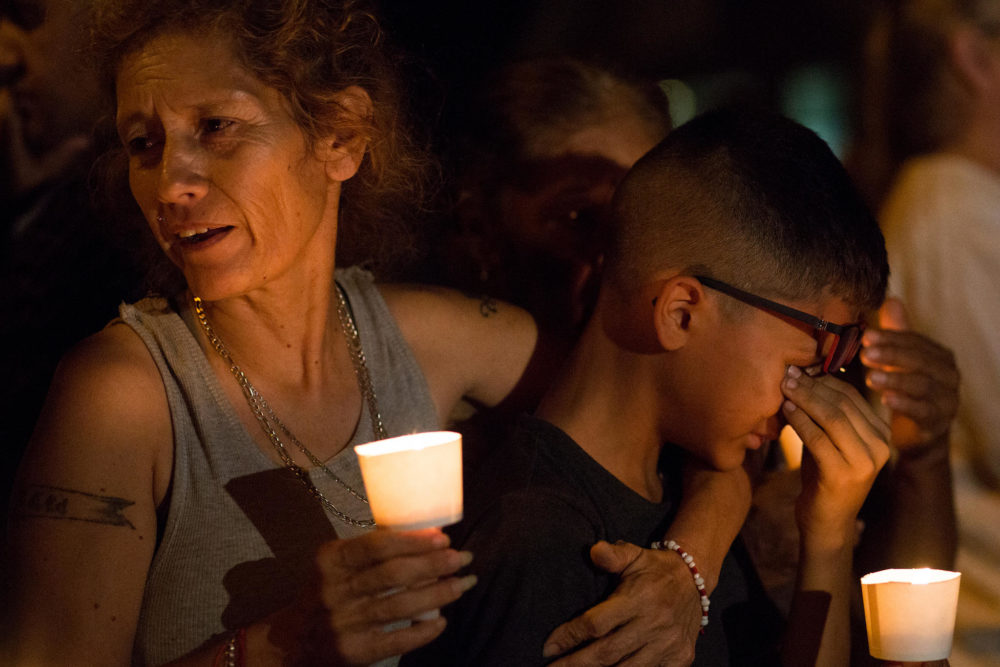 On any given Sunday, about 50 people attend services at First Baptist Church in Sutherland Springs.
Yesterday, a gunman began firing inside the church, killing kids as young as 18 months, parents and grandparents — and families. At least 26 people died and 20 others were wounded in the small South Texas town.
Of those killed, 23 were found in the church, while two were found outside, said Freeman Martin, a regional director of the Texas Department of Safety. One died after being taken to a hospital.
Gov. Greg Abbott called it the largest mass shooting in the state's history.
The suspected shooter
The suspected shooter, identified as 26-year-old Devin Patrick Kelley, died after the attack. Wilson County Sheriff Joe Tackitt told CBS News Monday that investigators believe Kelley shot himself.
Sutherland Springs shooting suspect – Devin Patrick Kelley, 26, of New Braunfels, TX – is pictured here in his driver license photo. pic.twitter.com/yDPKOfh2OM

— Texas DPS (@TxDPS) November 6, 2017
The wounded
The wounded were taken to area hospitals. Nine were treated at University Hospital in San Antonio. An official there said six people remained at the hospital as of Monday morning: three children and three adults. Their ages range from 4 to 57 and their conditions range from serious to critical. Two adults were treated and released. One child died.
Some of the victims were from the same families as they sat together in church. In small towns, everyone knows each other. So in a small town like Sutherland Springs, practically everyone has a personal connection to the news.
The pastor's daughter
Pastor Frank Pomeroy and his wife, Sherri, were both out of town when the attack took place, The Associated Press reported. Their daughter, Annabelle Pomeroy, was among the victims.
"We lost our 14-year-old daughter today and many friends," Sherri Pomeroy wrote in a text message to the AP. "Neither of us has made it back into town yet to personally see the devastation. I am at the charlotte airport trying to get home as soon as i can."
The Holcombe family
Church member Nick Uhlig, 34, who wasn't at Sunday's service, told the AP that his cousin, Crystal Holcombe, who was 8 months pregnant, and her in-laws were among those killed. He told the Houston Chronicle that three of her children also died.
"She doesn't even drink, smoke or nothing," he told the Chronicle. "She just takes care of kids; she raises goats and makes homemade cheese. That kind of thing, you know? They don't go out dancing or anything like that. They're real old-fashioned, down-to-earth."
Crystal Holcombe's father-in-law, Bryan Holcombe, had done prison ministry, Uhlig told the Chronicle. "He would go up to the prison with a ukulele to sing."
The Ward family
The Ward family lost three of its members Sunday: Brooke Ward, 5, and Emily Garza, 7, and their mother, Joann Ward, The Dallas Morning News reported. Their brother, 5-year-old Ryland Ward, was seriously wounded after being shot four times. He was taken into surgery at University Hospital and was in stable condition as of Sunday night.
The Ward family lost three of its members today in the #SutherlandSprings shooting. But one is still holding on. https://t.co/qVwXaYS000 pic.twitter.com/IF5gbjwSls

— Lauren McGaughy (@lmcgaughy) November 6, 2017
More victims
Amanda Mosel, 34, told the San Antonio Express-News that her 13-year-old goddaughter was killed. Mosel didn't attend the church service.
This post will be updated when more information is available.