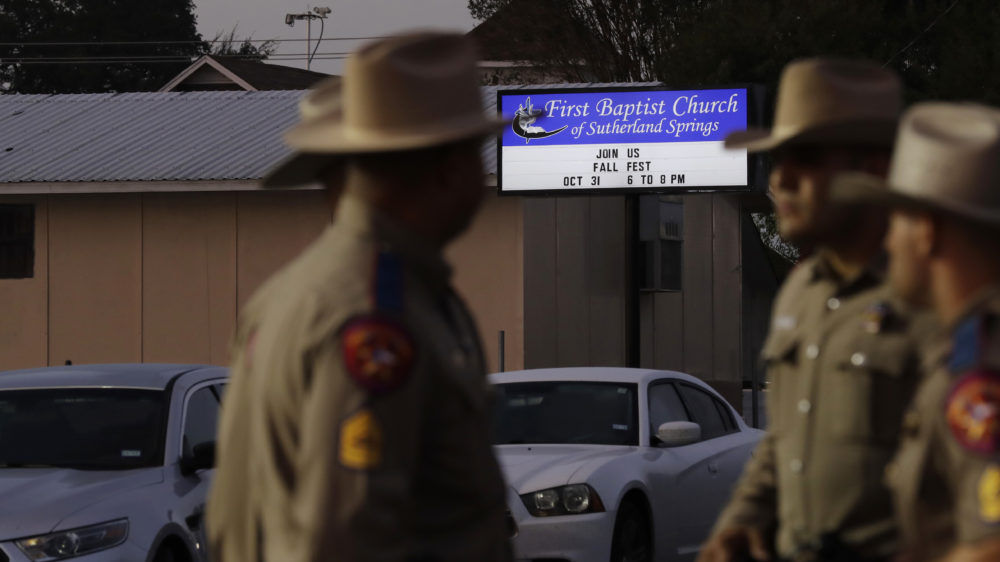 A few details are becoming known about the man who allegedly shot and killed at least 26 people and wounded 20 others Sunday at a rural community church in south Texas. Police have identified the gunman as Devin Patrick Kelley, 26.
Texas Department of Public Safety Director Freeman Martin says Kelley was found dead in a vehicle a few miles from where the attack took place. He said it was not immediately clear whether Kelley died of a self-inflicted gunshot wound or whether his fatal injuries were the result of a gunfight with a resident near the First Baptist Church in Sutherland Springs.
As we reported earlier, at about 11:20 a.m., the suspect, dressed in all-black tactical-type gear, approached the church, located about 45 miles southeast of San Antonio and opened fire with what authorities say was a Ruger AR assault-type rifle. He then entered the church and continued the attack. The victims ranged in age from 5 to 72 years old.
At a news conference, Martin said the suspect was wearing a bulletproof vest. The San Antonio Express-News says the weapon was an AR-556, a variant of the AR-15, a popular rifle based on the military's M-16.
Kelley was a resident of New Braunfels, a suburb of San Antonio, according to public records and he had attended New Braunfels High School, a classmate confirmed to NPR member station KUT reporter Mose Buchele.
He had been enlisted in the U.S. Air Force and was based in New Mexico from 2010, where he reportedly served in logistics readiness at Holloman Air Force Base until receiving a bad conduct discharge in 2014, Air Force spokeswoman Ann Stefanek tells NPR in an email.
She says he was court-martialed in 2012 for assaulting his wife and child, sentenced to confinement for one year and reduced in rank to E-1.
The Express News says that Kelley unsuccessfully appealed his conviction in a military court in 2014.
The newspaper reports:
"A law enforcement official told the San Antonio Express-News that Kelley wasn't believed to be a member of First Baptist Church, but had ties to the church through family members.

In Comal County, Kelley only had faced minor traffic offenses in recent years. Kelley was licensed by the Texas Department of Public Safety as a security guard, and the agency's website shows he worked at Schlitterbahn Waterpark and Resort in New Braunfels.

A spokeswoman for the park did not respond to questions."
At Sunday's news conference, TDPS Director Martin said there was "a lot of work to be done" in the investigation.
"Everybody here wants facts, wants information about what's going on," he said. "We'd love to provide you more. But if you came here wanting to know the motive behind the shooting, you're going to leave here disappointed."
This is a developing story. Some things that get reported by the media will later turn out to be wrong. We will focus on reports from police officials and other authorities, credible news outlets and reporters who are at the scene. We will update as the situation develops.
Copyright 2017 NPR. To see more, visit http://www.npr.org/.