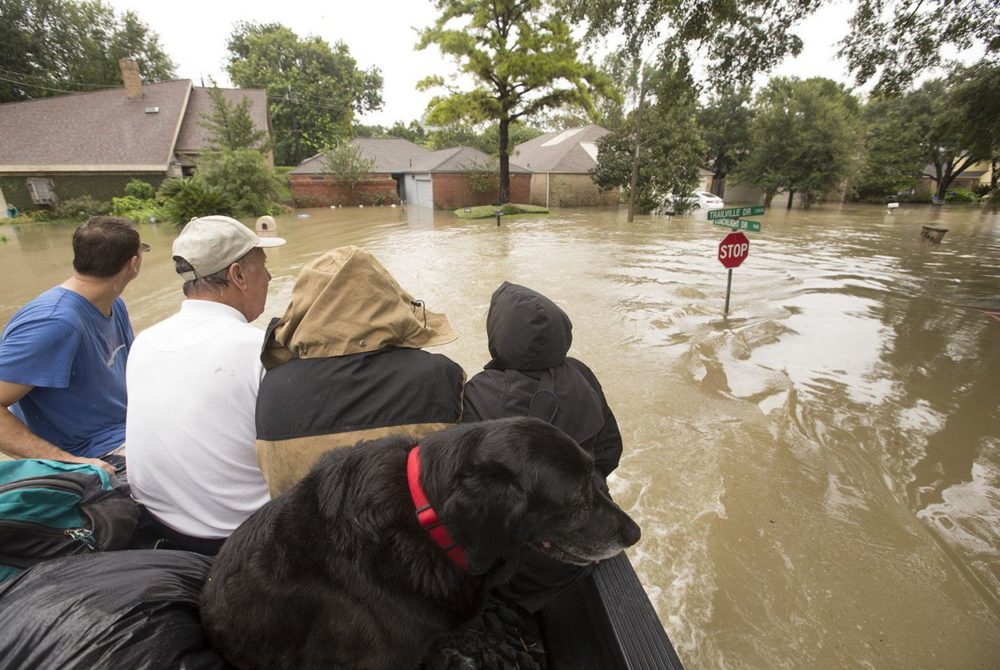 Texas needs an additional $61 billion in federal disaster recovery money for infrastructure alone after Hurricane Harvey's devastation, according to a report from the Governor's Commission to Rebuild Texas that was delivered to members of Congress Tuesday.
Compiled at Gov. Greg Abbott's request, the report was released on the day the governor traveled to the U.S. Capitol to talk Hurricane Harvey relief with congressional leaders.
Speaking with reporters in the hallways of the Capitol Tuesday afternoon, Abbott said he'd had a "well-reasoned discussion" where he stressed that rebuilding the state's Gulf coast was in the country's best national security and economic interests.
"We are asking not for any handouts or for anything unusual, but we are asking for funding that will flood the entire region that was impacted so that the federal government, the state government, and the local government are not going to be facing these ongoing out-of-pocket costs," Abbott said as he held a binder containing the 301-page report.
The $61 billion is in addition to money the state already anticipates receiving from the Federal Emergency Management Agency and from the federal housing department, which distributes disaster recovery grants aimed at long-term rebuilding.
John Sharp, who leads the commission charged with overseeing Harvey recovery efforts, said the report would evolve as the state continued to work with local official to document their needs.
"We wanted to illustrate the size of the assistance we need and the type of projects," Sharp said. "Just because a project is on the list does not mean it will be funded and just because a project is not on the list doesn't mean it can't be funded if a mayor or county judge brings it to us."
About 61 percent of the funds would go to projects aimed at flood control and 33 percent toward housing, an analysis provided with the report shows. The remaining amounts are divided among hazard mitigation, roadways, and water services projects.
In the aftermath of the storm, Sharp asked local officials in areas hit by Harvey to document their needs. The commission then reviewed their requests with a panel of experts to compile the report.
According to the report, local officials were instructed to focus on infrastructure, not housing needs, which will receive funding separately through a grant program from the U.S. Department of Housing and Urban Development.
The projects in the report range from major flood control and mitigation projects like building a "coastal spine" storm surge barrier to proposals for rebuilding public facilities like water treatment plants and police stations, purchasing high-water rescue vehicles, and repairing streets and bridges.
Several cities — including Beaumont, Pearland, Danbury and Simonton — and counties such as Harris, Fort Bend, Liberty, Victoria, and Montgomery also requested funds to buy out homeowners who have suffered repeated flooding in recent years.
The requests include:
$12 billion for the Galveston County Coastal Spine, part of the larger "Ike Dike," a barrier aimed at protecting coastal areas from hurricane storm surge.
$9 billion for

housing assistance in the City of Houston, which would help rebuild 85,000 single and multi-family housing units damaged by Harvey.

$6 billion to buy land, easements, and rights-of-way around Buffalo Bayou and the Addicks and Barker reservoirs.
$2 billion for "coast-wide critical infrastructure protection," described as flood control and other mitigation projects around critical public infrastructure such as "power plants, communication networks, prison systems, etc."
$466 million for the Port of Houston to "create resiliency" and harden the Houston Ship Channel.
$115 million to repair 113 county buildings in Harris County.
Abbott appointed Sharp, who is the chancellor of Texas A&M University and a former legislator, railroad commissioner and state comptroller, to oversee the commission in early September.
So far, Congress has agreed to spend more than $51 billion on disaster relief in the past two months. But it is unclear what Texas's share of that money will be, because it will be divided between the states and territories devastated by three deadly hurricanes and fatal wildfires.
Abby Livingston contributed reporting for this story from Washington, D.C.