What you need to know
Washington, D.C., spent Monday reacting to indictments against three former campaign officials for President Donald Trump amid Special Counsel Robert Mueller's investigation into Russian influence on the 2016 presidential election. Here's what you need to know: 
• Texas Republicans are cautious and quiet. U.S. Sen. John Cornyn — the second-most powerful Republican in the Senate — sidestepped questions about Mueller's investigation Monday, telling The Washington Post, "Special counsel's got his own responsibilities and it doesn't involve us." U.S. Sen. Ted Cruz told The Dallas Morning News the indictments "are undoubtedly serious," and added, "We'll have to see if the facts back up the charges." Texas Attorney General Ken Paxton said during an appearance on Fox Business that he is "a little disturbed" findings from the investigation "leaked," later adding he "wouldn't necessarily dispute" a recent Wall Street Journal editorial that suggested Mueller should resign.
• Democrats aren't. U.S. Rep. Joaquin Castro, D-San Antonio, said White House Press Secretary Sarah Huckabee Sanders should exit her post after she said the indictments weren't at all tied to Trump. "Sarah Huckabee Sanders should resign as @PressSec," he tweeted. "She lacks any credibility, outright lies to the American people." U.S. Rep. Marc Veasey, D-Fort Worth, tweeted: "What new twitter war will @POTUS create today to deflect from #TrumpRussia investigation..?"  
• Where's #txlege? Most state lawmakers have been mum since Monday's news broke, with a few exceptions. State Rep. Bill Zedler, a Republican from Arlington, tweeted several times: "So after a year of investigation there is still no evidence of collusion with the Trump campaign & Russia." State Rep. Poncho Nevárez, D-Eagle Pass, also tweeted throughout the day, at one point saying, "If you watched Fox News today you would've learned that the Clinton Administration is having a rough go and that Halloween candy is boss." 
Now, your take
Thirty-three percent of Texas voters approved how President Donald Trump handled Russian interference in the 2016 elections, while 47 percent disapproved, per our latest UT/TT poll.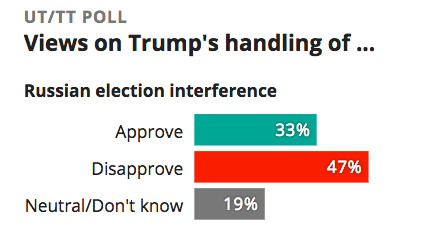 What do you think? Tell us with #MyTexasTake on Twitter and Facebook.