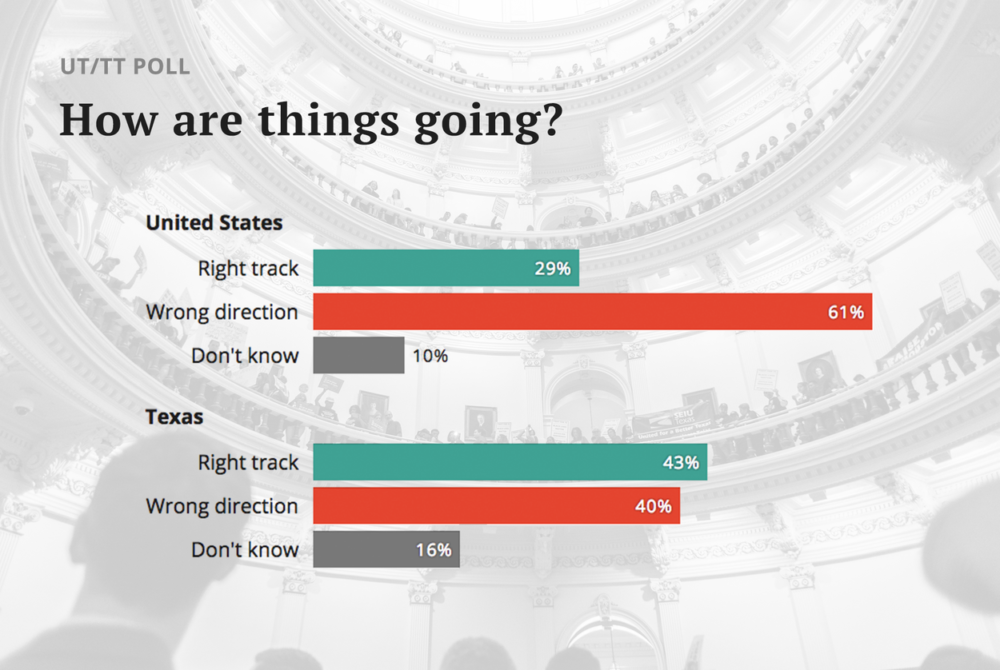 By a two-to-one margin, Texas voters believe the country is going in the wrong direction, according to the latest University of Texas/Texas Tribune Poll.
While 29 percent said the United States is on the right track, 61 percent said it's going in the wrong direction. They took a more sanguine view of the state's direction: 43 percent said Texas is on the right track, while 40 percent said it's going in the wrong direction.
Even so, three-quarters of voters said the U.S. economy is either better (43 percent) than it was a year ago, or as good (33 percent) as it was then. Only 22 percent said the country's economy has worsened in the last year. The state economy also got good marks, with 76 percent saying it is better than or the same as a year ago.
Almost half said their families are doing about the same economically as they were a year ago, while 31 percent said things are better now and 21 percent said they have worsened.
The Texas Tribune thanks its sponsors. Become one.
Most important problems
Political corruption/leadership is the most important problem facing the country today, according to 14 percent of the state's voters. That item topped the list, followed by five items that each were ranked most important by 7 percent of the voters: the economy, national security/terrorism, immigration, health care and moral decline.
The concerns varied by party. Democrats, who are out of power in Washington, listed political corruption/leadership as the most important problem facing the country, as did 13 percent of independents and 8 percent of Republicans. Republicans, on the other hand, put moral decline at the top of their list (11 percent), a sentiment shared by 5 percent of independent voters and 2 percent of Democrats. National security/terrorism and immigration were close behind among Republican voters, ranking second and third on the list, respectively.
Immigration and border security continued to be the top issue facing Texas, according to respondents, together listed by 27 percent of voters. Two other items — hurricane recovery and political corruption/leadership — were listed by at least 10 percent of voters.
Those top two issues were ranked first by 44 percent of Republican voters and 30 percent of independents, but only 8 percent of Democrats had them at the top. Democratic voters' first choice for most important problem facing the state, once again, was political corruption/leadership, followed by hurricane recovery. (Hurricane recovery ranked relatively high with other groups as well, landing in third place on both the Republican and independent voters' rankings of top issues.)
The University of Texas/Texas Tribune internet survey of 1,200 registered voters was conducted from Oct. 6 to Oct. 15 and has an overall margin of error of +/- 2.83 percentage points. Numbers in charts might not add up to 100 percent because of rounding.