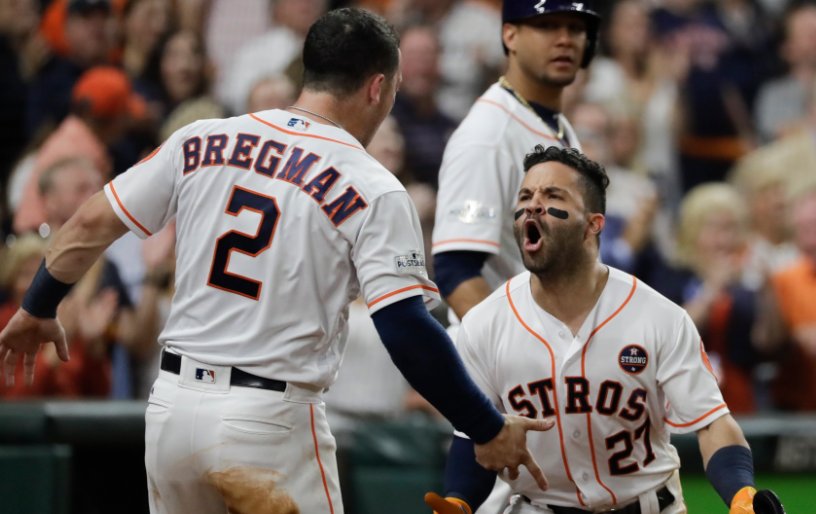 The Los Angeles Dodgers love their analytics, collecting so much data that manager Dave Roberts proudly proclaims: "I don't see any team that's more prepared than we are."
All the numbers, video and advanced scouting reports are great. But firsthand looks are nice, too.
So Curtis Granderson, what do you know about your World Series opponent, the Houston Astros?
Ok #Astros 4 wins away from our first #WorldSeries win. Let's make this our year!

— Jonathan delossantos (@jondls76) October 23, 2017
"I saw them a couple times in spring training, when I was with the Mets," the outfielder said.
OK, then.
Funny, in a way. The Astros and Dodgers have played more than 700 times over the years, but these clubs know very little about each other.
Oooh it's gonna be a good series vs the dodgers but Astros got it!!! #Earnhistory

— Austinnnnn (@austinnnn23) October 23, 2017
"A lot of it is going to be learning as you go," Granderson said.
Los Angeles ace Clayton Kershaw is set to pitch Game 1 on Tuesday night against Dallas Keuchel at Dodger Stadium. Rich Hill will start Game 2 for the Dodgers vs. AL Championship Series MVP Justin Verlander.
Yu Darvish will start Game 3 for the Dodgers when the Series shifts to Houston on Friday night. Acquired from Texas on July 31, he's the most familiar with the Astros.
Darvish is 5-5 in 14 career starts against them, including 1-1 this season.
Keuchel has never faced the Dodgers. Verlander beat Los Angeles on Aug. 20 with eight dominant innings, shortly before he got traded from Detroit.
"It's hard to dismiss the two guys at the top of the rotation," Roberts said, also praising Houston's "athleticism" and "ability to slug."
The Astros showed off all facets Saturday night, beating the New York Yankees 4-0 in Game 7 of the ALCS.
It appears that the @astros have set a new record, first to make the #WorldSeries in both leagues. #GoAstros https://t.co/kx9iskm11W

— Chris Tritico (@christritico) October 23, 2017
The Dodgers haven't played the Astros since 2015, when they dropped a three-game series at Houston. The previous time they met was 2012, back when Houston was still in the National League and stuck in the midst of three straight 100-loss seasons.
Boosted by Jose Altuve and Carlos Correa, the Astros are now among the elite teams in the majors.
Hill also knows how quickly things can turn around. Wearing a hat that had a World Series emblem on the side, the 37-year-old reflected on where he was fairly recently.
In 2015, beset by injuries, no team in the big leagues wanted him and he wound up pitching for the Long Island Ducks.
"A couple years ago, I was using a bucket in independent ball as a toilet," he said.
Not anymore.
Hill became a valuable member of the Dodgers' staff, signed a rich contract and has helped them make it back to the World Series for the first time since 1988.
Like Hill, All-Star shortstop Corey Seager is expected to make his first World Series appearance. Seager got there a bit faster — at 23, a season after he was the NL Rookie of the Year.
Seager didn't play in the NL Championship Series against the Cubs because of a back injury. But Roberts said team was "very confident" Seager was ready to return.
Seager hit .295 with 22 home runs and 77 RBIs this year. He went 3 for 11 with four walks in the NL Division Series against Arizona, but tweaked his back during a slide in Game 3.
Charlie Culberson did well while filling in for Seager during the NLCS. Chris Taylor also saw action at shortstop against the Cubs and was the co-MVP of the series.
It is possible Seager could be the designated hitter for the Dodgers when the Series moves to Houston.
"In a perfect world, he would play shortstop and hit second," Roberts said.