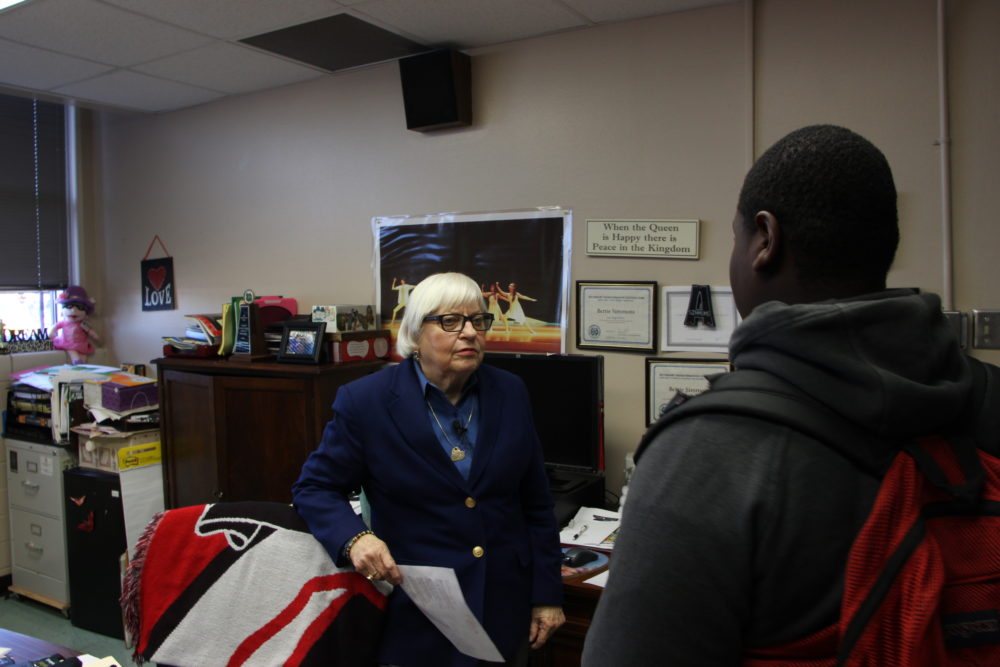 This was supposed to be a banner year for Furr High School. It moved into a brand new building and was using a ten million dollar grant to reinvent high school. Even though Hurricane Harvey delayed the school year by two weeks, things seemed to be back to normal.
Longtime principal Bertie Simmons met with a mom who was trying to get her daughter into Furr.
"I'm going to take a chance on her," Simmons told the family, using her typical tough love approach. "So if she doesn't do it, what I do is I take my earrings off and bring her down," she said.
"Yes, I remember you said that to my oldest daughter," replied the mom, Erica Alejo, with a laugh.
"And it worked with her, and I have a baseball bat. And that's what I use on you, OK?" Simmons continued.
Everyone in the room takes it as a joke. Simmons is 83 years old and just five feet tall — shorter than many of her students. Kids have heard this so often, they once gave Simmons an engraved bat as a gag gift. But now district administrators aren't laughing.
A recording went out to homes on Sept. 29: "This is the Houston Independent School District, calling with an important message for Furr High school parents and students."
About two weeks ago, they suspended Simmons after students complained about her playful threats and the school's strict dress code, which the superintendent had said would be relaxed district-wide.
The suspension is an unexpected detour in Simmons' 17 years leading Furr. She famously came out of retirement in 2000 to turn the school around. Her unconventional style made her a media darling and boosted morale.

"Look up in the sky … It's a bird … It's a plane! No, it's Super Bertie!" Carl Johnson read a poem he wrote in honor of Simmons. He went to Furr and so did his kids. Now he serves on several advisory committees for the school.
Her sudden absence raises a question for Johnson and others: What happens to this high-needs school when it loses its charismatic leader? In some ways, it's an inevitable question the school has to answer — whether now or later.
"Trying to replace her is going to be almost impossible. Because many, many might not have this same determination that she had," said Johnson. "When you bring in somebody else new, I think the program that she instituted might not be followed through because every administrator has a different procedure that they want to follow."
That determination helped Simmons reduce gang violence and raise graduation rates.
Still, others believe that Furr could use a fresh approach. Bob Sanborn leads the advocacy group Children at Risk, which grades local schools every year and recently gave Furr a D minus.
"Bertie has taken it to a certain level. She has absolutely made improvements. And another leader can come in and make even more improvements," Sanborn said.
Research shows that after teachers, a strong principal is the biggest factor in a school's success. Sanborn said that often means someone who relies on data to make decisions. "Leaders that understand what it takes to turn around a school aren't just cults of personality but they're really focusing on the details," he explained.
What happens to a school like Furr without its longtime principal often depends on what kind of leadership they had, according to Bradley Carpenter, a professor at the University of Houston. He explained some leaders are big personalities — like Chrysler's Lee Iacocca — but fail to develop other leaders on their team.
Instead, an effective principal, Carpenter said, "is collaborative and builds capacity in teachers and shares decision-making and is able to set a clear vision and rally resources around those specific needs."
At Furr, the school has complex needs: It has a high poverty rate, large immigrant population and a history with gang violence.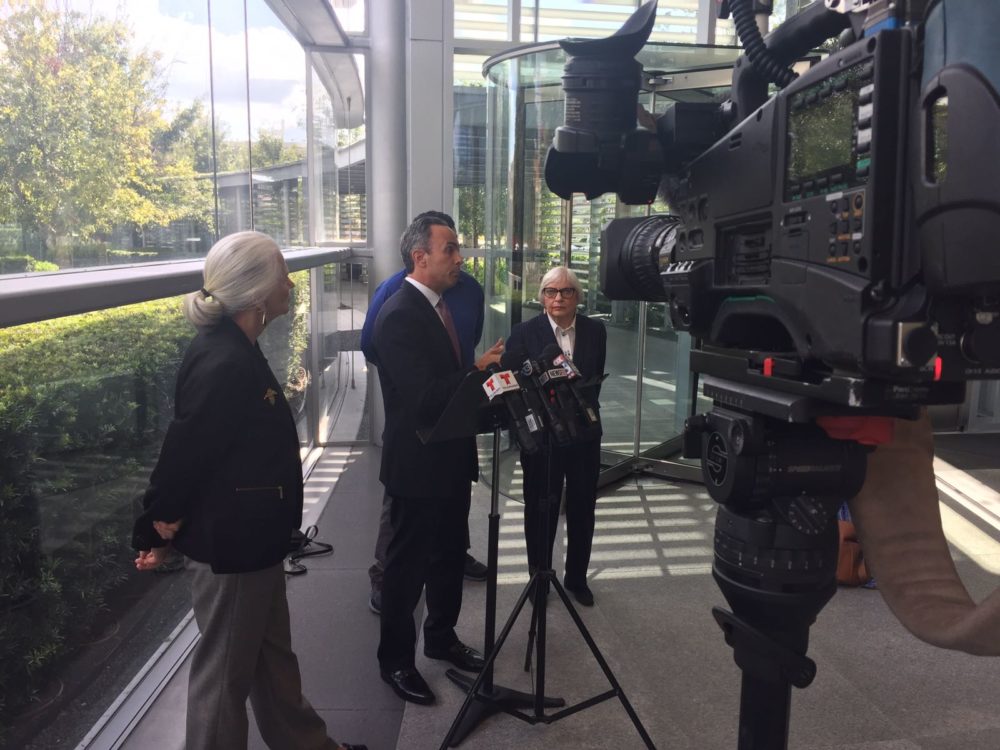 Senior Victoria Owens, worry that the school's hard-won gains will be reversed without Simmons. "Because if we don't have her and we end up with someone who doesn't recognize these problems or doesn't know how to fix these problems, then it might just end up going back to the way it was before which you know — dropout factory," she said.
Owens said that she's also concerned a more structured curriculum will replace the creative projects that Simmons used to win the prestigious grant.
For her part, the suspended principal is fighting to return and filed her own legal action this week.
The district said in a statement that it has a duty to investigate student complaints and, in fact, is widening its probe.
"The Houston Independent School District respects Dr. Bertie Simmons and all her contributions to HISD and the lives of our students, but every employee is held to the same standards regardless of their tenure and status within the district," the statement read. "The investigation into the allegation that led to the decision to temporarily relieve Dr. Simmons of her duties is closed … However, additional allegations surfaced and she remains temporarily relieved of her duties."
At a press conference this week, Simmons voiced a larger concern. "This is why you can't rethink public high schools — because of the bureaucracy that gets involved and stops you," she told reporters.
Simmons said that's the real threat to the future of Furr High — no matter who's in charge.