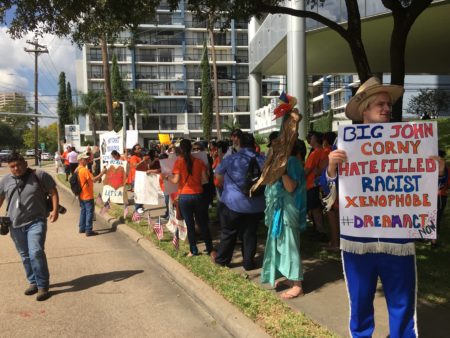 Organizers from United We Dream Houston , which groups young undocumented immigrants, also called dreamers, want an extension to DACA, or the Deferred Action for Childhood Arrivals program, without enforcement add-ons like militarization, mass deportations and the wall.
On Thursday, some wore costumes like the Statue of Liberty, and held banners requesting people to honk as they drove by on Memorial Drive. They demonstrated in front of Senator Cornyn's office, but one of the Senator's representative said they weren't notified about the rally in advance, and there were no appointments scheduled with them.
The Trump administration will stop accepting applications after today for DACA, which protects nearly 700,000 so-called Dreamers from deportation, according to official numbers. Thursday was the deadline for thousands of DACA recipients to renew their status. DACA protections are due to begin expiring in March 2018, unless Congress extends them.
The Department of Homeland Security says some 48,000 eligible unauthorized immigrants have yet to renew, and just over 106,000 either have renewal requests currently pending or have had their requests adjudicated. Organizers have no estimates of the number of Texans or Houstonians affected.
DACA was started by President Obama in 2012 through an executive action that allows certain undocumented immigrants who were children when they were brought to the U.S. to remain in the country and be eligible for work permits.