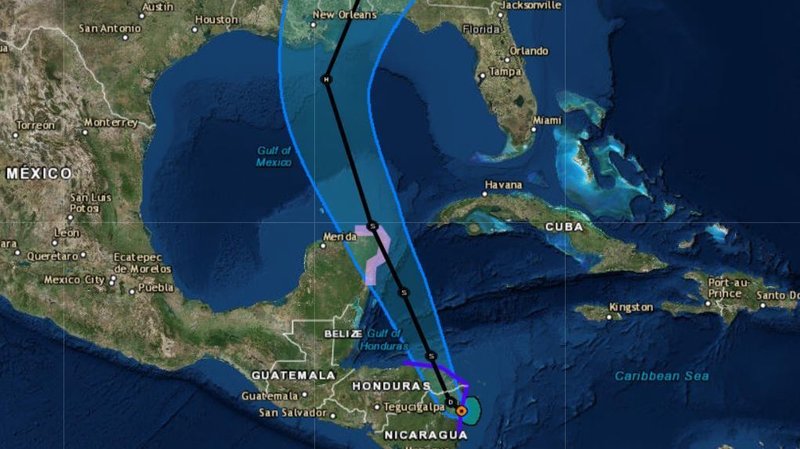 A tropical cyclone in the northwestern Caribbean Sea has been upgraded to a named storm, Tropical Storm Nate. The system is likely to become a hurricane in the next three days and could hit the northern Gulf Coast on Sunday morning, forecasters say.
"Residents along the Gulf Coast from Louisiana through the Florida Panhandle should monitor the progress of this system and heed any advice given by local officials," the National Hurricane Center says.
But there is high confidence in the forecast that the storm poses no threat to the Texas coast, the Harris County Office of Homeland Security & Emergency Management (HCOHSEM) said on Thursday.
Nate should emerge over the southern Gulf of Mexico by the weekend, where it is expected to possibly impact the northeastern Yucatan Peninsula, including Cozumel and Cancun. Landfall is expected between Louisiana and Florida.
Tropical Storm Nate is the 14th named storm of the 2017 Atlantic hurricane season.
Nate is expected to strengthen as it moves over warmer waters on its way to the U.S. coast. But at this point, the National Hurricane Center says, "it is too early to specify the timing, location, or magnitude of these impacts. "
Nate is currently bringing heavy rainfall to Nicaragua and Honduras, as it scrapes along their coasts on a northwest track toward Cancun. The storm has triggered flood warnings in those areas, along with a hurricane watch in Mexico's Yucatan peninsula, from Punta Herrero to Rio Lagartos.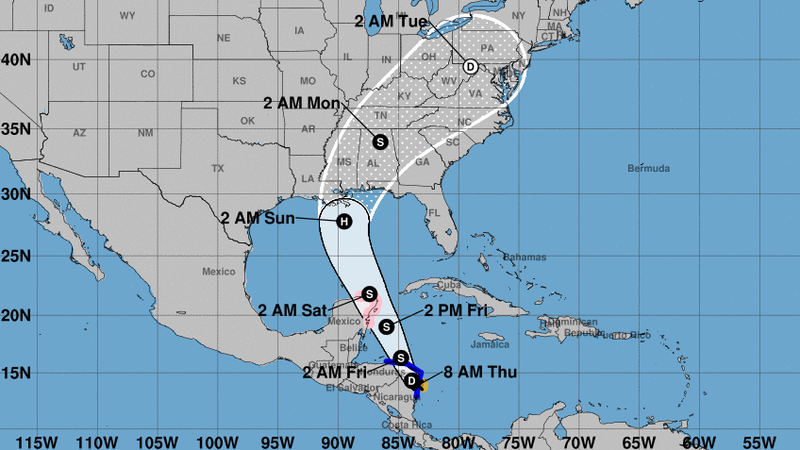 The cyclone currently has maximum sustained winds of 40 mph, and it's moving northwest at 8 mph. That will change later today, the National Hurricane Center says, when Nate takes a more north-northwestward path and also moves at a faster speed.
By Sunday, Nate's sustained winds are expected to reach 75 mph. While that speed is a far cry from the incredible intensity of recent hurricanes such as Irma and Maria, forecasters say people in Nate's path need to be careful of flash floods and mudslides from its heavy rains.
Powerful winds often attract the most attention and concern regarding cyclones. But it's the water — from both storm surges and rainfall — that's often the most deadly component of a tropical system. The hurricane center warns that Nate will bring 15 to 20 inches of rain to Nicaragua — and that a wide area is at risk, with heavy rainfall expected along the Pacific coast of Central America.