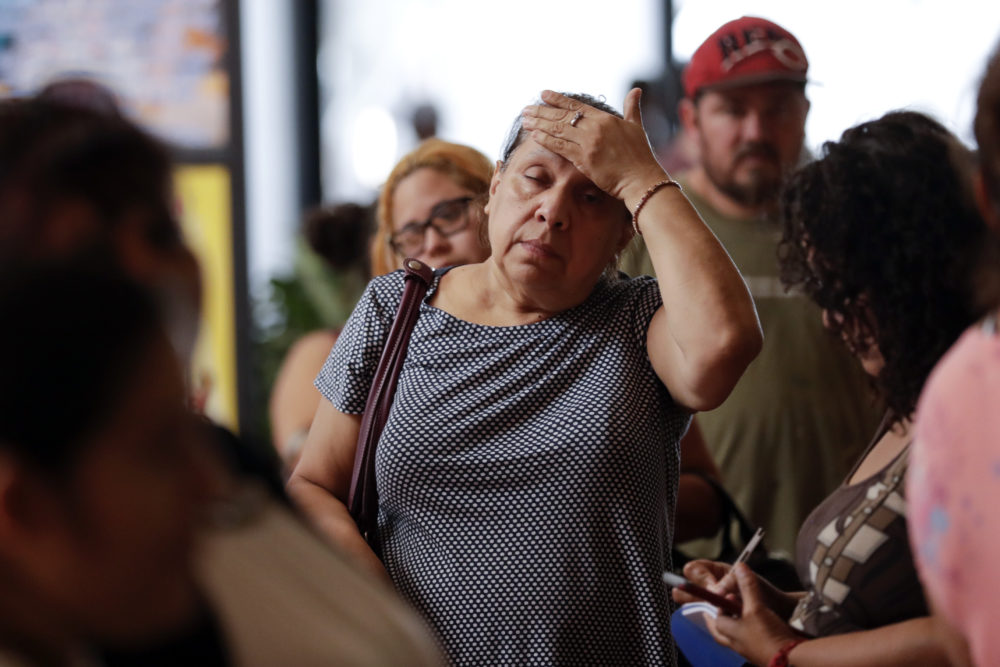 The further we get from Harvey, some aspects of the recovery might actually be harder to deal with for many victims.
When a tragedy first happens, the community rallies to the aid of victims with fundraisers and donation drives. But the months – or even years – to come can actually be harder for some victims in many ways, according to Dr. Avian Tisdale. She's the chief medical officer for Avenue 360 Health and Wellness, a nonprofit that provides health care and housing services in Houston.
Tisdale says the community at large gradually starts to move on, and the collective trauma can often recede in our memories — especially if you or your loved ones weren't directly affected. But, for those who were, they might still struggle for a long time and then feel isolated against the backdrop of the community's collective recovery.
And that's why mental health services – among many other things – are so important for those dealing with the stress of Harvey.
Dr. Tisdale talks with Houston Matters about the mental health challenges Harvey survivors are facing now, what they might face in the future, and ways we all can cope in a healthy fashion following a natural disaster.
More: Houston Matters Producer Michael Hagerty continues the conversation about mental health issues after Hurricane/Tropical Storm Harvey with Dr. Avian Tisdale.
https://www.facebook.com/houstonpublicmedia/videos/1533799616714175/
HIGHLIGHTS FROM OUR CONVERSATION:
Defining mental health: A mental health issue is something that begins to interfere with one's ability to live a normal life, prevents them from being a productive member of society, and might make them a danger to themself.
Dealing with a natural disaster is a lot like grief: Lots of people initially reach out to victims of a natural disaster with support, but then gradually everyone gets back to their lives. And so people often feel left behind. It's important for the rest of us to stay engaged even when Harvey is no longer a headline.
Children need stability: Kids like knowing their teacher and knowing the other kids in their school. So behavioral issues could stem from being uprooted if their home or school was damaged. Those students might find it harder to concentrate, and therefore their grades might drop.
Bad temptations can resurface: Recovering alcoholics and drugs addicts who lost a home, job, or vehicle might feel the temptation to use again.
Strains on relationships: Marriages and other relationships can easily be strained by the loss of income, homes, and overall stability.
Advice for listeners and those struggling: It's perfectly OK to seek help. People often avoid reaching out for various reasons, but mental health issues are just as important as the rest of one's physical health.
A challenge to health care providers: Dr. Tisdale encourages other health care providers to engage with the needs in their communities. Identify what the needs might be around you and then look to see what you or your organization can do to help.
Dealing with survivor's guilt: It's important to manage survivor's guilt and similar feelings, especially for first responders or those who've worked with those who suffered. It could be easy for them to feel guilty or to become anxious thinking "that could've been my child...my home," etc. Those unaffected by the disaster can look for meaningful ways to help those in need.
Advice for anyone, anytime: It's important to maintain routine self-care – get adequate rest, take a few minutes alone, and get regular exercise. Make sure to take care of yourself so you can be helpful to others.
More: Houston Matters Producer Michael Hagerty continues the conversation about mental health issues after Hurricane/Tropical Storm Harvey with Dr. Avian Tisdale.