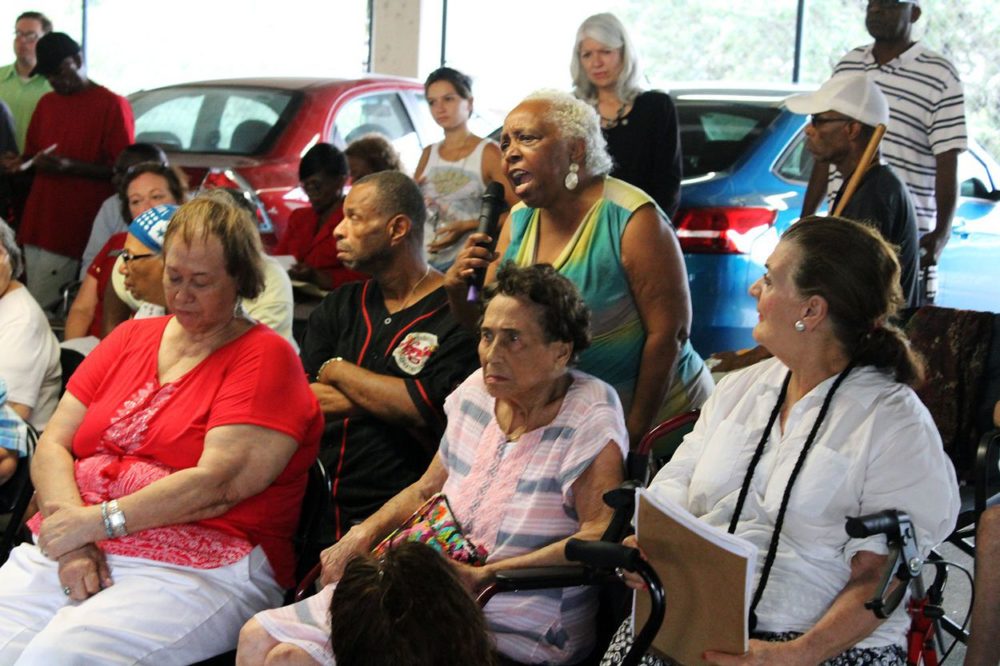 The elderly residents of 2100 Memorial, a publicly subsidized high rise along Buffalo Bayou, unleashed a torrent of criticism Thursday against public housing officials who issued them eviction notices this week. And since the building's first floor is still unusable after Hurricane Harvey's historic rains flooded it, the Houstonians had to pack the second floor of their parking garage to vent their mounting frustrations.
Commissioners of the Houston Housing Authority listened and took notes as the residents, some of whom sat with canes in hand or on the seats of their walkers, blasted leaders of the agency charged with protecting and finding housing for some of the city's most vulnerable residents.
"You can't expect respect from people who have been trampled," said Sheila Anderson, one of more than 180 residents who received eviction notices Monday.
Most of 2100 Memorial's residents stayed through Harvey's epic rains, even when they lost power and running water. For weeks after the storm, they remained in units many said were unharmed by the flooding.
But the building operator, which is an affiliate of the housing authority, gave tenants notice Monday that damage to the fire control, water and electrical systems rendered the structure unsafe. V.J. Memorial Corp. vice president Tory Gunsolley, who is also the housing authority's president and CEO, told residents they had until Saturday to move out.
Gunsolley said inspectors told him that a transformer on the first floor of the 2100 Memorial parking garage sat under water for so long during the nation's worst-ever rain event that it could stop working at any time.
"It was primarily done for the health and safety of the residents," he said. "I don't know when this transformer and this electrical system is going to fail."
Gunsolley told The Texas Tribune that it took weeks for inspectors to determine the property was uninhabitable because the authority, which serves more than 58,000 low-income area residents, has had to check several buildings it owns as well as help affordable housing voucher holders find new places to live.
Government entities and housing advocacy groups have scrambled in the weeks after Harvey to determine the extent of the storm's impact on Houston-area residents who have public housing vouchers or live in buildings, like 2100 Memorial, whose developers received tax incentives in exchange for offering discounted rents to low-income people.
On Thursday, Gunsolley sat at a folding table in the parking garage of 2100 Memorial and said no deadline for move-outs will be imposed even though the building still needs to be vacated.
"We're in a dangerous situation," Gunsolley told residents. "We need people to move as quickly as they can in an orderly fashion."
Residents criticized the housing authority, which administers federal affordable housing programs, for offering no help in paying for moving expenses. The day after the notices were distributed, the housing authority issued a press release that said it had given residents a list of other publicly subsidized housing units they "can explore as an option for relocation."
That list was the subject of many residents' outrage Thursday. They said many apartments on the list are located in suburbs far from Houston's urban core or no longer have any vacancies.
"It was basically useless," said Jerry Dohalick, a cancer patient and longtime resident who teared up as he spoke Thursday.
Gunsolley said he thought he had found 500 available units.
"So, we need to work on that list and with landlords and owners and find a better process," he told The Texas Tribune on Thursday.
That admission and vows to not impose a deadline for move-outs came after swift and fierce criticism from residents — and assurances from Mayor Sylvester Turner this week that elderly Houstonians would not be tossed on the street. The housing authority is an independent entity and not part of City Hall. But city officials stepped in and said they will make sure "residents have the information and resources they need." Amid pressure, the authority is also now planning to help pay for residents' moves.
Authority officials had Federal Emergency Management Agency workers take residents' applications for federal assistance. But many 2100 Memorial residents worry that their requests for financial aid so long after the hurricane will mean they will have to wait longer to hear back on if they qualify for help.
"We were disrespected from the start," Anderson said.
After the meeting, Gunsolley vowed to work with residents and help them find new places to live.
"I would say we had a false start," he said.