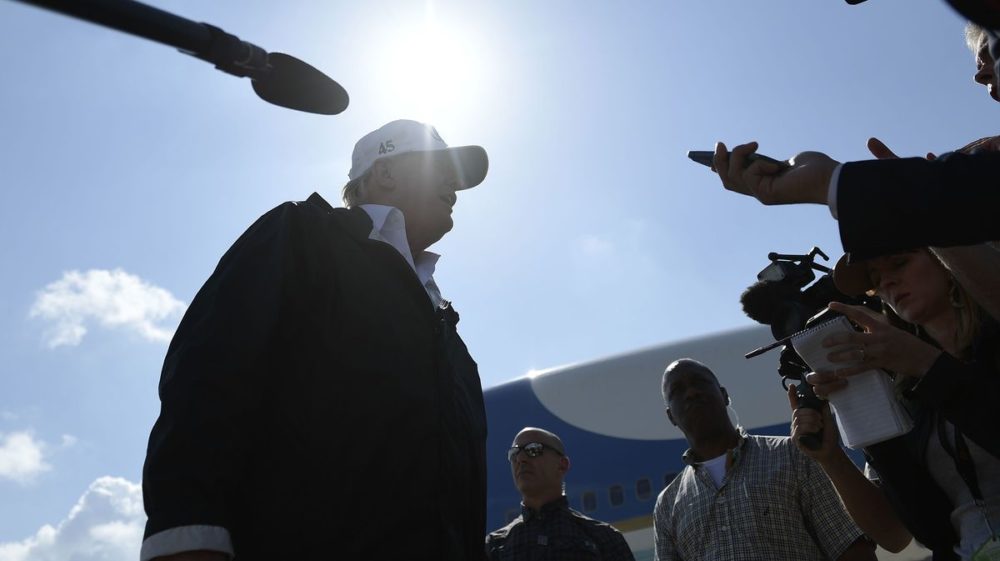 President Donald Trump is going to hear firsthand from people affected by Hurricane Irma as he makes his third visit in less than three weeks to survey storm damage and recovery efforts.
For Trump and Vice President Mike Pence, the visit Thursday to Naples and Fort Myers on Florida's southwestern coast offered the chance to see how people were coping and how the Federal Emergency Management Agency has responded.
"Historically there's never been anything like this," Trump told reporters before leaving the White House. "But the United States Coast Guard, FEMA, working along with Gov. (Rick) Scott, they've really done an amazing job," adding that "power is being turned on rapidly," he said.
After Harvey struck Texas, Trump drew criticism for having minimal interaction with residents during his first trip in late August. He saw little damage and offered few expressions of concern.
On his second visit, to Texas and Louisiana, he was more hands-on. He toured a Houston shelter housing hundreds of displaced people and walking streets lined with soggy, discarded possessions.
The president monitored Irma over this past weekend from Camp David, the presidential retreat in Maryland.
Nearly half of Florida was engulfed by Irma, which left flooded streets, damaged homes and displaced residents in its wake.
Florida's southwestern coast is a haven for retirees seeking warm weather and beautiful sunsets across the Gulf of Mexico. Many communities are still cleaning up or without power or air conditioning.
In Lee County, which includes Cape Coral and Fort Myers, the Florida Emergency Management Agency said 66 percent of the area's 290,000 electrical customers were still without power Wednesday. Widespread outages led to long lines outside of the relatively few stores, gas stations and restaurants that had reopened.
The situation was even worse to the south in Collier County, home to Naples. Days after Irma passed, almost 80 percent of homes and businesses were still without electricity, and floodwaters still covered some communities entirely.
As of Thursday morning, the number of homes and businesses without electricity in Florida was 2.69 million, according to the agency. That's 25.6 percent of all customers in the state.