Even before Harvey flooded Houston, thousands of children depended on school lunches for their regular meals. With school shut down for two weeks, the Houston Independent School District has opened up several cafeterias for recovering families where they're serving up to ten thousand meals a day.
Inside one of those centers, Shadydale Elementary, the cafeteria has its own nickname, Shady's Cafe. On the menu today: Pulled pork sandwich on a wheat bun, English peas and fruit.
Usually the principal Tammie Daily would be running the first weeks of the school year. Instead she's coordinating teams of volunteer teachers. They're shuttling hundreds of boxed meals out to neighborhoods in Northeast Houston. Harvey devastated the area so much it's hard for people to get around.
"Being able to eat — food and water — shelter, those are the basic needs. If we can help them meet their basic needs, then they can focus on the other issues, cleaning up," Daily said.
Daily said since Sunday they've been serving a couple thousand meals a day. They also opened up a donation center for kids to gather school supplies, if they lost them in the disaster.
"Oh, it makes my heart cry. I mean, we're all humans and you see that human love and decency surface," she added.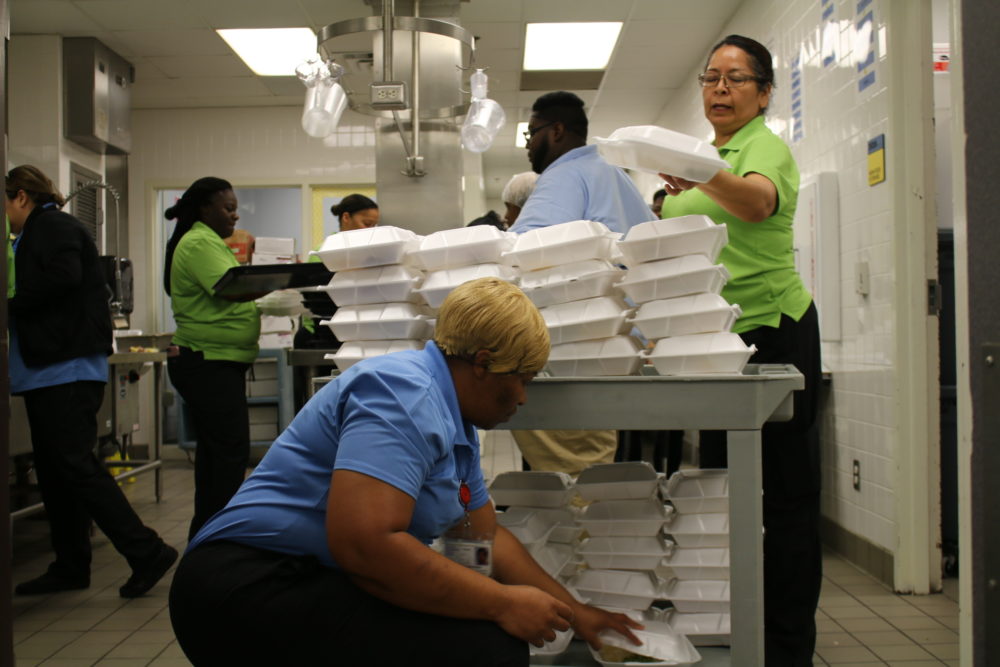 In all, nine Houston schools are providing community meals with support from partners like Sysco and Life Time Foundation.
It's not clear how long they'll stay open, but here are the current hours and locations. Food is served on first come, first served basis. Breakfast is served from 8-9 a.m., lunch from 11 a.m.-noon, and dinner from 4-5 p.m. Those times are subject to change.
Almeda Elementary – 14226 Almeda School Rd., Houston, TX 77047
Barbara Bush Elementary – 13800 Westerloch Dr., Houston TX 77077
Carrillo Elementary – 960 S. Wayside Dr., Houston, TX 77023
DeChaumes Elementary – 155 Cooper Rd. Houston, TX 77076
Shadydale Elementary – 5905 Tidwell Rd., Houston, TX 77028
Deady Middle School –
2500 Broadway St, Houston, TX 77012T.H. Rogers School – 5840 San Felipe St, Houston, TX 77057
Elrod Elementary – 6323 Dumfries Dr., Houston, TX 77096
Blackshear Elementary – 2900 Holman Street, Houston, TX 77004