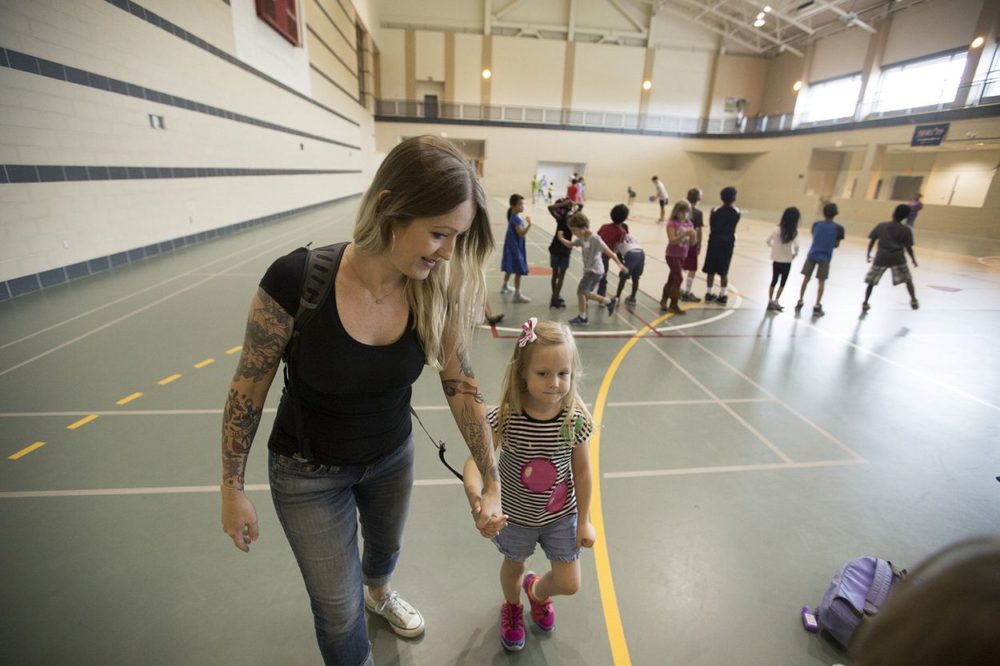 At first glance, it looked like a typical day of classes at the University of Houston's student rec center. People were playing basketball and lifting weights. Some were even studying. But one handball court in the back of the building betrayed that this wasn't just a normal day.
Several dozen children ages 5 to 12 were playing games like tag and Red Light/Green Light in the noisy gym. They had all been hastily dropped off there by UH students, staff and faculty who, in the aftermath of Hurricane Harvey, needed somewhere to keep their kids.
"We didn't have any other place to go," said Ana Pena, an employee at the college of optometry, as she picked up her foster daughter for lunch Tuesday afternoon. "This is a life-saver."
Tuesday was the first day back at class for UH, the biggest public university in a city still reeling from the hurricane that flooded miles of streets and destroyed thousands of homes and businesses. The campus just south of downtown sustained barely any damage, aside from a handful of flooded buildings that are expected to be repaired within days. But like their city, many students, faculty and staff are facing months or years of recovery. Many lost homes or cars. Almost all suffered through a hellish week during which their city practically shut down.
But administrators were determined to get the school back up and running quickly. There were no vigils or grand gestures of unity on campus Tuesday. Instead, students and staff seemed to be trying their hardest to return to normal. Many classes were near full. The line for food in the student union snaked around the building. And sororities and student groups were recruiting new members on the sidewalks.
Administrators were hoping for that sense of normalcy after having to cancel the first full week of class. (School started at UH on Aug. 21.) If things didn't pick up soon, the semester risked being wasted.
"We have to pull together and start building up our community," said Renu Khator, the school's president and chancellor.
The childcare situation highlighted how much of a challenge that would be. Houston's K-12 schools are closed for another week, and many of the daycare facilities around town haven't reopened. Khator encouraged supervisors to allow parents to bring their children with them to work.
Administrators scrambled to turn the recreation center into a makeshift daycare facility. An announcement went out Saturday, and the center's employees manned a phone bank Sunday and Monday to take reservations. Parents described making repeated calls for over an hour to land one of the limited spots.
Once the kids arrived, the staff had to find activities for them. The children spent much of the time watching movies, drawing pictures and running around the gym.
But even with that problem solved, people on campus understood many more challenges remained. Eight classrooms and one university-run student apartment complex remain unusable. Professors have to figure out how to deal with that week of missed class. And students have to find their focus after a harrowing few days.
"It has been a little bit weird," said Heather Williams, a marketing major. "Everyone is a little shell shocked."
Williams said her home wasn't damaged in the storm. But she does hair and makeup for weddings, and has already had three weeks of bookings canceled by the storm. That will be a big financial hit, and will only make the semester more challenging for the mother of two.
Professors have been urged to be flexible. Many of the 2,500 students who rode out the storm on campus were able to transition back to school quickly. Others lost their homes.
Cathy Horn, a professor and chair of the Department of Educational Leadership and Policy Studies, said she has spent the last few days helping students and faculty figure the answers to a variety of questions. How do people get to campus if their car was destroyed? How do they study if their textbooks were damaged?
Some faculty members, she said, are trying to figure out how to move more of their courses online. Others are temporarily homeless themselves. University officials estimated that about 10 percent of the faculty couldn't make it to work on Tuesday, though many found substitutes to handle their classes.
But amid the confusion, students and faculty said they had been inspired by the outpouring of support. Horn helped organize a Facebook group called "Faculty Helping Faculty During Hurricane Harvey." More than 60 professors have offered spare rooms or other living space to colleagues who had been displaced. Dozens, she said, took those professors up on the offer. And students from the UH honors college helped clean out or repair about 30 professors' homes in the last five days.
"We are an amazingly generous community," Horn said. "I have never felt so loved by friends and strangers alike."